Description
Never been camping? Don't have your own gear? Is camping in your 'too hard basket'?
Coleman's got you covered!
Join like minded novice campers for a VIP outdoor experience and learn how enjoyable camping can be. At Coleman Camp Club we live and breathe camping. Let the experts show you how it's done. Just bring your family and friends along for fully catered campfire fun and see how easy it is to feel at home in the wilderness. Everything you need for a fantastic night under the stars will be provided!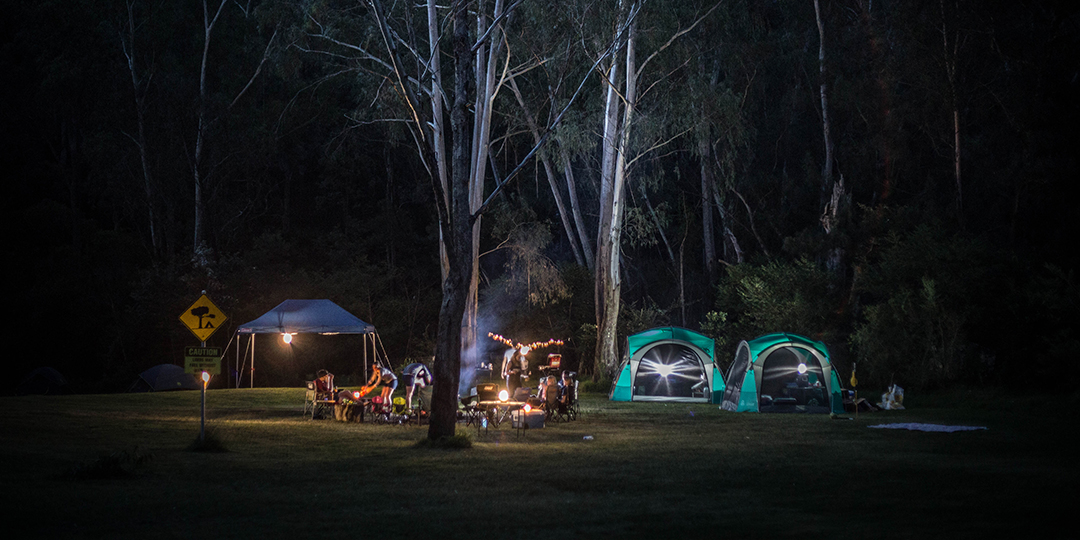 How it works:
Step 1: Book a tent and walk into camp. That's it!
Your tent will be set up (unless you want to learn how yourself) and will include airbeds, lanterns and chairs for lounging around camp. The only thing you'll need to bring is your bedding and any personal comforts you might want.
A custom cooler filled with snacks and drinks, plus a refillable Coleman water bottle for each person will also be awaiting your group's arrival.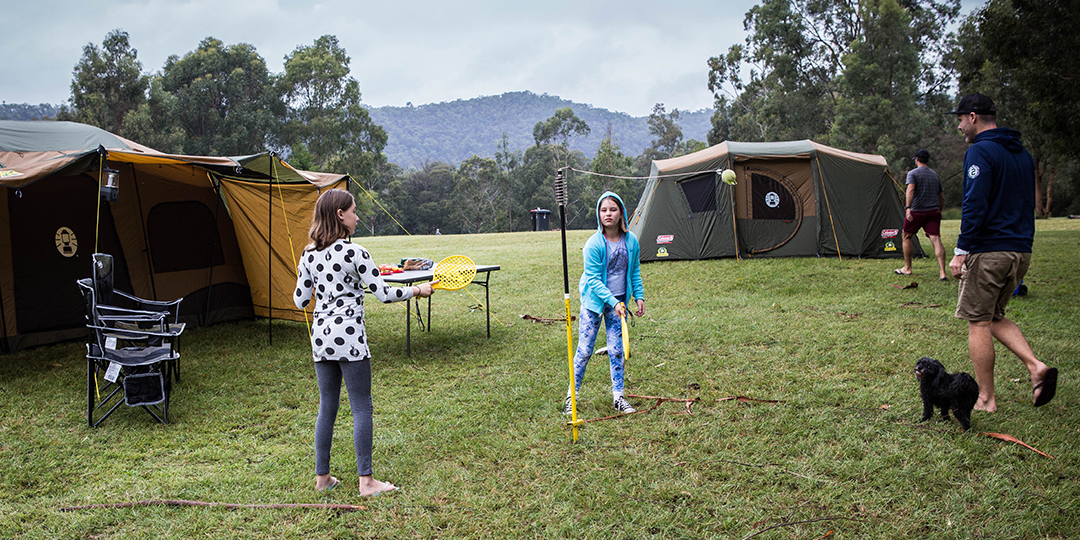 Step 2: Grab a picnic lunch and enjoy the day!
Have a swim in the Colo River, play some cricket with the other campers or just kick back in your tent with a good book. There will be lots of crafts and games for the kids as well!
As the sun goes down, we'll strike up the fire and get cooking. Join in the cooking fun if you'd like to learn techniques for amazing food cooked over hot coals. Dinner around the campfire will of course be closely followed by marshmallow roasting and s'mores.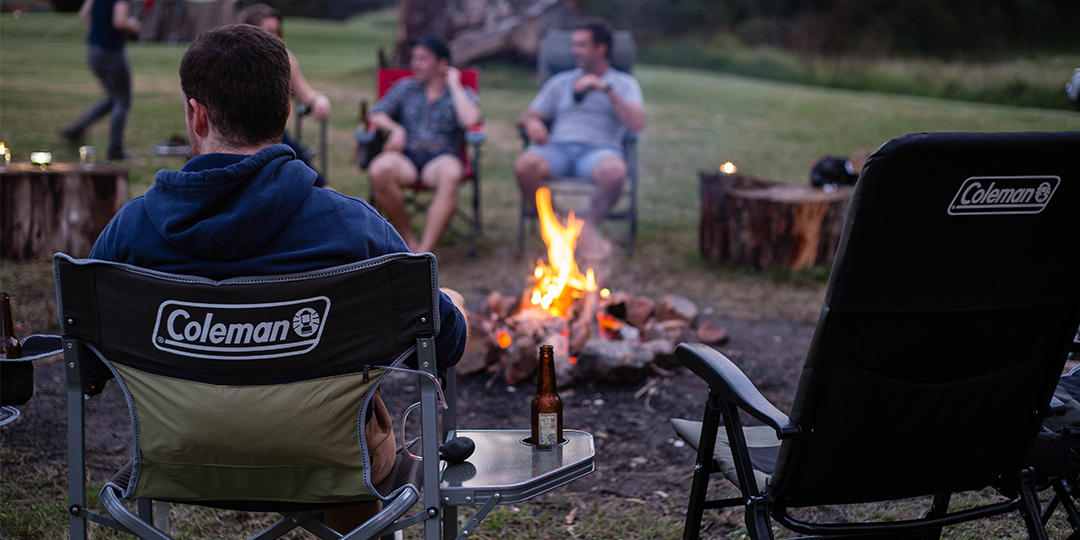 Step 3: Relax by the fire!
Spend the rest of the evening sharing stories with the group by the light of the flames, playing cards and boardgames or tuck in early for a peaceful night's sleep with nature.
Step 4: Sleep under the stars!
A cooked breakfast and plenty of coffee will be waiting when you wake up in the morning.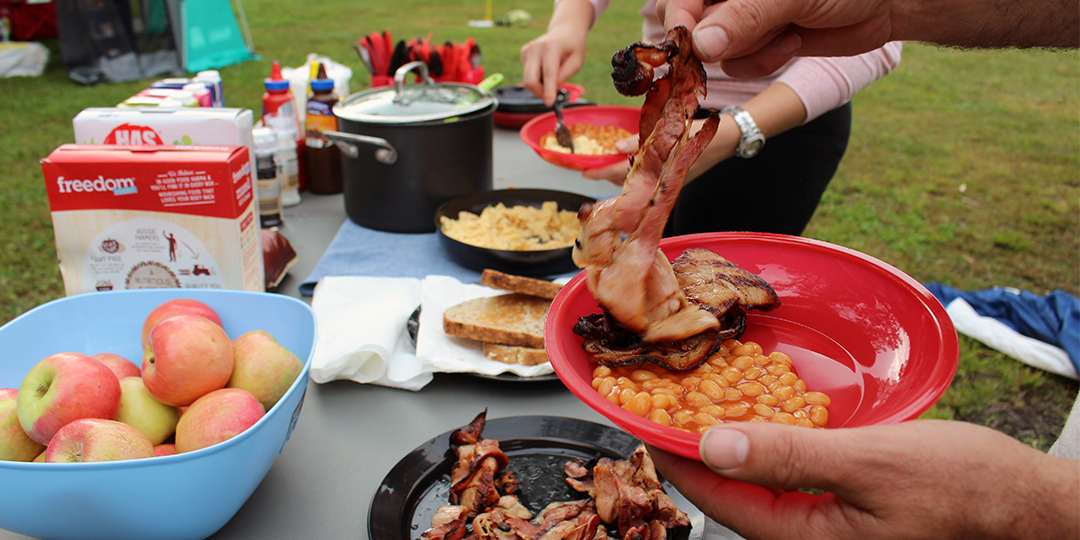 FAQs/Things you should know
What does my ticket include?
All camping equipment, including but not limited to, a large tent for your group with room to stand, queen or single airbeds, lanterns and chairs for each participant. Ample tables, shelters, cooking tools and general camp comforts will be available for communal use.
A custom Coleman® cooler

filled with snacks and soft drinks

A refillable Coleman® water bottle for each person to keep

Three meals - picnic lunch on arrival, dinner cooked over the fire Saturday evening (sausage sizzle for kids) and cooked breakfast Sunday morning. Please let us know of any dietary requirements when you purchase you're ticket. We are more than happy to accomodate for your needs.

All activities including kids crafts area, river floats, sports equipment and games
Do I get to keep the equipment provided for the campout?
You are more than welcome to take home the provided snack cooler and water bottles however, we ask that you please don't take any other equipment with you so we are able to provide the same great experience for other groups when they come to camp.
What do I need to bring?
Bedding: We've got everything covered except sleeping bags and pillows. You will need to bring your own bedding unless pre-purchased with your ticket (option available at checkout). For those who buy sleeping bags as an add on, your sleeping bag will be waiting for you in your tent and is yours to take home. If you'd prefer to bring sheets and a doona, the airbeds fit a standard queen sheet nicely.
Clothing: Night time can be chilly so you might want to bring some warm clothing layers & rain coats, as you never know what the weather will do.

Swimsuits & towels: Upper Colo Reserve sits right on the river & the swimming is great! Don't leave your togs behind.
What facilities are there?
Bathroom facilities: There are flush toilets, sinks & showers onsite but there isn't hot water. We will however have a portable hot water system available for washing dishes and hands.
Drinking water: Upper Colo Reserve has a large water tank for drinking and we will have multiple jugs around camp for you to fill your bottles from.
Power: No power is available for charging.
Is there phone reception?
No. There is no phone signal in the Colo Valley so make sure you get directions beforehand as we won't be reachable via phone. In the event of an emergency, the ranger house has a landline available to use.
How big is the event?
The event is limited to 15 tents (65 people max) to ensure a relaxed atmosphere for everyone in the group.
Is there an age restriction for attendees?
No. This is an all ages event. We do however recommend not bringing children under 2 as the activities and environment associated with camping, may not be suitable for a child that young.
Is this an alcohol free event?
Alcohol won't be provided by Coleman Camp Club however, BYO drinks are allowed for anyone over 18 years of age. Please drink responsibly and be respectful of the other guests. Remember this is a family event and Coleman Camp Club staff reserve the right to remove anyone from the property who is acting in a manner we deem innappropriate.
What time is check-in/check-out?
The event starts from 12 noon on Saturday and wraps up by 11am Sunday morning. You are welcome to stick around the campground and enjoy the river for longer but we will begin packing up from 11.
How do I get to the event?
Only an hour and a half from Sydney, the road to Upper Colo Reserve is well marked and sealed the majority of the way and fine for any 2WD vehicle. Coleman Camp Club signs will be posted along the route to help you find your way. Please make sure you store driving directions somewhere before you come as we won't be reachable by phone if you get lost. The GPS/maps function on most phones will easily get you to the site, even once you lose signal. Plenty of parking is available next to the campsite so you can easily access your car during your stay.
Directions to Upper Colo Reserve:
From Windsor go over Windsor Bridge heading to Wilberforce Road, which becomes Putty Road at Wilberforce (Do not turn right into King Road). Stay on Putty Road for approximately 15km and then turn left into Upper Colo Road, just before the Colo River bridge. Travel another 13.8km along Upper Colo Road and then follow map and signs onto Hulbert Road.
An alternative route into Upper Colo Reserve is via Colo Heights Road. Colo Heights Road is approximately 12km north of the Upper Colo Road exit. If heading north along Putty Road, Colo Heights Road is just past Colo Heights Public School. If travelling South along the Putty Road, Colo Heights Road is 2km past the service station.
Visit the Upper Colo Reserve website at http://www.hawkesbury.nsw.gov.au/services/places-and-facilities/upper-colo-camping for more info.
What's the cancellation/refund policy?
Coleman® Camp Club is an all weather event and will go ahead rain or shine so please come prepared. Tickets are non-refundable unless the event is cancelled by the organiser. In the event of a cancellation you will have the option of moving your group to another date or receiving a full refund on the ticketed price.