Location
E Block,University of the Sunshine Coast
90 Sippy Downs
Sippy Downs 4556
Australia
Description
EVENT DETAILS - Now in E-Block (EG13)
Weekly on Saturday 10:00 AM - 12:00 PM
Starting 8th of February 2020 through to 28th of March 2020
Please turn up 5-10 minutes to setup prior to Dojo starting, and bring your own Laptop.
FREE CODING WORKSHOP
CoderDojo Sunshine Coast welcomes anyone between the ages of 7-17 to come and learn basic web development (HTML, CSS, JavaScript), app development and game development. No prior knowledge required!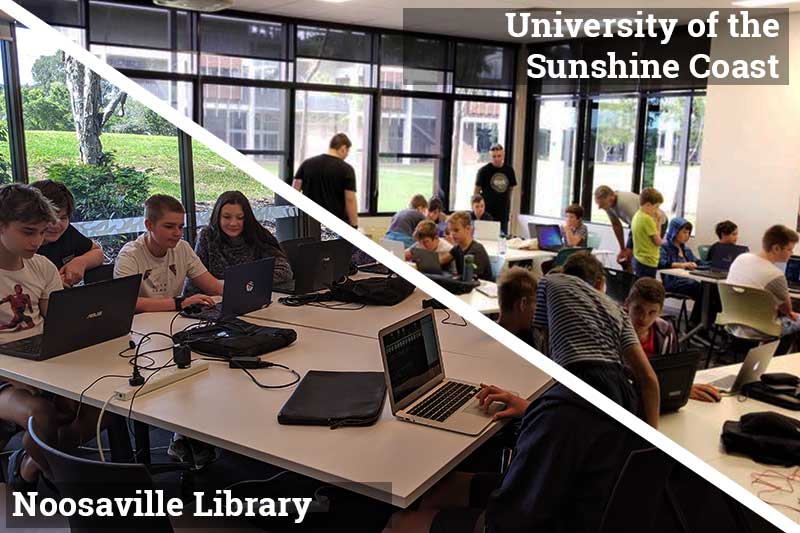 FAQs
Do I need to bring anything?
Yes, your child should come with a clean* working wifi-enabled laptop. Also bring a charger for your laptop so that it keeps runing.
*Clean Laptop = All updates have been downloaded and virus software is up to date.
Are there other locations?
There are two Dojo's running, Noosa and University of the Sunshine Coast. We are working on opening more Dojos across the Sunshine Coast shortly and will announce on our Website, Facebook and Twitter.
What is CoderDojo?
CoderDojo is a global collaboration providing free and open learning to young people, especially in programming technology. Founded by James Whelton and Bill Liao in Ireland during 2011 there are now over 400 CoderDojos in over 40 countries around the world.
How old does my child have to be?
Ages 7-17 are welcome and will need a parent to sign a permission slip. Ages 13 and under must be accompanied by a parent during session.
What programming languages will be covered?
We normally cover Scratch, HTML, CSS, JavaScript, Python and C#, but we are happy to guide the participants through any language that they are interested in.
This session is sold out!! What now?
Sign up for the waitlinglist - we have a lot of cancelations throughout the month so you'll likely be able to attend. Watch your inbox for when we release your tickets.
How long are sessions?
Sessions are 2 hours long
What does attendance cost?
Attending CoderDojo sessions is free thanks to our volunteers and sponsors.
Do I have to stay with my child for the sessions?
If your child is younger than 13, your presence is required. All parents are welcome to hangout with us or near us, so feel free to bring work or entertainment for the duration.
Does my child need prior knowledge to attend?
No prior knowledge is required.
My child is looking for more advanced development resources, will they still benefit from attending?
Yes. Many of the mentors are experienced developers with advanced skills and understanding of more difficult concepts.
GET INVOLVED
There are a number of ways you can get involved in CoderDojo Sunshine Coast. Mentors and volunteers are the driving force behind CoderDojo, enabling the spread of CoderDojos around our community and getting more young people coding, to get involved contact us!