CoderDojo Hour of Code Event MENTORS

Saturday, 10 December 2016 from 10:00 am to 3:00 pm (AEST)
Event Details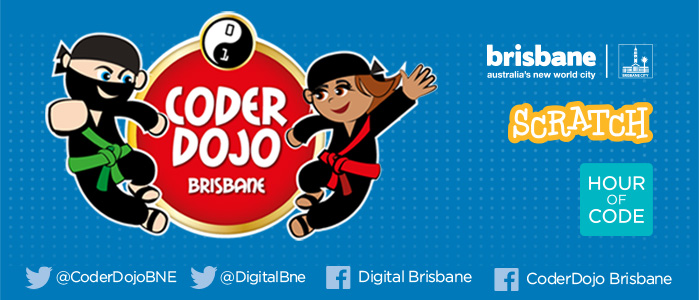 CoderDojo Hour of Code Event- Get Creative with Coding
CoderDojo Brisbane is excited to announce a very special school holiday workshop to wrap up a fantastic year of the program.

CoderDojo will be hosting an Hour of Code event on Saturday 10 December at The Capital, a brand new innovation centre in the heart of the Queen Street Mall. The Hour of Code is a worldwide initiative by Computer Science Education Week and Code.org to introduce millions of students to one hour of computer science and computer programming.

We are very excited to announce our special guest for the event, Natalie Rusk, one of the creators of the Scratch program that all CoderDojo mentors would be familiar with. Natalie joins us from MIT University where she is a research scientist, and is excited to talk to both ninjas and mentors about Scratch and the work being done at MIT.

The CoderDojo Hour of Code event will be a fun, two-hour workshop, where ninjas will have the opportunity to work on a range of projects including special Hour of Code activities, Makey Makey invention kit activities and Scratch games. The format of the CoderDojo Hour of Code event will be different to a regular CoderDojo session as there will be a more structured approach with set tasks and activities. Mentors will be briefed prior to the event.

There will be two sessions run on the day (10am-midday and 1-3pm) with four groups of 20 ninjas in each session. As with all CoderDojo sessions, we will need lead mentors for each group (four per session). Please email kygibson@brisbanemarketing.com.au if you are interested in taking on one of the lead mentor roles.

There will be a professional photographer and possibly a film crew capturing moments from the day and we will need all mentors to complete a Talent Release Form on the day. If you do not wish to be included in any photos, please let Kelly Gibson or Kate Holmes from Brisbane Marketing know when you arrive for the workshop.

As with all CoderDojo events, mentors are welcome to bring their children. Due to capacity of the venue, all mentors wishing to bring children must advise the team at Brisbane Marketing (kygibson@brisbanemarketing.com.au) before the ninja tickets are open to the public on Thursday 17 November.

We hope that you can join us in teaching the next generation of coders at this very special end-of-year event.

*NOTE: This registration page is for mentors only. if you wish to register your child as a participant for the workshop, please check the details on the CoderDojo events page. 
Date: Saturday 10 December
Time: 10am-midday & 1- 3pm
Location: The Capital, 155 Queen St, Brisbane

Please email coderdojo@brisbanemarketing.com.au if you have any questions regarding the workshop or registrations. 

When & Where

The Capital
Level 2
155 Queen Street
Brisbane, QLD 4178
Australia

Saturday, 10 December 2016 from 10:00 am to 3:00 pm (AEST)
Add to my calendar
Organiser
CoderDojo Brisbane is a Brisbane Marketing inititiative of the Digital Brisbane Strategy. CoderDojo is a global program founded by James Whelton and Bill Liao in Ireland in 2011. To find out more about the CoderDojo Brisbane program or the origins of CoderDojo, click here.