CoderDojo Brisbane- Carindale Participants Term 3, 12:30pm Advanced Session...
Sales Have Ended
Registrations are closed
Please be reminded that parents are required to supervise participants aged under 15 years.
Sales Have Ended
Registrations are closed
Please be reminded that parents are required to supervise participants aged under 15 years.
Description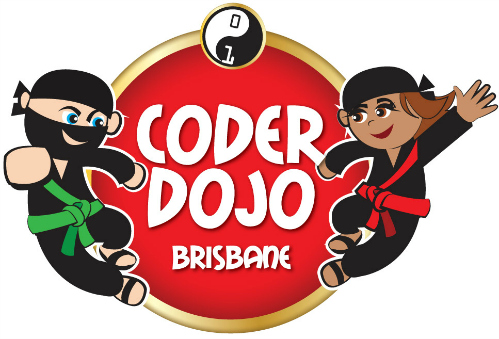 CoderDojo- Carindale Program Term 3
CoderDojo is an open source, volunteer-led, global movement of free coding clubs for 7-17 year-old kids. While each dojo shares the ethos of CoderDojo there is no typical dojo and the activities vary from club to club. However, they all teach young people about coding and how to develop software, as well as themselves, and explore technology by working with others and presenting their work.

All dojos are inherently different and are influenced by the coordinators and volunteers who facilitate them. There is a focus on community, peer learning, youth mentoring and self-led learning with an emphasis on openness, helping others and showing how coding is a force for change in the world.

Registration for Term 3 includes all sessions from Saturday 29 July - Saturday 2 September. Please be sure to arrive at least 15 minutes early for registration and set-up.
Kids aged from 7-17 will be exposed to programming tools such as Scratch, HTML, Python, Alice and many more. In these programs they will work to create their own projects with the assistance and guidance of volunteer mentors – some of the best tech experts Brisbane has to offer.

Please make sure you review all the information included on the CoderDojo session information page prior to registering. Parents must remain in the library for the duration of all CoderDojo sessions.

In each session, participants are required to:

• bring a laptop and charger
• a snack/or lunch
• wear their CoderDojo "Ninja" T-shirt

Session 2- 12:30-2:30pm ADVANCED SESSION
The 12.30-2.30pm session at Carindale will be an advanced session. We welcome any ninjas who satisfy the following requirements to register for the advanced sessions:
• At least one semester of CoderDojo or school subject equivalent
• A basic understanding of coding concepts (if/else loops etc)
• An interest in writing code other than Scratch

As with all CoderDojo sessions, the content covered will depend on the skills and experience of the mentors, however, ninjas participating in the advanced sessions can expect to learn about concepts such as:
• Scripting languages like Python and Lua
• Web Development with HTML, Javascript or CSS
• 3D animation in Unity
When: Every Saturday from Saturday 29 July- 02 September
Time: 12.30-2.30pm - ADVANCED SESSION
Location: Carindale Library

When registering please fill out *Ticket Buyer* as parent's name and *Attendee Name* as participant's name.

Please make sure you have subscribed to the CoderDojo website and are following CoderDojo Brisbane on Facebook and Twitter. This will be the primary method of communication with parents.

For more information, visit coderdojobrisbane.com.au or contact coderdojo@brisbanemarketing.com.au