75-seater Coach Trip to the Florentine for FlozFest! - Come & See Big Trees, learn to climb & Rediscover Lady Binney's Lost Forest Walk
About this Event
Public day out in the Florentine
Discover the girthiest Stringybark in Tasmania, at 5.4m wide its longer than a Toyota HiAce van. "Home Tree" was found in February 2020 as the surrounding forest was being clearfelled by Sustainable Timber Tasmania. Thanks to the curiosity and subsequent quick actions of Annie Ford and Jack O'Hare "Home Tree" was temporarily saved.
"Home Tree" along with five other trees over 4.5m wide and remaining old growth forest now have a chance to tell their story. A story of a big tree, an abundant forest nursery and an ancient forest contiguous with the WHA. The Lady Binney Forest Reserve joining onto this area is the premiere example of ultra tall stringybark forest in Tasmania.
Exclusive to coach passengers: On the ride to the Florentine, hear from forest guardians, Annie & Jack, who discovered the huge trees - including the 5.4-metre wide Home Tree - in the area due to be logged. Get an insight into the Florentine forest ecology, geological karst systems and learn about old growth rainforest. And ask them questions.
The Lady Binney Forest Reserve was a tourist destination in the past however its short 1km loop walk has been lost to time, and mismanagement. After we have guided you through the forest around "Home Tree" we can venture into this forgotten walk. You'll be inspired by this truly unique example of an open understory ferny forest.
We are so lucky to have such incredible forests here in Tasmania and we'd really love to guide you around and share our knowledge and experience.
* COVID-19 safe event keep your 1.5m distance
* For up to date COVID-19 info see https://coronavirus.tas.gov.au/
* No sit down toilets on site, Maydena last opportunity
* BYO food
* BYO comfort (chair, picnic blanket)
* Wear bushwalking shoes
* Bring wet weather gear (its Tassie in spring)
* Bring warm clothing (its Tassie in spring)
Location
Tyenna Big Tree Reserve: https://goo.gl/maps/H1SVjYKGUGJsAUqT9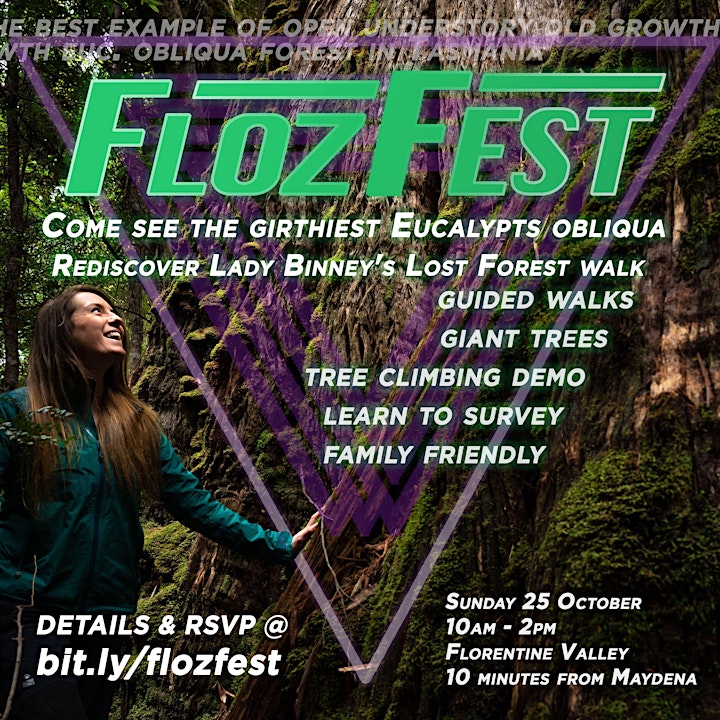 COVID-19 safe event keep your 1.5m distance
For up to date COVID-19 info see https://coronavirus.tas.gov.au/
No sit down toilets on site, Maydena last oppertunity
BYO food
BYO comfort (chair, picnic blanket)
Wear bushwalking shoes
Bring wet weather gear (it's Tassie in Spring)
Bring warm clothing (it's Tassie in Spring)