Coach Cafes - Your Personal Board of Directors for Success (5 locations)
Event Information
Location
16, 21, 22, 23 August in five locations
Coburg (23/10) | South Yarra (24/10) | Geelong (25/10) | Docklands (25/10) | Footscray (1/11)
Vic 3000
Australia
Description
Five locations in Melbourne Metro and Geelong:
Tuesday 23 Oct | 12:30 - 2:00pm | Coburg (NEW) | The Boot Factory, 19 Pentridge Blvd (Map)
Wednesday 24 Oct | 12:00 - 1:30pm | South Yarra | Lucky Penny, 481 Chapel St (Map)
Thursday 25 Oct | 12:00 - 1:30pm | Geelong | NAB Village, 43-45 Brougham St (Map)
Thursday 25 Oct | 12:30 - 2:00pm | Docklands | Room 8, NAB Village, 700 Bourke Street (Map)
Thursday 1 Nov | 1:00 - 2:30pm | Footscray | Dancing Dog Cafe, 42A Albert Street (Map)
---
The purpose of Coach Cafes is to provide a relaxed and safe space for people who coach, care about or are interested in coaching - our community - to CONNECT, SHARE, LEARN.
Do you have a personal Board of Directors? How effective is it?
Having an Board of Directors that you leverage for your success is not a game ... it's worthy of deep consideration and strategy.
Successful of organisations worldwide depend on the quality of knowledge, experience and abilities of a Board of Directors, combined with their capacity to contribute and make a meaningful difference.
If we were to apply the same notion to supporting you in your life, work as a coach, and world:
What would your personal board need to look like?
How does it serve you in building your capabilities and capacity to be at your best?
What qualities do they each need to have that you can access?
Who do you need to or want to enrol to support you?
How do you best utilise your Board of Directors?
Your Board of Directors is much more than a cheer squad.
What are some of the roles on your personal Board of Directors?
Cheerleader?
Coach?
Wise Counsel?
SME?
Connector?
Confidante?
Accountability Partner?
...
In this interactive series of coach cafes in October, we will explore this important topic.
Come along to one of our Coach Cafes and be part of the conversation. Explore this with other coaches in a safe space. We'd love to see you.
#coachingexcellence #professionalcoaching #icfaustralasia #personalboardofdirectors
PAID ADVERTISEMENT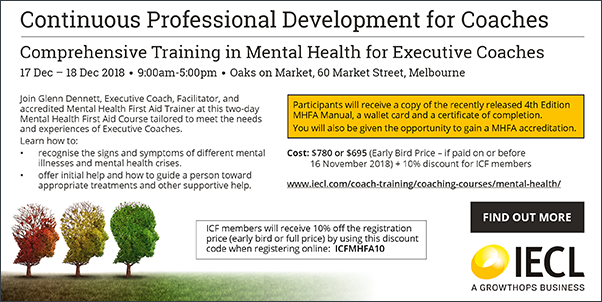 To find our more, click here
Location
16, 21, 22, 23 August in five locations
Coburg (23/10) | South Yarra (24/10) | Geelong (25/10) | Docklands (25/10) | Footscray (1/11)
Vic 3000
Australia