About this Event
Are you one of the following people?
A "Business Coach" that's not yet making what you know your worth…
An "Entrepreneur" that would like to make additional substantial income…
An "Accountant" that wants to add an advisory income stream to your firm...
A "Life Coach" that wants to make more money from their coaching skills...
A "Consultant" working in the corporate world that wants to break free...
A "Business Blueprint" Graduate that wants to give back and help others...
If you answered YES to one or more of the profiles above, stop everything you are doing right now, because Coach at Scale is the brand new 1-day Business Coaching event for you.
For reasons that will be explained shortly, this opportunity is limited and may never be repeated. So you must keep reading, then take immediate action.Why Business Coaching?
Why Business Coaching?
Imagine for a moment the "Perfect Business"? What characteristics would it have?
What about high, predictable, recurring monthly income, coupled with extremely low expenses? In fact, you may even be able to enjoy an unparalleled 80% profit margin!
Now imagine if you can also run that business from home or anywhere else in the world for that matter. In addition, you can choose your own hours (part-time even) and you can work it around family, travel and then enjoy a 3-day or even 4-day weekend.
Finally, imagine that business was also good for the economy and through it, you can impact the lives of hundreds or even thousands of people in the most positive and empowering way.
What business offers all this and more?? The answer is "Business Coaching". And now, for the first time ever, I'm going to share all my secrets with you. Read on to find out more…
Who Am I & Why Take Notice?
Good question! In short, over the last 14 years, I have Coached & Consulted to over 3,200 businesses.
In addition, I have self-published 19 books that have sold over a quarter of a million copies. I've run more than 1,260 business events and my videos on YouTube have been watched by more than 2,100,000 people.
But none of the above is why you should listen to me. The bottom line is I'm a teacher. I love nothing more than breaking down complicated business processes and turning them into systems, so others can get the same results as me, in the shortest time possible.
In the case of Coach at Scale, I've spent 14 years working as a business consultant, advisor and coach. I've experimented with dozens of models and I've been personally mentored by some of the world's best. So when you learn from me, you will get what you really need to know—without the filler and fluff.
What Will I Learn?
When I sat down to write the content for this 1-Day workshop, I wrote a single sentence, cut it out and stuck it to the top of my computer screen.
The sentence was this, "What is the Fastest and Easiest way for a person to Go From Zero to $1,000,000 per year as a Business Coach or Consultant?"
For the next 5 days, I sat at my computer and I wrote down everything I have learned over the last 14 years that has helped me 30x this figure from business coaching. Then I figured out how to teach that to others in just ONE DAY.
The result is a workshop which is unlike anything else currently on the market today. Why? Because everything I'm going to teach you comes from practice, not theory.
So, if you want to know how to start and/or scale a hugely successful coaching business, I can most definitely show you the way.
Here's What You'll Learn at Coach@Scale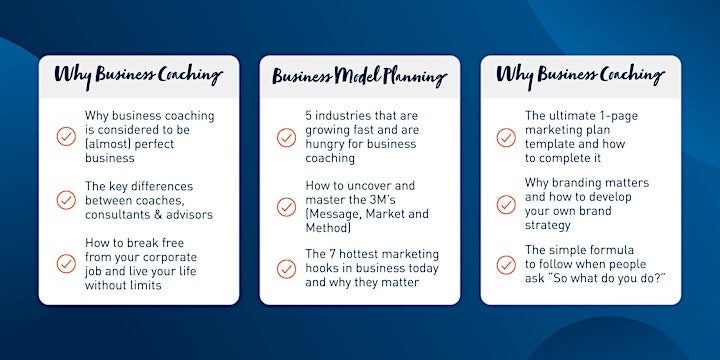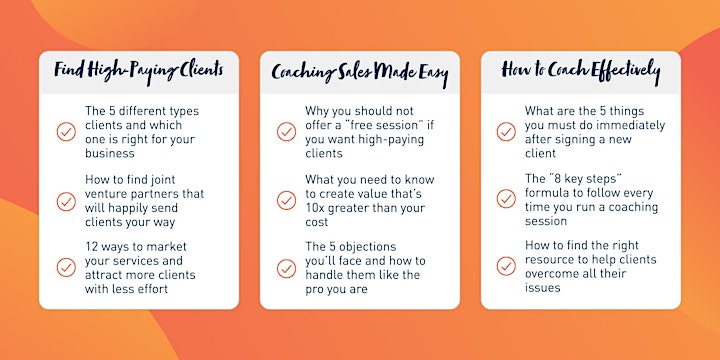 Why Am I Doing This?
Over the last 10 years I have had dozens of people ask, "Can you show me how to get into Business Coaching & Consulting?" and "Can you tell me how you scaled your coaching business from a handful of clients to now well over 500 each and every year?". Up until now, my answer has been "Sorry, but no".
Sounds harsh I know, but the reason is it's not a 5-minute answer. In fact, it would take the best part of a day to explain. And it's really not physically possible to do that for every person that asks. But after seeing enough good coaches struggle for far too long, I've decided that it's time for me to finally share, well, everything.
So over the last few months, I've unpacked my brain. All the principles, all the strategies and all the tactics that helped me go from Zero to well over $5,000,000 per year. And now, for the first time ever, I'm going to share everything I know, with you.
What's the Investment?
Considering you're going to get 14 years of experience in just one day, I could easily charge $2,000 for this event and it would be absolutely worth it.
However, as this is the first time I am offering this training, I'm going to set the investment at only $95.
This price is certainly not sustainable. If I ever do it again (and that is a big IF), it will be more than double that.
How to Claim Your Ticket?
If you want to access the knowledge and skills to make hundreds of thousands or even millions of dollars as a highly successful business coach… now is the time to act.
Right now these are the only events I'm running and this may be the only time I ever share my secrets with others so do yourself a favour and claim your tickets now.