Description
Welcome to this month's Westerna Australian ICG coach and connect event: Why I Turned Off Notifications!
How The '2 Minute' Statistic Is Sabotaging your Business
This month we continue our incredible run of high level coaches teaching us the in's & out's of how to create the results you want!
We are so excited to have the awesome Isle Strauss to share with us her journey, wealth of knowledge and strategies to getting really clear on how to redicrect our focus to create success.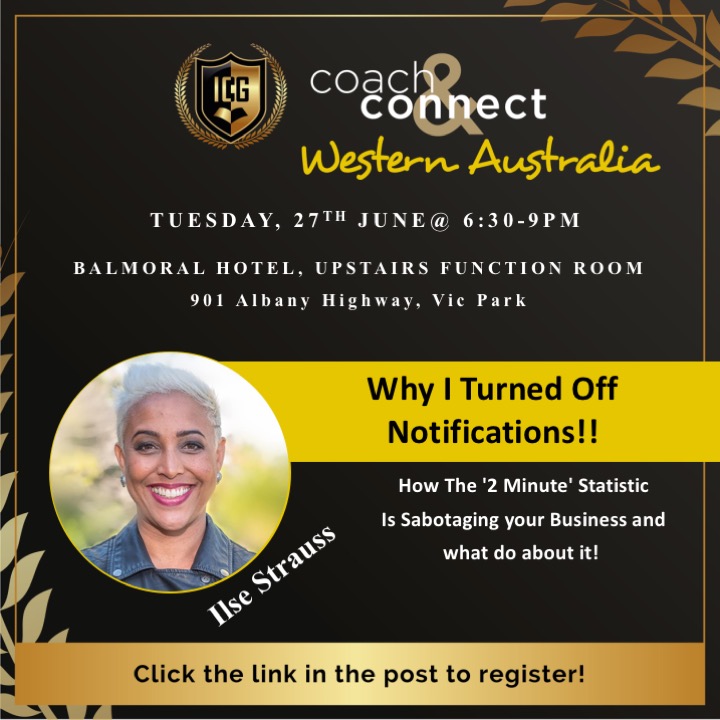 Ilsé Strauss made the transition to full-time coaching 8 years ago and hasn't looked back since! With a burning desire to design her life on HER terms, Ilsé has learned how to navigate the challenges of coach-preneurship and overcome the challenges of climbing the rugged terrain of success. She is a masterful coach with over 4000 hours of coaching, the mentor for Pro-Coach students, has developed the Workplace Coach Certificate and is known as 'The Morale Alchemist' in her speaking career. But most importantly, knows what it takes to make this journey as a coach a successful one!
Have you ever wondered if the everyday goings on in society is perhaps affecting your success? Latest statistics show that people are struggling to stay focussed for 2 Minutes without checking their phones for social media or SMS notifications. It is fair to say - we have officially become a society addicted junk dopamine - and it is hurting your business. Dopamine is a powerful neurotransmitter which contributes to your levels of motivation, productivity and peak performance - but in todays' society, it is being mis-managed and is creating higher levels of distraction, lack of motivation and poorly directed energy.
Join us in this month's Coach & Connect for a compelling seminar bringing you into higher levels of awareness and learn how to stay focussed and in alignment as a successful despite the trappings of a noisy society.
Here's all the details you need to join us for this opportunity…
Date: 27th June 2017
Time: 6:30 pm for a 7pm start
Where: Balmoral Hotel
Tickets: $20 at eventbrite or $25 on the door
See you in the room for what is sure to be a phenomenal evening that will boost your coaching results through the roof.