About this Event
Children's Art Workshop with Naomi Zouwer: Creating a Sustainable World
Saturday 1 February: 10.30am – 12.30pm
Learn simple construction techniques to make flora and fauna out of a range of discarded materials to create a 'healthy habitat' with fellow participants. Join local artist Naomi Zouwer in a collaborative art making workshop in the CMAG Studio. Following a tour of the exhibition Hi-Vis Futures, explore the meaning of 'sustainability', and work together to make and then destroy an ephemeral artwork out of recycled materials.
Suitable for 8 to 12 year olds
$20 ACT M&G Members and concession (use code in your member's email), $30 per child general admission
$50 family ticket (3 children)
Book by Thursday 30 January
About the Presenter
Naomi Zouwer, a professional arts educator, researcher and recognised TQI program provider. Naomi designs and runs all courses, using expertise built up over 20 years as a practising visual artist, and industry and teaching professional. The Creative Practise provides a hands-on approach to learning, teaching, and making: "I draw out creativity by teaching simple and fun techniques that stimulate creative thinking and problem-solving. I design and deliver courses that ensure my learner's needs are met; and that they grow in confidence and also have fun!'
An experienced arts educator Naomi has developed art programs for all levels, including preschool, primary, secondary and tertiary. She has specialised in developing and delivering tailored art programs for cultural institutions such as the National Museum of Australia, The National Arboretum and The National Library of Australia. She has developed a painting program for Ignite: Alternative Arts Academy for students with mental illness and disabilities, in addition to other community art courses delivered at The Belconnen Arts Centre. She has taught creative subjects including visual arts, fashion design, graphic design and interior design to adults at the Canberra Institute of technology since 2009. Naomi is currently a sessional lecturer at the School of Art and Design at the Australian National University in the Textiles and Foundation workshops. As a practising cross-disciplinary artist, Naomi works across drawing, painting and textiles mediums to make works that engage with ideas of cultural heritage, identity and the social role of personal objects. Naomi has exhibited widely in Australia being selected for drawing and textile awards and exhibitions. Naomi's practise-led PhD research is concerned with using art making as a means of understanding the world around her. See her Instagram for more.
About the exhibition
Alexander Boynes and Mandy Martin with sound by Tristen Parr
Saturday 16 November – Saturday 1 February 2020
From 'eco' to 'FIFO'. From high-value to high-vis. This art installation encompasses the complex political, environmental and fundamental social issues that are occurring right now and for the visible future. A collaboration between artists Mandy Martin, Alexander Boynes and musician Tristen Parr, High-Vis Futures is a sequence of sound, video projection and mixed media artworks depicting the intimate connection between industry, carbon emissions and the end of the fossil fuel era.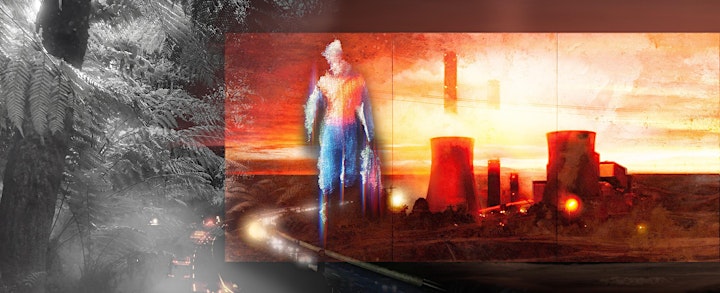 Mandy Martin Alexander Boynes with Tristen Parr Rewriting the Score (detail) 2019 Mixed media on canvas, 3 Channel 4K video with stereo sound.