Join us ClubG for the screening of the long waited movie of the best Italian football player of all time! ROBERTO BAGGIO-IL DIVIN CODINO
About this event
Club G presents another amazing night at Radio Italiana 531!
Join us for a great movie night together to celebrate the long awaited arrival on Netflix of IL DIVIN CODINO - The Story of Roberto Baggio.
All the Italian Football Fans and 90s kids are definitely going to LOVE this one!
Il Divin Codino is not a documentary but a fully-fledged feature film, starring Andrea Arcangeli as Roberto Baggio. The feature film will "look at key moments from his 22-year career, including that penalty kick in the 1994 World Cup final and his contentious move from Fiorentina to Juventus. It will also take a closer look at the man himself, his relationship with his family, and his Buddhist beliefs."
Tickets: 30$ which include Pizza and Drink on arrival (beer/wine/soft drinks)
More drinks can be purchased during the night.
RAFFLE TICKETS available to WIN some incredible Roberto Baggio's merchandise.
We'll also set up some cards and a PS4 to challenge your friends at some Fifa matches before the movie!
BUY YOUR TICKET TODAY, LIMITED TICKETS AVAILABLE! YOU DON'T WANNA MISS THIS!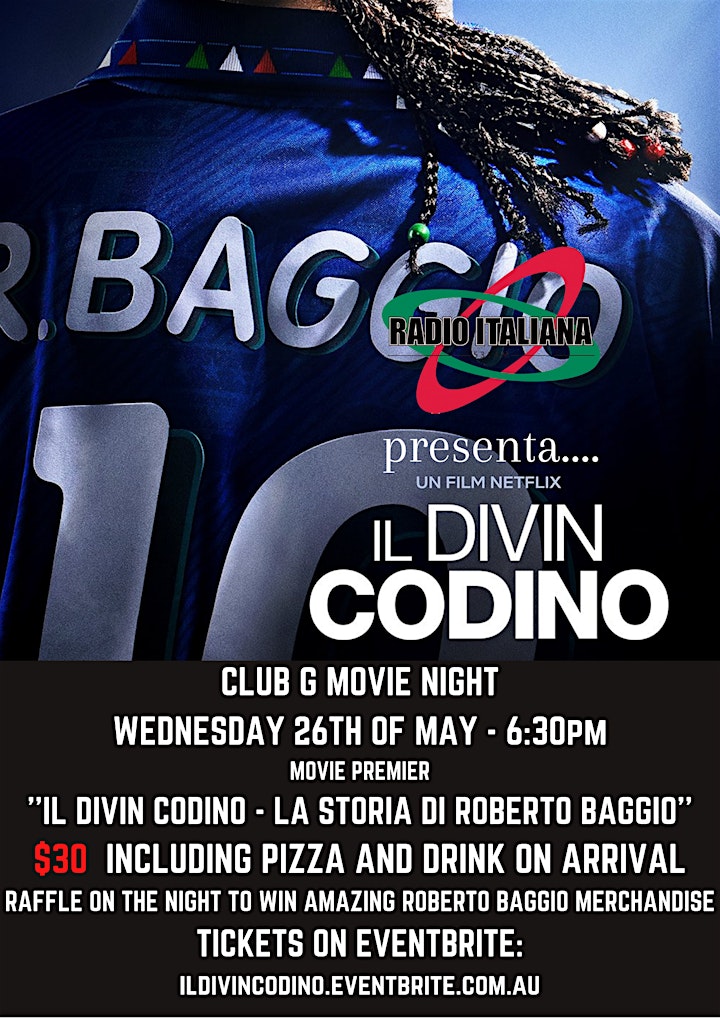 Organiser of ClubG Movie Premiere - IL DIVIN CODINO - LA STORIA DI ROBERTO BAGGIO