Sales Have Ended
Registrations are closed
Unfortunately this event has been booked out. Please add your name to the Waitlist to be notified if places become available. For more Sustainable Living Week events visit http://www.whitehorse.vic.gov.au/Sustainable-Living-Week.html
Sales Have Ended
Registrations are closed
Unfortunately this event has been booked out. Please add your name to the Waitlist to be notified if places become available. For more Sustainable Living Week events visit http://www.whitehorse.vic.gov.au/Sustainable-Living-Week.html
Description
Limited spaces available | Light refreshments provided | Student Bake Sale

What better way to refresh your wardrobe than to swap it out for someone else's? Bring along clothes that you have loved but no longer need and turn them into new treasures to love well into the future. Kirsta Hawkins will shed light on how making mindful fashion choices can avoid clothing waste, help us live more simply and lessen our impact on the planet.
Kirsta Hawkins is a lifelong lover of second hand fashion and the owner of Mutual Muse, a boutique clothing exchange located in the heart of bustling Thornbury. She is dedicated to showing that the sharing economy isn't just better for the environment, but is also a great way to try new things and get involved in your community.
This Clothes Swap is brought to you by Whitehorse City Council in collaboration with the Box Hill Institute.
*Please note; if you are checking in your swap items on the day of the event you will need to arrive 30mins prior to commencement of the event, i.e 9.30am.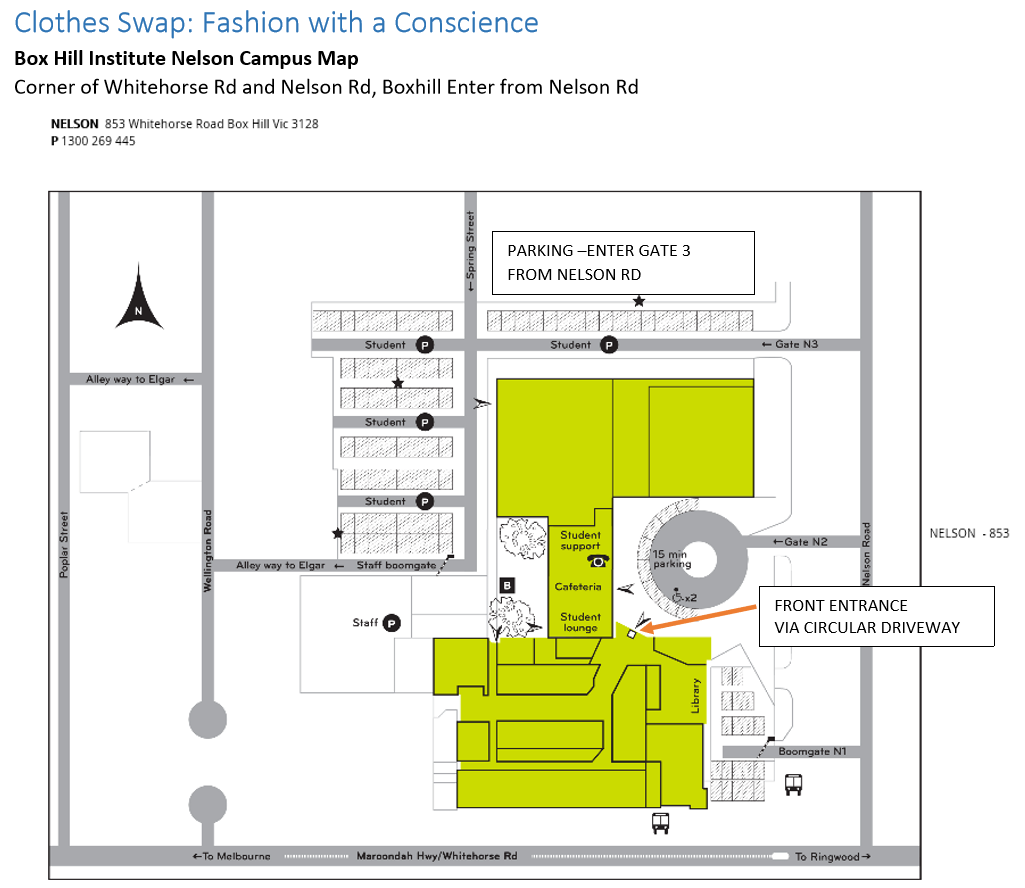 WHAT DO I NEED TO KNOW ABOUT THE CLOTHES SWAP?
Here are some handy tips to help you get the most out of the Clothes Swap. Please ensure that you have reviewed them before arriving at the Swap.
WHAT CAN I SWAP?
Select 3-6 garments, accessories or shoes from your wardrobe of good quality which you no longer wear but someone else may love!
In your selection of items, consider if items would likely be valued and enjoyed by others wearing these items.
Garments must be clean, folded or pressed. Items should be good quality- no defects or faults such as stains, holes, rips, breakages (zippers & fastenings) etc. Underwear, swimwear and sportswear are not accepted. No kids clothes, but Mensware is welcomed.
DELIVERY OF ITEMS:
Items to be swapped will first be assessed by our quality team to ensure that they meet quality standards. This can either take place on the day of the event, alternatively you can send us your items before the event.
Delivery prior to event: from Monday May 28th – Thursday May 31st between 9am - 4pm. Garments can be delivered to Box Hill Institute Nelson campus, 853 Whitehorse Rd (corner of Whitehorse and Nelson Rd, Box Hill) and placed in the wire trolley located in front foyer. All pre-delivered items must be placed in a sealed bag and labelled with your name, mobile number and number of items inside the bag.
Delivery on day of event: All garments must be delivered in person to registration desk in front foyer 30 minutes prior to commencement of event (9.30am- 10am). Garments will not be accepted after 10am.
CLOTHES SWAP SCHEDULE (Saturday 2 June 2018)
9.30am- 10.00am: Check-in garments
10.00am 10.30am: Morning tea and networking
10.30am-11.00am: Guest speaker: Krista Hawkins
11.00am-11.15am: Briefing on Rules of Engagement for Clothes swap shopping and viewing of garments
11.15- 12.15pm: Clothes Swap shopping and checkout
12.15pm- Event finishes
CLOTHES SWAP "RULES OF ENGAGEMENT"
All participants will receive one button for each item contributed. Buttons are currency so you purchase one item per button. For Example, if you contribute 3 items, you receive 3 buttons and can purchase 3 items.
All garments will be hung on racks by category and size.
To create a fair clothes swap, participants can only take and carry 3 items at one time.
Change rooms will be available to try on garments, however there is a maximum of 3 items per person in the change room. Change rooms will be monitored by our staff.
Once garments are swapped, you cannot exchange or return items.
There will be one hour allocated for clothes swap shopping.
Once you have completed shopping, you can take your items and buttons (currency) to the checkout desk. Please bring your own shopping bags as these will not be provided.
All items left over at the end of the event will be used for Box Hill Institute sustainable design projects incorporating recycling and upcycling techniques, hence providing garments a longer life span.
For more details about the entire 2018 Sustainable Living Week program please visit: http://www.whitehorse.vic.gov.au/Sustainable-Living-Week.html