Closing the Technology Loop on Self-Driving Cars: A Transdisciplinary Forum
Event Information
Location
QUT Gardens Point Campus
Owen J Wordsworth Room, Level 12, S Block
2 George Street
Brisbane, Qld 4000
Description
OVERVIEW
The prospect of widespread self-driving cars presents an unheralded disruptive challenge for industry, government and society. Central to this challenge is the diverse range of technological approaches being proposed as solutions, all of which have drastically different impacts on government, industry and society.
You're invited to a transdisciplinary forum which will take you on a journey that first considers all the technological scenarios: from infrastructure-intensive connected vehicle networks to stand-alone genuinely intelligent self-driving cars that drive like a human does. This forum presents a unique opportunity for participants to obtain a comprehensive understanding of the various technological forces at play and the myriad of ways in which industry, government and society can act and react to this disruption.
EXPERT SPEAKERS
You'll hear domain experts illustrate how these technology innovations will unfold for the many parties affected: the automotive-related industries including insurance, law, security and service providers, government, infrastructure managers and society itself, including those who are unable to drive.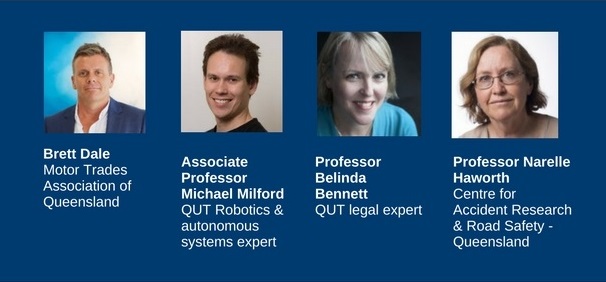 JOIN US FOR NETWORKING OPPORTUNITIES
Opportunities for networking, including drinks and canapes, will be provided.
Date and Time
Location
QUT Gardens Point Campus
Owen J Wordsworth Room, Level 12, S Block
2 George Street
Brisbane, Qld 4000