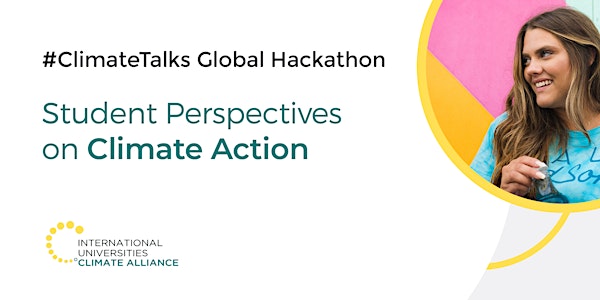 #ClimateTalks Global Hackathon: Student Showcase Event
Student perspectives on climate action and what lies beyond COP26
About this event
How might we transform the way we communicate climate change to create positive action? Our students have some great ideas and we will be showcasing the global winners who participated in the #ClimateTalks Global Hackathon followed by an interview with the winner and a panel session discussing the amazing work students are doing to drive climate action.
Dr. Dominika Teigiserova from Delft University who will interview the students and moderate the panel.
The 2021 joint winners were Team Glicks and Team Ouroboros.
Team Ouroboros (See solution video here) is from UNSW Sydney:
Beatrice Au-Yeung - Bachelor of Commerce in Finance and Marketing
Serena Hua - Bachelor of Commerce in International Business/B.Arts in Media Culture & Technology (Minor: Psychology)
Kiara Warner - Bachelor of Commerce in Marketing/B. Design in Interaction Design and Graphic Design
Indi Sofyar - Bachelor of Commerce in International Business/B. Design in Interaction Design and Graphic Design
Team Glicks (see solution video here) is from the Engineering School at Tecnológico de Monterrey Campus Sonora Norte:
Ena Sofía Azcona Castillo – Mechatronics Engineering
Marina Guadalupe Hernández Guardado – Mechatronics Engineering
José Antonio Zepeda Bojórquez – Mechatronics Engineering
Ronaldo Beltrán Montes – Sustainable Development Engineering