CLICK! 2017 Digital & Business Development Event - 2 Day Event
Description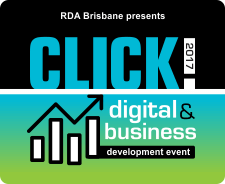 RDA Brisbane's CLICK! 2017 Digital & Business Development Event is designed to help business across all industry sectors, startups and not-for-profits increase their digital and business skills, and boost competitiveness and innovation.
This year's 2-day event - our biggest yet with a new, expanded format - will feature:
Seminars on the digital and business essentials that you need to compete in 2017 and beyond
Q & A sessions with speakers: pick the brains of our experts
New hands on "how to" workshops on key digital and small business topics
Exclusive exhibits and demonstrations from selected local and national providers
Join us for 1 day or 2 days at SEQ's foremost digital event, and future-proof your business in 2017!