Cleburne Historic Homestead Open Day - Climate & Environmental Groups Expo
Cleburne Historic Homestead Open Day and Climate and Environmental Groups Expo
About this event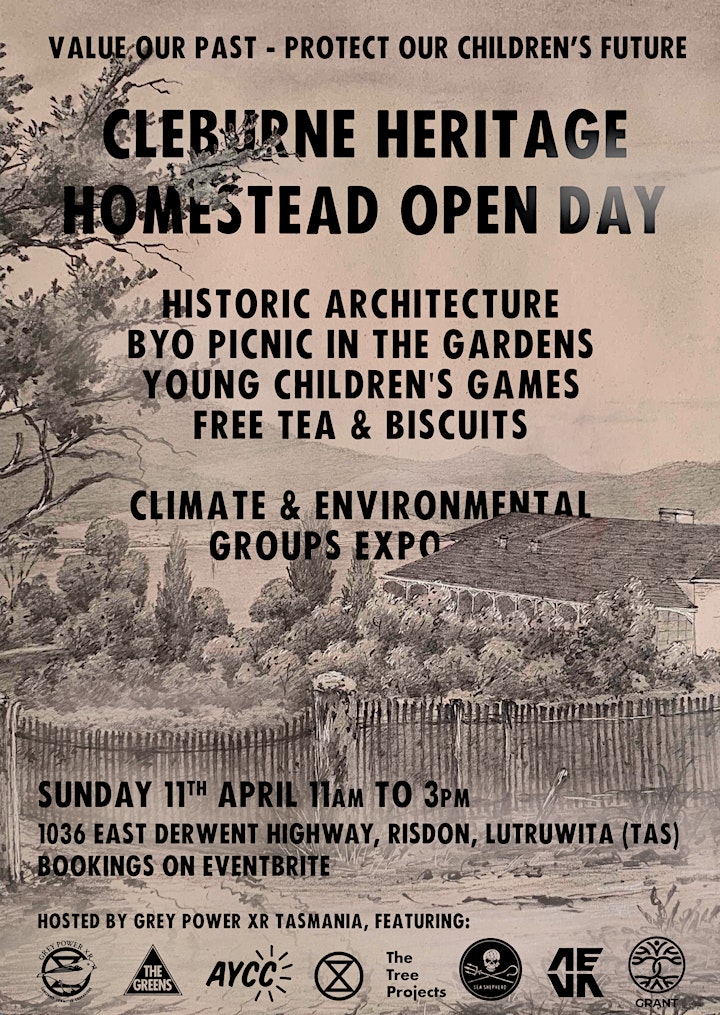 Get a rare close-up stickybeak of Cleburne Historic Homestead, a jewel of historic architecture built in the 1830s. It is registered with the National Estate and the National Trust and sits on four acres of ground where peacocks stroll and alpacas graze.
Transport yourself back to days gone by as you wander around the picturesque gardens, farm buildings and tree-sheltered courtyard. Take in the beautiful interior of the homestead where old architecture meets modern art and be treated to artworks by Tasmanian painters John Lendis, Peter Stephenson, Wayne Brooks and Helen Hopcroft among others.
Cleburne Homestead with its unique mixture of old and new has inspired its owners Penelope Ann and David to use this backdrop to share their appreciation of the past and their deep concern for our children's future with you.
They invite you to visit their home, browse through the home's history, enjoy a free cuppa and biscuits and meet the many faces working in Hobart toward preserving our beautiful home - the earth - for generations to come. Bring your children and grandchildren along for some fun games, a taste of history and a glimpse of the legacy we wish to leave for them.
NO PETS PLEASE.