CLARS Law & Business Seminar Series Zoom with Professor Iain MacNeil
About this Event
Please note: This event is now taking place on Zoom.
The introduction of the Cadbury Code in the UK in the early 1990s marked an important turning point in the evolution of corporate governance around the world.
The 'comply or explain' approach pioneered by the Cadbury Code prioritised flexibility and the role of market discipline in its approach. These priorities can be linked clearly to earlier trends in the evolution of company law and capital market regulation in the UK. However, it is more difficult to explain why the Cadbury Code should have exerted so much influence over systems of corporate governance which differ from the UK in their approach and evolution.
We propose three explanations for the spread of 'comply or explain' codes around the world and undertake qualitative and quantitative (leximetric) analysis in order to test these propositions.
Accessing Zoom
If you have not previously used zoom we recommend you join 10 minutes early to set up your account.
Order of events
5.00 pm Zoom begins
6.15 pm Zoom concludes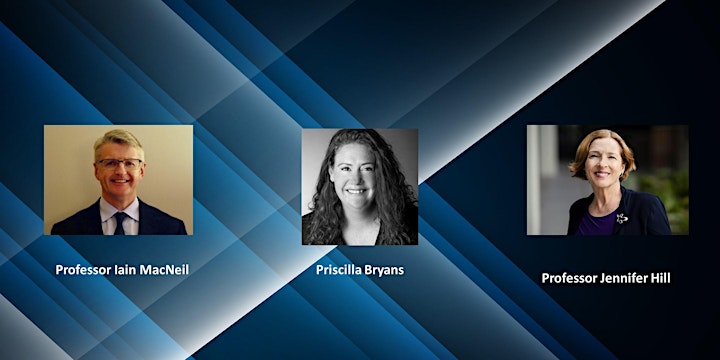 Speakers
Professor Iain MacNeil
Alexander Stone Chair of Commercial Law, University of Glasgow
Iain MacNeil joined the School of Law at the University of Glasgow in 2003 and was appointed to the Alexander Stone Chair of Commercial Law in 2005.
His early career was in the investment-banking sector in the City of London. Iain's primary interest and expertise lies in corporate governance and financial regulation. He is a member of the editorial board of the Capital Markets Law Journal and has served as general editor of the Law and Financial Markets Review.
In 2012 Iain served as a special adviser to the House of Lords EU Committee for their review of MiFID II. In 2014 he served as a member of the UK Research Evaluation Framework (REF) Panel for Law and in 2018 was appointed Deputy Chair of the REF 2021 Law Panel and Deputy Convenor of the Hong Kong RAE 2020 Panel.From 2013-19 he served first as Deputy and then as Head of the School of Law at Glasgow.
He is currently Senior Adviser on a DG FISMA commissioned project examining national compliance with EU financial sector Directives.
Professor MacNeil's visit is funded by the UNSW Business School Distinguished Scholar Award 2020.
Commentator: Priscilla Bryans
Partner, Herbert Smith Freehills
Priscilla is a partner in the Australian Head Office Advisory team. Priscilla advises on issues related to the Corporations Act 2001 (Cth) and ASX Listing Rules. She works with clients in industries including financial services, insurance, mining, energy and resources, retail, telecommunications and transport.
Prior to focusing on head office advisory issues, Priscilla's main area of practice was mergers and acquisitions.
Priscilla graduated from Monash University in 1995 with a Bachelor of Laws (Honours) and a Bachelor of Arts. She was admitted in Victoria in 1997 and in England and Wales in 2000.
Priscilla is a member of several key industry groups, including the Australian Institute of Company Directors Law Committee, Chartered Secretaries Australia's Legislative Review Committee and the Law Council of Australia Corporations Committee.
Moderator: Professor Jennifer Hill
Bob Baxt AO Chair, Monash Law & Director of CLARS
Professor Jennifer Hill is the inaugural Bob Baxt AO Professor of Corporate and Commercial Law at Monash University Faculty of Law and is the Director of the Centre for Commercial Law and Regulatory Studies (CLARS). Jennifer is an internationally recognised legal scholar in the field of comparative corporate law and governance.
Jennifer is a graduate of the University of Sydney (BA LLB (Hons) and the University of Oxford (BCL). She is a research member of the European Corporate Governance Institute (ECGI) and has held visiting teaching and research positions at leading international institutions, including the University of Cambridge; Cornell University; Duke University; NYU Law School; University of Virginia, University of Texas, and Vanderbilt University Law School.
Contact us
Name: Janice Hugo
E-Mail: janice.hugo@monash.edu
Phone: 03 9905 3327