Sales Have Ended
Registrations are closed
Woo! All done! Looking forward to meeting you!
Sales Have Ended
Registrations are closed
Woo! All done! Looking forward to meeting you!
New to Melbourne? Or just want to race round the CBD? We have you covered.
About this event
MSA Scavenger Hunt & Picnic
On your marks. Get set. Go! 
This is an activity that allows students to meet new people while also getting acquainted with Melbourne's city centre. Meet some people or create a team with your mates, or just come to the picnic. Whatever there is, there something for everyone! 
Tickets: Free, registration required
Ticket options: Scavenger Hunt + Picnic /  Picnic Only
Scavanger Hunt - Information
Scav Hunt Meeting point: Federation Square: Top Steps, 2 Swanston Street, Melbourne 3004 (https://goo.gl/maps/sdpNdSYr8Ct)
Scav Hunt Duration: 9:30 am - 1 pm
You will be given: 
A Map
Instructions, which includes the location of stops and the value that each stop/activity is worth
Location of Picnic
Note: If your team does not complete the scav hunt by 1pm, we still expect your team to stop scav hunting by allocated time and make your way to the picnic area.
Picnic - Information
Picnic Area: The Royal Botanical Gardens: Tom's Block (Near Walker Fountain Kinds Domain), Linlithgow Ave, Melbourne, VIC 3004 (https://goo.gl/maps/avWFKgWB1QC2)
Picnic duration: 1pm-4:30pm 
Included: Cake, Snacks, Water, Sunscreen, Games, Prizes
Please Bring: Food to eat and share, as we only have a small budget and its likely not to be enough for everyone :)
FAQ
Will I be expected to do all the challenges? No. We will never expected you to do anything you don't want to do. It's always a choice. 
Prizes? Hek yes there will be prizes.
Can I choose which team I am in? Hek yes you can, but there will be limited places per team. You will be able to choose when registering. 
Can I just go to the Scav Hunt and go home? Yes, but we expect you to go to the picnic for the winner announcements and then you can go, this shouldn't go long over 1:45pm.
What should I bring? Great question. So happy you asked.
Positive attitude, keenness to meet new people
Myki (public transport card)
Comfortable shoes, you will be walking, speed walking and potentially jogging, depending on the intensity of your team
Hat
Sunglasses
Water bottle, you will get thirsty
Snacks, you might get hungry
Lunch or money for lunch, we will eat lunch together at the picnic
Something to share at the picnic
Do I have to bring my printed ticket to the event? Nope, we can check you in to the event with with your details
Can a non-Monash friend come? Yes, but we do have limited spaces for non-Monash people on the Scavenger Hunt. If you can, this would be a better experience if you came on your own, but we understand that it might be easier with a buddy :)
Toilets?  Picnic area was chosen, so that toilets were only a short walk away (https://goo.gl/maps/sVL7dkWnLMv)
Why do ticket Sales close before the event? We need time to organise you all into your groups, which can take a while to do properly, plus allow time to send out all the information to you before the event begins! So make sure you get in early, as this event may also sell out even before ticket sales finish!
Proudly presented by the MSA Orientation Camps & Events Team
Anything else? There will be secret stops worth loads of points :D
___________________________________________________________________________________________________
If you have any questions, please email msa-hostscheme@monash.edu.
This event is hosted by MSA Volunteering: First Year Camps & Events program. This leadership program was established in 1974 and aims to socialise and orientate new Monash students prior to Week 0. MSA Camps and Events is a volunteer leadership program that provides Monash students with an opportunity to meet other students prior to their first day on campus. The events we run are fun, inexpensive and accessible, with the aim of providing safe spaces where students can meet other students, who they may never have bumped into otherwise. We welcome all new and returning Monash students (Domestic, International, Exchange students) from all Monash Campuses, as well as returning students who wish to take part.
If you are interested in becoming an MSA Volunteer, please visit our website.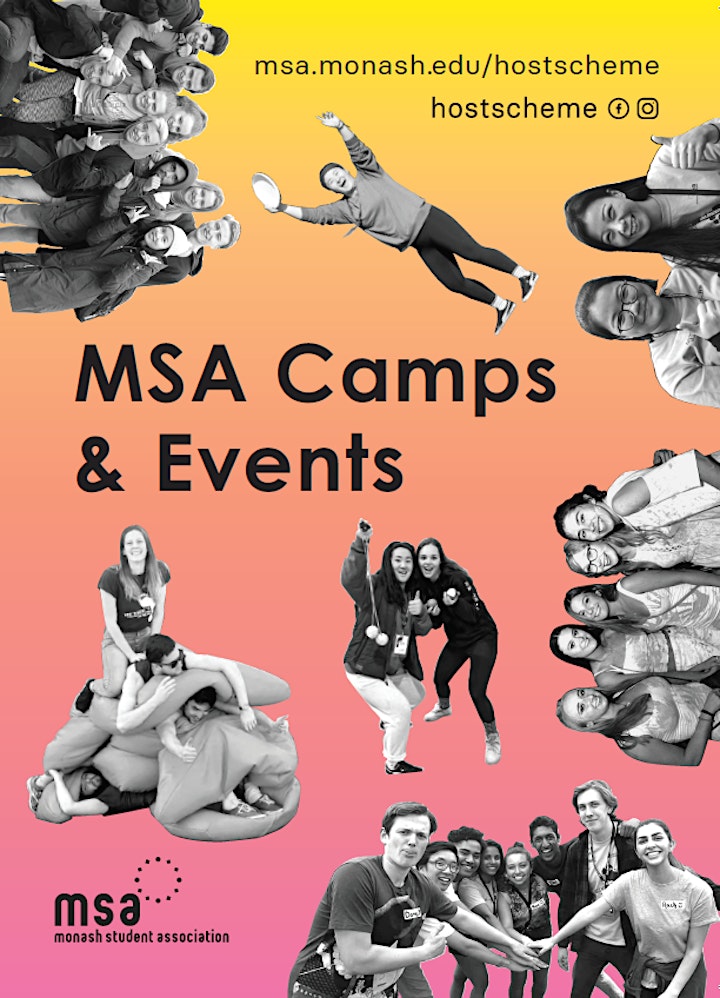 Organiser of City Scavenger Hunt & Picnic
The Monash Student Association (MSA) is committed to providing quality experiences that create a community for students, staff and visitors. Whether it be through student theatre, short courses, discounts on and off campus, clubs and societies, or student-run events, the MSA aims to provide a better student experience.