Description

CIBSE Young Engineers Network (YEN) are hosting a 5x5 networking event on Wednesday, 3rd July, 2019.
Time: 5:30 pm for a 6:00 pm start, event followed by networking drinks
Venue: Northrop Consulting Engineers Office, Level 11, 345 George Street, Sydney NSW, 2000, Australia
Five young professionals working in the building services/construction industry have been selected to present an industry related topic of their choice for five minutes with only five slides.
Attendees will vote for the best speaker and the winner will receive a surprise gift and bragging rights until our next 5x5 networking event.
Speakers shortlisted: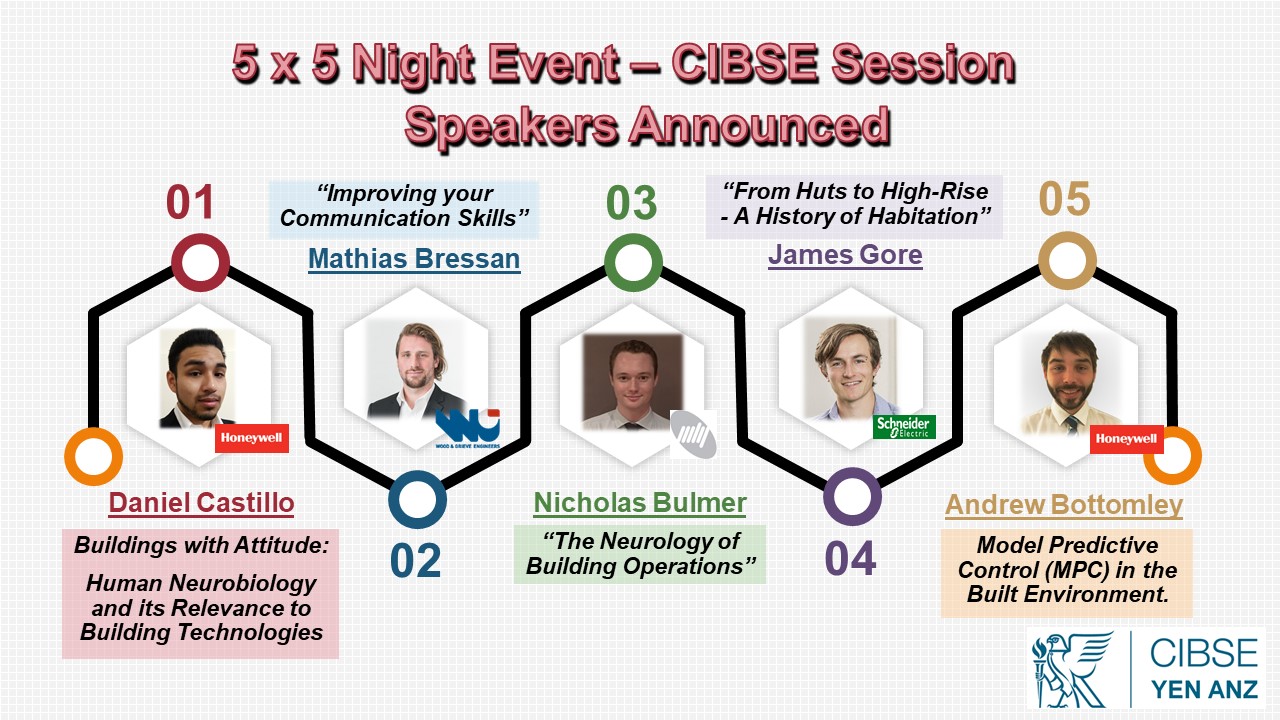 Daniel Castillo - Honeywell - Buildings with Attitude – Human neurobiology and its relevance to building technologies
In this presentation, the speaker will be exploring this abstract perspective by personifying a building as a living breathing entity. Ultimately, parallels become apparent which reveal innovative ways to leverage emerging technologies.
Mathias Bressan - Wood & Grieve Engineers now part of Stantec - Improving your communication skills
Communication in the workplace
People's defence mechanisms
Communication techniques

Communicating in the building industry environment
Nicholas Bulmer - Norman Disney & Young - The Neurology of Building Operations
How do people make better decisions?
What if buildings were better informed?
Converged Building Neurology?
More Informed Building Operations?
Where do we draw the line?
James Gore - Schneider Electric Buildings Australia - From huts to high-rises – A history of habitation
What was once simply a roof over our heads, is transforming into a living, breathing organism, capable of interacting with us and learning how we live our lives .
Andrew Bottomley - Honeywell - Model Predictive Control (MPC) in the Built Environment.
How do we incorporate weather and occupancy data into an optimized control strategy?

How Model Predictive Control (MPC) can be

the foundation for the next generation of building automation & control?



See you there!
ABOUT CIBSE ANZ YEN (NSW):
The CIBSE Young Engineer's Network (YEN) will provide a frame work for a range of activities that will inspire and support young engineers already in the industry and encourage interest from others outside the building services profession. We have YEN Chapters around Australia and New Zealand who organise technical and social events to support Young Professionals working within building services.
How to join CIBSE Young Engineer's Network (YEN):
It's free to join CIBSE YEN! Create a CIBSE account and then add YEN to your groups. More details here: https://www.cibse.org/networks/young-engineers-network-(yen)

Thank you to our event sponsor: