Are you ready for the next Chromatic Walls? Our next exhibition has 25 talented local artists showcasing their artwork about mental health!
About this event
PLEASE READ THE WHOLE DESCRIPTION BEFORE PURCHASING A TICKET!
Chromatic Walls presents Inside The Mind Exhibition on Saturday 23 October 2021.
Our goal is to bring awareness to mental health in our community and to showcase each artists individual perspective through their work.
Due to COVID-19 restrictions, 5 sessions will be held.
There are three day sessions:
Day sessions will be an open art gallery. Bar will be closed during the day sessions and the artists will not be in the gallery. Please keep this in mind.
There are two evening sessions:
Evening sessions will have all artists at the exhibition and the bar will be open.
Chromatic Walls will be working with the following artists:
Types Of Places
Justine Keim
Ella Bea
Reese Harvey
Megan Holder
Maria Hill
Tydle Waive
Estelle Dobbs
Kathleen O'Hagan
Zaide
Dompom
Loverboy
Peka
Tola Hassan
Laylarh
Ebony.wilmott
Timothy Joseph
Oluwa.Jpg
Rawink
AtomicX
Whobokku
Sarah Dinh
Crvpdesign
Eye Fleur
*TRIGGER WARNING: THIS EXHIBITION WILL CONTAIN ARTWORK SHOWCASING MENTAL HEALTH TOPICS. IT MAY BE IN RELATION TO TOPICS SUCH AS SUICIDE, DEPRESSION, ANXIETY AND OTHER MENTAL HEALTH DISORDERS THAT MAY ACT AS TRIGGERS. PLEASE KEEP THIS IN MIND AND ATTEND UNDER YOUR OWN DISCRETION.
Tickets will be sold online only. No refunds.
No ticket, no entry!
For any enquiries please email:
Chromaticwalls@gmail.com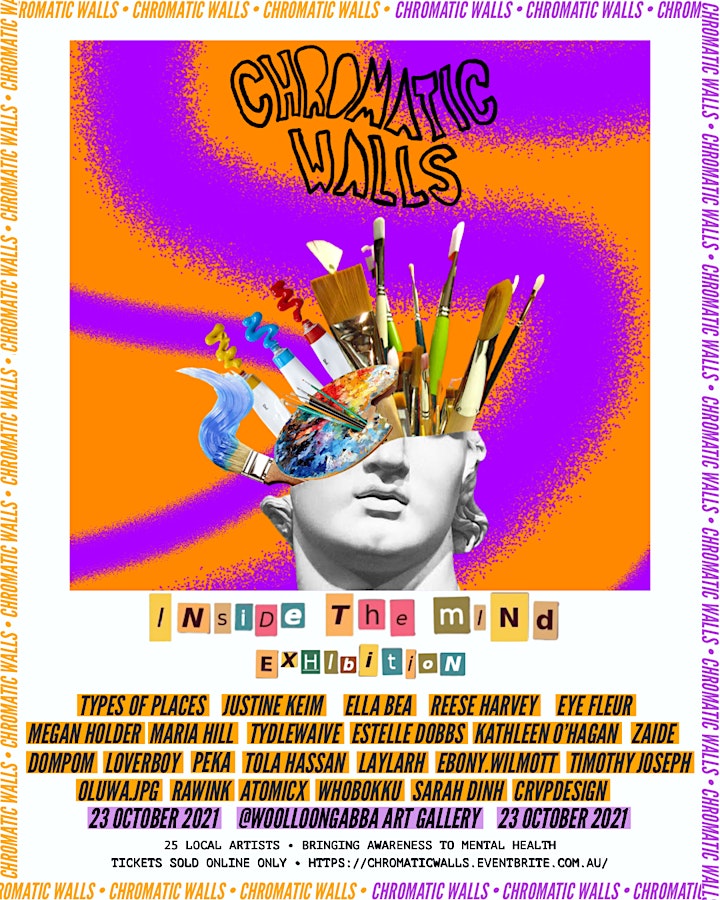 Organiser of CHROMATIC WALLS