Chippendale Contemporary presents: Art Walk & Wine
About this event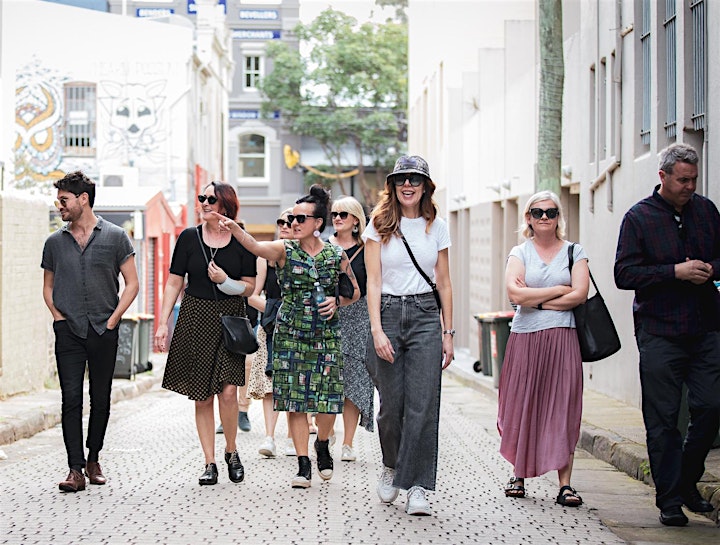 Hosted by Michelle Chanique from Galerie pompom and Maddy Matheson from Chippendale Contemporary, the tour will go to Galerie pompom, Michelle Perry Fine Arts, Canteen, Redbase Galleries and Nanda\Hobbs, and end at Handpicked Wines for an afternoon of wine and cheese. Meet curators and artists at each gallery, who will talk about the exhibitions.
The exhibitions for the tour are:
Galerie pompom: Ron Adams, 'Zuckerzeit'; and 'Spring in Sydney', a group exhibition by gallery artists
Nanda\Hobbs: James Powditch, 'The Proposition'; and Leslie Rice, 'Disco/iNFERNO'
Michelle Perry Fine Arts: Col Jordan, 'Totem Masks'
Canteen: Flin Sharp, Ryan Hancock
Redbase Galleries: Group exhibition
Meet at Galerie pompom at 2pm. Looking forward to seeing you there!
NB
We have a no refund policy for this event.
Chippendale Contemporary will be following the advice of the NSW government in regards to this event. All required Covid-19 procedures will be in place - QR code registration, vaccination certificate, mask wearing, social distancing, hand sanitising.
Address details:
Galerie pompom - 2/27-39 Abercrombie St, Chippendale
Nanda\Hobbs - 12-14 Meagher St, Chippendale
Michelle Perry Fine Arts - 8B Dick Street, Chippendale
Canteen - 19-25 Wellington St, Chippendale
Redbase Galleries - 19 Wellington St, Chippendale
Handpicked Wines - 50 Kensington St, Chippendale
Image details:
A previous Art Walk & Wine, hosted by Chippendale Contemporary.
Ron Adams, 'Einstein on the Beach', 2021, acrylic on board, 51 x 41 cm. Courtesy the artist and Galerie pompom. Photo: Louise Smoothy
Leslie Rice, 'Canto One. Violence, Avarice and Incontinence', 2021 acrylic on velvet. Courtesy the artist and Nanda\Hobbs
Col Jordan, 'Totem Masks', installation view, Michelle Perry Fine Arts