Sales Have Ended
Registrations are closed
Hari Om all, Thank you for registering. Check your email for further instructions if you have registered. If you haven't registered, contact Nandu Bhai on 0408 445 941 1. Pls join by 7.15pm so we can get settled and we will be sharing few announcements and video clips etc for you to watch. 2. Keep your audio muted but keep your video on so we can also see you. Exception if your wifi is slow then keep video off. 3. Try to participate in the program to get maximum. Try not to talk other things and enjoy the program. Look out for an email on 2nd August night from Nandu with Zoom links, Pdf of prayers, Pooja requirements etc. All the best. OM Shree Chinmaya Sadgurave Namah Love In Your Service National Chinmaya Sevaks At His Feet
Sales Have Ended
Registrations are closed
Hari Om all, Thank you for registering. Check your email for further instructions if you have registered. If you haven't registered, contact Nandu Bhai on 0408 445 941 1. Pls join by 7.15pm so we can get settled and we will be sharing few announcements and video clips etc for you to watch. 2. Keep your audio muted but keep your video on so we can also see you. Exception if your wifi is slow then keep video off. 3. Try to participate in the program to get maximum. Try not to talk other things and enjoy the program. Look out for an email on 2nd August night from Nandu with Zoom links, Pdf of prayers, Pooja requirements etc. All the best. OM Shree Chinmaya Sadgurave Namah Love In Your Service National Chinmaya Sevaks At His Feet
H.H. Swami Chinmayananda's Maha Samadhi Remembrance & Sadhana Day. Come and offer your gratitude.
About this event
Chinmaya Mission Australia invites you and your family to join us in
Sadhana Day in Remembrance of H.H. Swami Chinmayananda's Maha Samadhi (Day Gurudev left his mortal body)
Due to COVID restrictions, we will be having online National Program. Swami Shrikarananda ji will be doing the Pooja at Chinmaya Sannidhi Ashram in Sydney and all devotees can participate from the home under his guidance.
So don't miss this opportunity, reserve your spot by REGISTERING NOW!
Program will be online.
Tuesday 3rd August, 2021
7.30pm: Guru Paduka Puja (All can participate from homes, see below) 8.00pm: Inspirations & Bhajans 8.45pm: Talk & Blessings by Pujya Swami Swaroopanandaji (Joining LIVE from India)
All can Participate:
+ Setup your altar at home with Pujya Gurudev's Photo, Baby Padukas (if you have). If you are not able to setup altar, its ok. Pls join.
+ Dress nicely for the occasion with your family sit near altar and place your laptop in a way that we can see you and the altar.
+ Pooja Seva (become a Yajman and Swamiji will do a special offering at the Ashram for your family) - Call Nandu 0408 445 941
+ Pooja requirements - You can do the Pooja at home and Swamiji will guide you. Once you register we will email the simple requirements to you.
Things you need for the Pooja:
Click on link [Simple Pooja Requirements]
Click on link [Chanting PDF]
Give your Guru Dakshina to Pujya Gurudev
Click on link [Guru Dakshina offering]
What special things to do on gurudev's Aradhana day
Click on link [Sadhana for the Day]
Registration
Registration will close on Monday 2nd August, 5pm.
For Further Details:
Contact
Nandu (Sydney) 0408 445 941,
Rishi (Melbourne) 0421 103 793,
OM (Perth) 0414 327 330,
Suresh (Brisbane) 0434 309 817,
Shawgi (Adelaide) 0431 746 142,
Prashanthi (Canberra) 0450 797 580.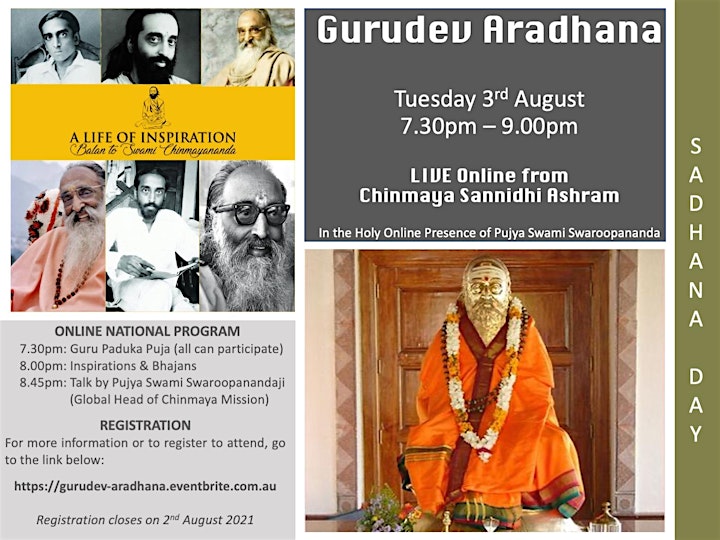 Organiser of CHINMAYA ARADHANA