Description
Five highly renowned master instrumentalists from China performing in collaboration
with top Australian musicians in the unique setting of The Chinese Garden of Friendship
Join us to hear some of the finest musicians in China for a breathtaking evening
in the beautiful surroundings of the Garden. A truly cross cultural program including
contemporary Chinese works with arrangements by John Huie, also featuring Australian
chamber music artists Jane Rutter and Rowena MacNeish. Utilizing the entire Garden
as the performance area, this wide, open air stage is transformed into an acoustically
and visually stunning concert experience.
Performance will run for approximately 2 hours including an interval
Refreshment will be served at interval.
Please note this concert is only for audience over 8 years old.
Musicians
Wang Tao - pipa
Gu Xiaoyan - gu zheng
Chen Hongyu - zhong ruan
Lv Tingting - erhu
Zhu Wei - dizi
Jane Rutter - flute
Patrick Murphy - cello
Hugh Frazer - double bass
John Huie - artistic director
Ticket: $65 General Admission
*In the event of bad weather, the performance will be relocated to the sheltered area
in the Garden.
Hosted by: China Cultural Centre (Sydney)
Supported by: Sydney Harbour Foreshore Authority
Produced by: Chinese Chamber Music Company
Main Sponsor: China Construction Bank
Catering Partner: Golden Century Seafood Restaurant
Ticketing Enquiries:
China Cultural Centre in Sydney
Tue to Sat (10am-1pm, 2pm-5pm)
Tel: 02-82283050
Email: info@cccsydney.org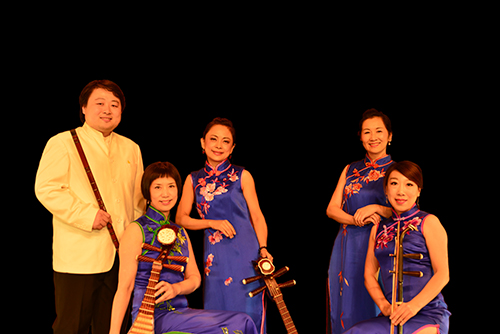 Organiser of Chinese Garden Chamber Music 2016
China Cultural Centre is a non-profit organisation dedicated to the
promotion of understanding and appreciation for Chinese culture and the
arts through educational and cultural activities. Through close partnership
with both private and public sectors, the Centre offers programs that
enhance the existing friendship and mutual understanding between China
and Australia. The Centre itself houses a library, an art gallery, a hall and
classrooms. It offers Chinese traditional arts courses; lectures and workshops
on art, culture, heritage and traditional medicine; as well as films, concerts
and information service.