Description
"Spend a day at ICC Darling Harbour and lose yourself in China"
The Australia Chinese Cultural Festival is an unique experience bringing together Chinese culture with the Australian community. The Tea Expo has been held in Sydney since 2011 and this year features the largest number of Chinese tea companies exhibiting ever in Australia.
Tea Expo - se

e China's finest tea makers, w

atch Chinese Tea Masters perform ancient tea ceremonies, s

ee & buy unique tea ceramics

& e

njoy tea tastings. For more information click here.
Chinese Cultural Performances - enjoy a host of activities including traditional music & dance performances & a display of both modern & traditional artworks produced by Chinese & local artists. For more information click here.
Art Gallery - appreciate Chinese painting & calligraphy, the 'One Belt One Road' photography exhibition, book signing and Chinese wooden furniture show. For more information click here.
Liquor Pavilion - sample the Chinese spirit baijiu, including its most famous brand Moutai. By volume baijiu is the world's most consumed spirit, 37% of global spirit production is baijiu. For more information click here.
Finance Pavilion - learn about trade facilitation, import/export and trade financing. For more information click here.
Blockchain Information Seminar - understand the ins and outs of blockchain technology, the growth of crypto currencies, the risks and benefits of dealing in such currency – and how Chinese business is positioning itself in this new financial world.
Register today and receive a complimentary tea cup on arrival*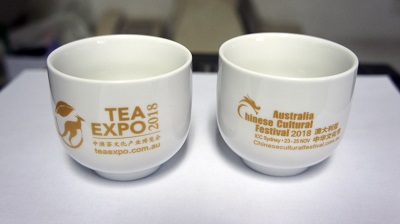 * while stocks last