Digital Workshop Series for Victorian exporters targeting the China market and broader Asian region.
About this event
The Australia China Business Council Victoria (ACBC Vic) is excited to partner with the Victorian Government's Global Victoria to offer an extensive program for the revival of Victorian Business.
Through a series of targeted digital workshops exploring export opportunities with China, ACBC Vic aims to empower Victorian exporters to take full advantage of Australia's largest trading partner, build cross-border relationships and drive Victoria's global economy.
This inaugural session will see experienced export leaders, Mark Coleman (ical), Collins Rex (GTPA), Yuri Schneider (EFA), Chunguang Liu (Austrade) and Nick Henderson (Vic Gov) provide guests with the knowledge, tools and regulatory nous to navigate China's supply chains, market access requirements, regional partnership opportunities, fund raising and more.
Whether your business is just setting up in-market, establishing your presence online or still in conception, our industry experts will guide you through everything you need to know about maximising the China-Australia Free Trade Agreement (ChAFTA), getting your paperwork right and funding your expansion into China.
The session will include an interactive panel discussion with Q&A.
SPEAKERS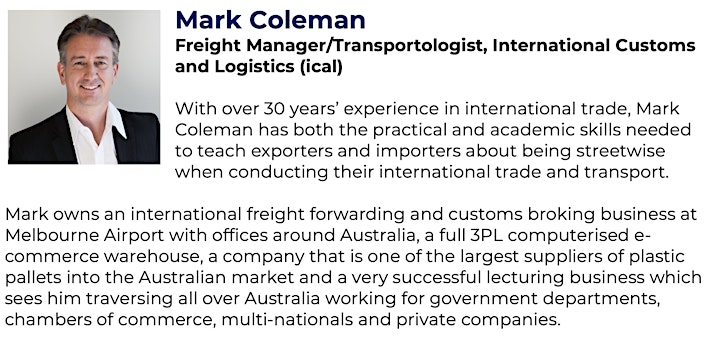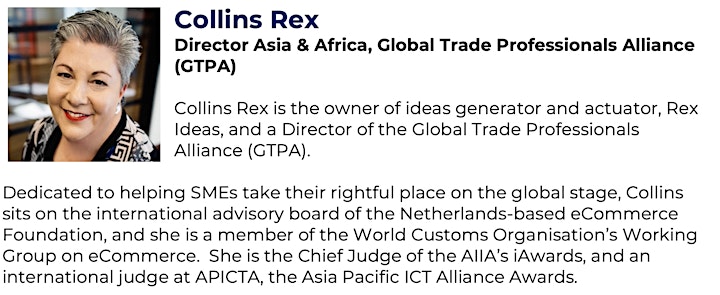 This event is proudly supported by Global Victoria
Your membership will be cross-referenced prior to the event.
Registration will close one hour before the event starts or when sold out.
The Zoom link will be sent to the email you register with before the event in a separate email. Please check your junk folder.
This online event will be recorded and use the Zoom Q&A function to moderate audience questions.
Any queries please contact zach.eggleston@acbc.com.au
Organiser of China Export Program - Getting the Basics Right
Founded in Victoria in 1973, the Australia China Business Council (ACBC) is a membership-based, non-profit, non-government organisation comprised of a National Office, eight state branches, and more than 1500 representatives from over 1200 Australian and Chinese companies.
ACBC actively promotes two-way trade and investment, economic cooperation and understanding between the business communities of Australia and China. ACBC also plays an influential role as an advisor to the Australian Government on commercial relations with China.
ACBC Victoria is one of the largest, most vibrant and diverse business councils in Australia. With over 300 company members and more than 3500 friends and associates. ACBC has close links with Chinese officials and expatriate groups, and provides regular business-focussed activities and events for our members across the country. In 2019, ACBC hosted 65 events for our members, attracting over 3600 participants.