Sales Have Ended
Ticket sales have ended
Thank you for registering to attend the China 2.0 – Change and how to leverage the new opportunities webinar. You will receive a seperate email which will include your login information closer to the date. If you have any concerns or do not receive your login details, please email nsw@acbc.com.au. We look forward to seeing you online. ACBC NSW Branch
Sales Have Ended
Ticket sales have ended
Thank you for registering to attend the China 2.0 – Change and how to leverage the new opportunities webinar. You will receive a seperate email which will include your login information closer to the date. If you have any concerns or do not receive your login details, please email nsw@acbc.com.au. We look forward to seeing you online. ACBC NSW Branch
A refreshing and inspirational perspective on China that will leave you optimistic about business opportunities there...
About this Event
According to International Coach and Trainer, Shanghai-based, Fionn Wright…
"The [COVID – 19] outbreak is but a small blip on China's long-term development radar, and one that will actually accelerate China on its path towards becoming a fully developed nation by 2050 - China 2.0."
China's early control of its pandemic has seen its economy rebound ahead of the rest of the world. In fact, their response to COVID has been unprecedented and their ingenuity in a time of crisis has led to entirely new operating models.
As Australian businesses engage with trade in China, it's important for us to understand what these new models look like.
Join the ACBC and Fionn, for what will be a fascinating discussion on the newer, stronger China 2.0.
Fionn will examine:
How COVID has changed the Chinese economy and consumer mindset forever
Emerging business trends in China
New products, services and applications of technology we are likely to see
Challenges of the new business environment
How international businesses can benefit from these changes as we head toward China 2.0
As a China-based thought leader, coach and trainer on all things China, Fionn brings a refreshing and inspirational perspective on China that will leave you optimistic about future trade relations between Australia and China and steer you towards the opportunities you need to know about.
Who should attend?
Business leaders and owners that have an investment in the future of trade between China and Australia. Those who want to understand China 2.0 and what opportunities lie ahead.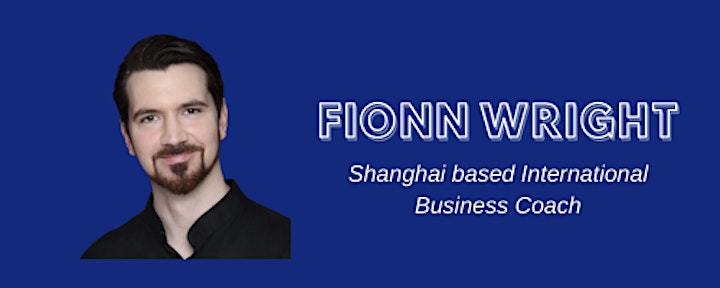 Speaker Bio
Fionn is named by City Weekend Magazine as one of the "11 Most Influential Movers and Shakers in Shanghai" – a city of 24 million – for the impact of his coaching & TV appearances.
He had a dream… but could he really make it a reality?
After skipping 2 grades, Fionn earned his Bachelor in International Business focused on China while learning to speak fluent Chinese and traveling the world for free by developing a method of speed-learning to distill 4 months of material into 4 hours.
After working in Africa, Europe, North America, South America and Asia as a coach helping others in their businesses, career, and relationships he filmed an internationally award winning documentary on Chinese Business and was offered a chance to be a partner in a multimillion-dollar construction project. This meant he would have to give up his dream of starting a family and being a business coach.
He finally decided, "I MUST FOLLOW MY HEART" – to get married, have children and start business with his Salsa-dancing Shanghainese Soulmate. Seeing gaps in Shanghai's traditional market for corporate training, children's education and language learning, he founded and ran 3 innovative coaching companies, led a team to develop the first Holistic Wellness Programs in China, became a personality on Chinese National TV seen by 100+ million people.
Having had the opportunity to grow his personal brand in China, he now travels the world with his wife and 2 sons, live-streaming to up to 30,000 people simultaneously, living his dream and coaching others to do the same. He makes it his daily mission to transform into the best husband, father and human being he can be to help as many people as he can live a life they love. As Fionn always asks, "Are you closer to your dream today than you were yesterday?"