Children's Medical Research Institute (CMRI) 2019 Gala Luncheon
About this Event
The Canberra Committee of the Children's Medical Research Institute (CMRI) has much pleasure in inviting you and your friends to join us for a delicious gourmet lunch, champagne, wine, punch and our iconic petit-fours.
This year, we will be offering a shopping experience with numerous stalls selling exclusively designed jewellery, handcrafted wines, home-made jams & conserves, gourmet olive oils, vinegar and soap, upmarket aprons, handmade chocolates, pashminas, exclusive French tablecloths, watercolours, pencil drawings and gift cards. In addition, we will be selling our famous CMRI Christmas cakes, puddings, gingerbread, chutneys, major raffle and CMRI merchandise.
If you cannot attend this year's lunch, please consider a DONATION or purchasing the major raffle tickets online, your tickets will be mailed to you. Accordingly, you do not have to be present for the major raffle draw, prizes will be delivered to you.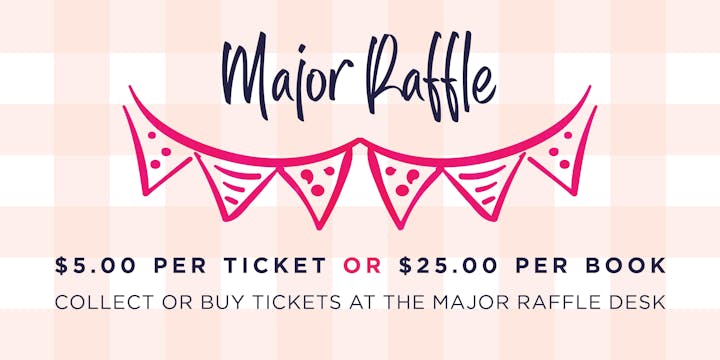 MAJOR RAFFLE PRIZES
1. Buvette Bliss package (2 rooms x 1 night and 2 course meal for 4 people) valued at $900 from DOMA Group Canberra
3. Craft ACT gift pack from home.by holly with a surprise value
4. Freshwater 12mm Pearl Studs valued at $295 from Jane Brown Pearls
2019 STALLS
CMRI Christmas cakes, puddings, gingerbread, homemade chutneys, Christmas decorations and CMRI merchandise
Jane Brown Pearls – Exclusively designed jewellery with pearls and precious stones
Nick Spencer Wines – Handcrafted red & white wines
Beverly Wallace – Homemade jams & conserves
Le Pin Paraso – Exclusive French fabric tablecloths and place mats
Guardi Designs Aprons – Upmarket & exclusive aprons
PJ Creative – Watercolours and pencil drawings, gift cards
Morella Grove – Gourmet olive oils, vinegar & olive oil soaps
Jill Nazar - pashminas
Kirkwood Body & Bath - beautiful body products for men & women
Christine van Aalst - hand-made chocolates
The Plastic Free Shop - environmentally sound products by Loren Howell
GENERAL EVENT INFORMATION
• PLEASE WEAR a little or a lot of hot pink!
• ON ARRIVAL show your tickets on your mobile or a copy of your payment/order form. If you order Major Raffle tickets online, please collect your tickets near the Welcome Desk.
• TABLES (10 guests) and chairs will be arranged in the pavilion for all guests (tables will only be reserved for bookings of 10 guests)
• ATM and CREDIT/DEBIT card facilities available at venue
• LIGHT RAIL available, disembark at EPIC/Racecourse
• PARKING including disabled parking available at the venue, enter through the main gate at 1 Randwick Road, Lyneham
SPONSORS
Special thank you to Thoroughbred Park Canberra
ACT Self Storage, amandabeer.com, Blue Illusion Westfield Woden, Broadbean Catering, Capitol Chilled Foods (Aust), Coca-Cola Amatil, Deputy Heads of Mission of Australia Spouses Club, DOMA Hotels, Florey SupaExpress, Glav Corp, home.byholly, Jane Brown Pearls, L.J Hooker, Marilyn Allen, Naked Wines, National Zoo & Aquarium, Nick Spencer Wines, O'Sullivans Waste, Rodger Bartholomew Men's Outfitters, RSM Canberra, Screenmakers, Wiffens Premium Green Grocer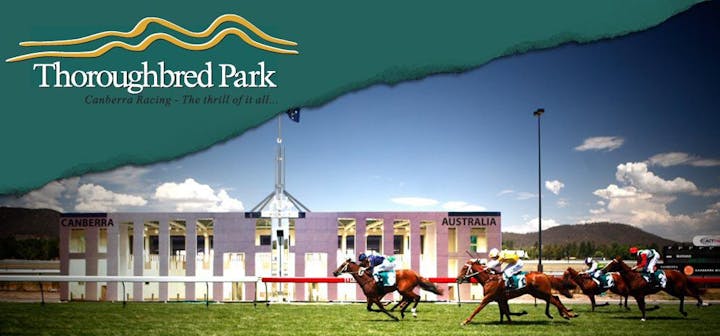 CANBERRA COMMITTEE
Jane Beer – President, Karen Ligdopoulos – Vice President, Leslie Ralph – Treasurer, Sanchia Glaskin – Secretary, Ning Clark – Equipment, Regina Neary – Equipment
Judy Barnes, Mary Constable, Marijke Creer, Koula Diamand, Carolyn Forster OAM, Nancy Ganter, Anna Giannakopoulos, Sarah Grieves, Genny Herbert, Deborah Hicks, Carolyn Hughan, Bronwyn Johnston, Katie-Jane Lubiejewski, Jane Nock, Loren Piper, Judy Shalders, Fiona Spencer, Wendy Swan, Velinka Vecchi, Effie Vlandis, Irene Vlandis, Ruth Weaver
THE COMMITTEE THANK YOU FOR YOUR SUPPORT