| | |
| --- | --- |
| Cherry Picking at 10's Estate in Mudgee (14 - 17 Nov 2019) | |
Event Details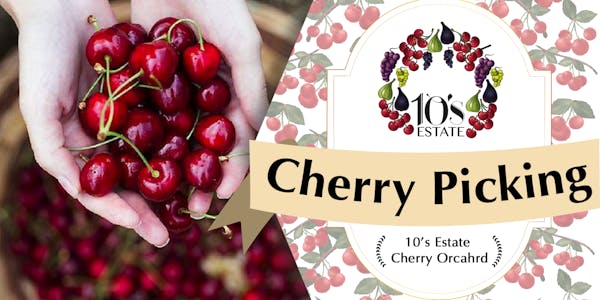 Winter is finally over, why not spend a weekend with your children at our orchard for a unique and memorable day, enjoy the sunshine and fresh air and have fun picking the sweetest tasting cherry straight from the tree.
Located 4 minutes from the town centre in Mudgee, 10's Estate is one of the orchard and vineyard in Mudgee that practices organic farming. We are open for business from 8am – 4pm and guests are advised to come early to beat the heat from the sun in the afternoon. 
During the fruit picking, our friendly team will demonstrate to you where and how to pick the ripest cherries and ensure you have fun and learn along the way! You can take some to enjoy it at home for a small fee.


When you have finished picking, relax and enjoy our delicious tasting cherry cocktail and cherry ice cream made from the fruit grow on our orchard.
Please note that our session times refer to your entry time. You can enter at any point during this session slot and then stay as long as you like in the orchard up until orchard closure at 5 pm. As we are operating under a small team, we can handle up to 100 guests per day, therefore, your booking is important for us to ensure availability.
If you are interested in bringing a group to our orchard, we have special rates for groups of 10 or more people. For more information, please contact 02 - 9160 7638.

For more events like this, join the 10's Estate community on Facebook 
What to bring
Wear closed up flat shoes
protection gear from sunburn by wearing broadbrim hats and long-sleeved clothing
Insect repellent, etc
water
cooler bag for your cherries
Important Note / Disclaim

Please note that the cherry orchard is an agriculture area, therefore, visitors are advised to be extra cautious during the visit, we will try our best to ensure safety by providing guidance but we and the landowners are not responsible should have any mishaps occur.
When & Where

10's Estate Cherry Orchard
157 Craigmoor Road
Eurunderee, NSW 2850
Australia

Organiser
Located 4 minutes from Mudgee town centre, 10's Estate is one of the orchard and vineyard in Mudgee that practices organic farming. 10's Estate's farm fresh cherries and figs are well sort after each summer season.