Sales Have Ended
Ticket sales have ended
We look forward to welcoming your to our family farm and sharing our delicious cherries!
Sales Have Ended
Ticket sales have ended
We look forward to welcoming your to our family farm and sharing our delicious cherries!
Visit our family orchard for all the fun of picking premium quality cherries to take home
About this event
Cherry picking at Roth's Mudgee has become a much loved annual tradition - for the quality of our cherries and the fun experience.
We work hard to grow premium quality, export grade cherries while also giving a friendly, fun, welcoming experience for our visitors.
UPDATE ON DATES: the first weekend is heavily booked, if you plan to pick a lot of cherries we suggest to wait until the next variety ripens (from around 10 Dec)
Our trees are kept short for ease of picking by even the littlest cherry pickers.
We open early in the mornings as this is the best time to pick cherries before the heat of the day - they'll stay fresher and you'll enjoy it much more than in the heat
Cherry picking is highly seasonal with ripeness dependent on the weather and the cherries.
We are expecting the cherry varieties for each date to be:
First week December - Rons (Classic, black and sweet) & Vans (tart with great flavour) cherries - HEAVILY BOOKED - SUGGEST TO WAIT UNTIL THE NEXT VARIETY I F YOU'D LIKE A LOT OF CHERRIES
Second week December - Simones cherries (a fantastic cherry - sweet and punchy, full of flavour)
Later picking dates will be made available dependent on the cherries and weather.
This summer we are delighted to see a bountiful crop as the orchard has bounced back to health after the drought that decimated last year's crop.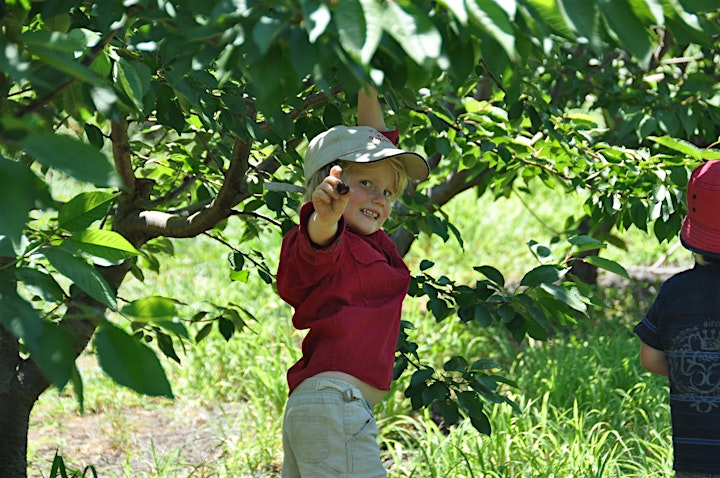 How does it work?
To book your entry ticket, select the date and then in 'ticket type' book your timeslot. Children (up to school age) are free entry but do need to be booked in and any cherries they pick are charged per kg. Scroll down in the ticket type window for child tickets or for group bookings.
Pay per kg for the cherries that you pick. The price per kilo will be set depending on the size and quality of cherries available through the season - expected to be between $7 and $8/kg . (Pick only the cherries you wish to purchase)
SPECIAL OFFER: FROM 10 DECEMBER THE $6 ENTRY PRICE WILL BE DISCOUNTED FROM THE CHERRY PURCHASE PRICE IF YOU PICK MORE THAN 15KG PER PERSON
BOOKING & Ticket times
Please plan the day and time of your visit before you book.
To book tickets:
1. Choose the 'event date' (It will say 7:30am as our opening time)
2. Click on "Tickets".
Choose your timeslot and tickets type/s:
Small groups: (less than 10 adults)
- Choose the timeslot for adult entry tickets
- Scroll down further for child entry and choose the same timeslot
Larger groups: (More than 10 adults)
- Scroll right down in ticket type to choose a group entry timeslots (adult and child tickets available).
Please arrive within the first 20 minutes of your ticket timeslot. To reduce crowding at entry, the timeslots for entry are every 30 minutes.
You may stay in the orchard as long as it takes to pick the cherries you want to purchase.
What to bring?
Walking shoes - you are visiting a working farm!
Hats and sunscreen.
An esky and icebrick is a good idea to keep your cherries cold on the way home. Or boxes (we do have cartons for sale if needed)
Cash - we have card facilities and prefer these but they are not always reliable out in the orchard
Smiles and enthusiasm!
Seasonality
Cherry ripening is highly dependent on the weather. The dates available for booking now are our most reliable to have ripe, sweet cherries. Extra dates will be added if available.
Entry tickets (excl. booking fees) will be refunded if we need to cancel an event due to changes in the season - we like to be sure our cherries are at their peak when you visit.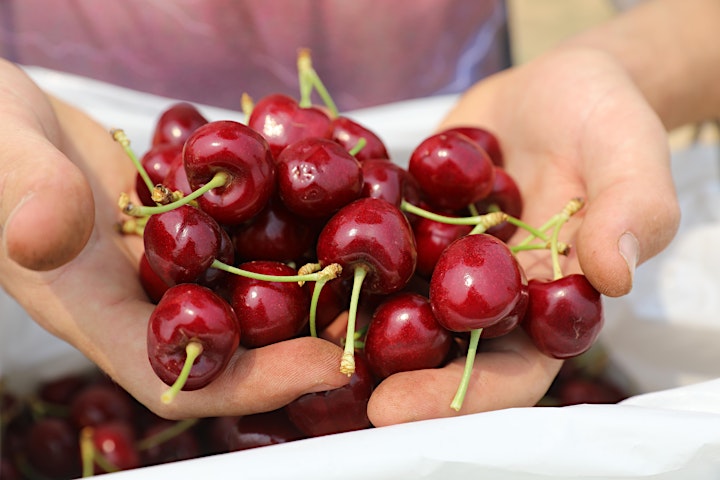 COVID 19 update
What a year it's been! To keep everyone safe, there are a few changes to how we run the pick your own this year:
Bookings - if you have not booked you may need to wait until an available timeslot is available depending on numbers in the orchard and availability of picking lugs
Contact details - to speed things up at entry please record names and contact details of all in your group when you book - if there are changes update these on arrival
Healthy - please DO NOT attend if you have COVID19 symptoms or have been in close contact with a COVID19 case in the past fortnight
Social distance - please stay on your allocated tree/s and keep one tree apart from other groups.
Tasting - please don't spit pips out in the orchard.
Picking vessels - you'll have options of loaning our picking lugs & straps (reused and sanitised), a single use bucket or a punnet or you can choose to bring your own buckets. We provide one per adult and more if these are full.
Packing - if you wish to purchase cartons to take your cherries home we'll ask you to pack these yourself to help minimise the contact time
Sanitising - we're employing extra people to keep cleaning surfaces
No picnics - sorry but we need to keep it all about cherry picking. There are some wonderful parks in Mudgee if you'd like to picnic before or after you visit us.
We are outdoors and have plenty of space so if everyone works together we can keep each other safe!