Location
Rymill Park /Murlawirrapurka (Park 14)
East Terrace
Adelaide, SA 5000
Australia
CheeseFest is South Australia's longest running and widely loved annual cheese, food and wine festival.
About this event
CHEESEFEST 2022
Presented by CheeseFest Australia
We are so excited to be back!
Our hearts are warm from the support and love CheeseFest fans have given us in the past two years, and because of that support we are thrilled to be able to bring you a CheeseFest bigger and better and cheesier than any before.
Held in Rymill Park, Murlawirrapurka again, CheeseFest brings together the best artisan local and national producers of cheese, food, wine, beer, spirits and more!
This will be the cheesiest CheeseFest in it's 14 year history!
READ ON FOR MORE!
WHAT'S ON OFFER ?
With exclusive access to dozens of different local foods and beverages all in the picturesque Rymill Park, Murlawirrapurka - just a cheddar roll from the Adelaide CBD - CheeseFest is a festival for all!
With 70 food and beverage stalls featuring SA and Australia's best and brightest cheese, food and beverage producers with fresh, local produce.
Whether you're a die hard foodie, a craft beer fanatic, a home fermenter, Australia's top wino or you simply want to have a picnic and enjoy the live music with your friends and family, CheeseFest is the place to be.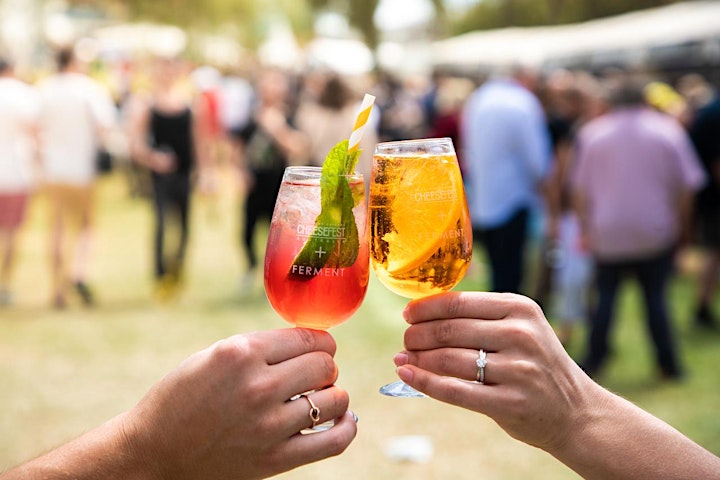 CHEESEFEST ~ SPECIALTY STALLS
NEVER NEVER G&T Bar
G & T Bar is the perfect sanctuary to sink some locally crafted Gin. Hosted by Award Winning Distillery Never Never Distilling Co. the G &T Bar hosts a range of world-class small batch Gins from SA and beyond.
FOODLAND MASTERCLASS AND COOKING DEMO STAGE
The CheeseFest Cooking Demo Stage is the festival's powerhouse. Attendees flock to the stage for each session to watch Australia's finest chefs and food producers create culinary magic right before their very eyes. This year, the demo stage will feature A List Celebrity Chefs including Matt Preston, Gary Mehigan, Simon Bryant, Poh Ling Yeow and MasterChef greats Rose Adams, Callum Hann, Jessie Spiby and more!
The Masterclass Pavilion gives attendees an intimate ticketed session with expert cheesemakers, fermenters, brewers and more. This year the workshop schedule will be hosted by a range of A List Celebrity Chefs, media personalities, and industry specialists.
MAIN STAGE: MUSIC
Back by popular demand CheeseFest Gather & Graze live music program returns for its second year. Featuring some of Australia's hottest acts, the Music Program completes the sensory experience for attendees. This year the stage will feature world-class original South Australian acts from the pop, jazz, folk and roots genres.
BEST OF WINE TOURISM BAR
Great Wine Capitals of the World returns in 2022! Guests get the opportunity to "Meet the Maker" in our intimate Best of Wine Tourism Bar. Featuring wineries from South Australia's leading wine regions, these Free of Charge informal chats are exclusive to CheeseFest visitors, strictly limited and first in best dressed. Suited to wine lovers, session dates are on our program & website.
Wineries include: Simon Tolley Wines, Lake Breeze, Chalk Hill, Penfolds, Gemtree, Banrock Station, Elderton Wines
CHEESEFEST ~ NEW ACTIVITIES 2022
LOBSTER, CHAMPAGNE & OYSTER POP UP BARS
Who says a Pop Up Bar can't be luxurious?
CheeseFest supports the recovery and return of the South Australian Oyster Industry with an exclusive pop-up Pol Roger Champagne, Ferguson Lobster and Franklin Bay Oysters. Guests will be able to have South Australia's finest oysters and shellfish combined with premium bubbly, meet the fishers and learn a trick or two about shucking, styling and serving.
KID'S CORNER
CheeseFest Gather & Graze is a family affair! This year we invite ticket holders to bring their kids for a range of dedicated scheduled kid-friendly activities including live entertainment, Life Be In It Games, arts and crafts, change me-feed me and more.
Children under 12 accompanied with a parent are free to enter CheeseFest!
VEGAN CHEESE AVAILABLE!
Beyond Cheese are leading the latest culinary trends in ethical consumption, plant-based diets and food sensitivities. For the first time in CheeseFest history, we will excited to include Vegan and 'Free From' producers who will share some of the most exciting emerging producers of vegan cheese, gluten, nut and dairy free foods.
Dates and Pricing Info
*PLEASE NOTE* - All CheeseFest 2022 tickets must be purchased online via Eventbrite. This is a COVID-Safe requirement, and is required for entry. But don't fear, you may buy your ticket online at the gate! We will have any info desk for any questions you may have. Tickets are strictly limited in line with our COVID Management Plan.
Friday October 14
Gates Open: 4pm
Last Bottle Sales: 9pm
Last Drinks: 9:30pm
Event Concludes: 10:00pm
You can purchase tickets to our Friday October 14th event HERE.
Saturday October 15th
Gates Open: 11am
Last Bottle Sales: 8pm
Last Drinks: 8:30pm
Event Concludes: 9:00pm
Sunday October 16th
Gates Open: 11am
Last Bottle Sales: 5pm
Last Drinks: 5:30pm
Event Concludes: 6:00pm
PRICING*
Adult: $25
Concession: $20
Weekend Pass: $40
PLEASE NOTE: Concession tickets MUST have a valid concession card (Student cards and all Seniors cards) to show on entry.
Children under 12 are FREE when accompanied by an adult!
*Ticket prices are not inclusive of Eventbrite booking fee or GST
CheeseFest 2022 COVID-19 Guidelines
The New Normal:
While state mandated restrictions have eased, COVID-19 is still a health risk. Please read the below instructions that will allow us to keep all patrons, and the wider community, safe and healthy!
Before the Festival:
If you are feeling unwell please do not attend CheeseFest 2022
Entering the Festival:
CONCESSION CARD HOLDERS who have purchased Concession ticket must show a valid carer or concession card at the gate - No card no entry, sorry!
Children under 12 are free when accompanied by an adult - Please head to the info desk outside the festival gates to get your child a wristband and checked in.
During the Festival:
Please observe sanitary hygiene procedures; cover your mouth when coughing and sneezing!
What are we doing?
The festival space will be sanitised and before and after each festival day.
Stall holders will be responsible for the cleanliness of their stall in accordance with our COVID Management Plan of no contact – wiping common surfaces after patron contact and single use utensils only, as well as providing hand sanitizer at their stall.
CheeseFest Australia has been compliant with ACC Food Safety Standards for the past 15 years and will continue to do so.
*We reserve the right to change these COVID requirements based on changes in restrictions from SA Health, SAPOL, or the SA Government*
Transport Info:
The O-Bahn drops you directly at our door, as does the Tram system on North Terrace!
There is public parking available off Rundle St, North Terrace, Bartels Rd and Flinders St - All a few minutes walk from Rymill Park.
FAQS
For the health and safety of all patrons...
• No smoking is permitted inside the venue
• Sorry, no dogs allowed
• No BYO food or drinks
• STRICTLY no alcohol consumption beyond the CheeseFest 2022 fenced perimeter
• CheeseFest Australia Pty Ltd practices a responsible attitude to consumption of liquor on licensed premises