COVID Passports, Digital IDs, data, privacy by design. Will technologies ushered in by the pandemic affect your rights, data, travel plans?
About this event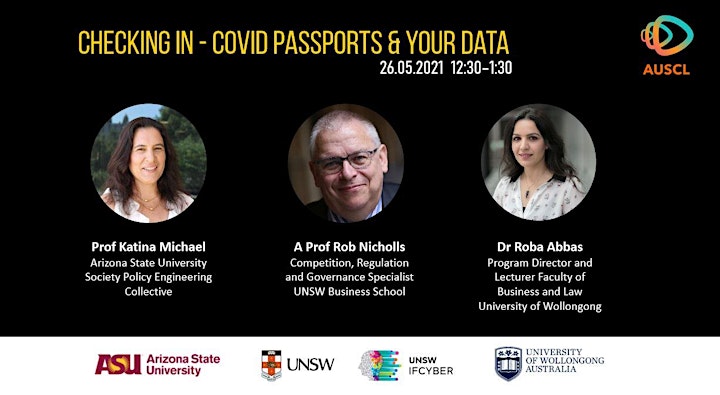 Join the Australian Society for Computers and Law and its expert panel for three presentations and Q&A on COVID Passports.
How will the COVID passport impact your rights and data? Can the public interest be built in by design?
Our presenters
Roba Abbas is a Lecturer and Academic Program Director with the Faculty of Business and Law at the University of Wollongong, Australia. She has a PhD in location-based services regulation and has received competitive grants for research addressing global challenges in areas related to co-design and socio-technical systems, operations management, robotics, social media and other emerging technologies. Her current research interests include methodological approaches to complex socio-technical systems design. More recently, she has delivered talks and co-organised panels for Yale University, The Alan Turing Institute, the American Association for the Advancement of Science (AAAS), Arizona State University and Ostfalia University of Applied Sciences. Dr Abbas is Co-Editor of the IEEE Transactions on Technology and Society and was the Technical Program Chair for the IEEE International Symposium on Technology and Society (ISTAS20) hosted by Arizona State University in November 2020. From 2005 to 2010, she was a Product Manager with Internetrix, Wollongong.
Katina Michael is a professor in the School for the Future of Innovation in Society and School of Computing, Informatics and Decision Systems Engineering at Arizona State University. She is the director of the Society Policy Engineering Collective and presently a co-Principle Investigator on the National Science Foundation NRT "Citizen-Centered Smart Cities and Smart Living". Katina is the Founding Editor-in-Chief of the IEEE Transactions on Technology and Society and is a senior editor of the IEEE Consumer Electronics Magazine since 2015 where she founded the socio-economic impact section. She has also been a member of the Australian Privacy Foundation since 2008, and a Consumer Representative for the Consumer Federation of Australia from 2005 to 2010. In 2017, Katina was a recipient of the Brian M. O'Connell Distinguished Service Award in the Society for the Social Implications of Technology and in 2020 received the ICTO Golden Medal for lifetime achievement award for exceptional contributions to research in information systems.
Rob Nicholls is an associate professor in regulation and governance at the UNSW Business School and a visiting professional fellow at UTS Sydney Law. His research interests focus on competition law, the regulation of networked and platform industries with an emphasis on the effects of technology in the regulatory space. His PhD examined the regulation of the media in Australia and his platform industry analysis reflects this. Rob has had a thirty-year career concentrating on competition, regulation and governance. His first degree was in electronics and communications engineering from the University of Birmingham and he was awarded his PhD and MA by UNSW Sydney. Before moving to academia, he worked for Webb Henderson, the ACCC and spent twelve years as a client-facing consultant at Gilbert + Tobin, including as a partner. Rob is an accredited mediator and from 2012 to 2020 was Australia's Independent Telecommunications Adjudicator.
Abstracts
Domestic vaccine passports
In Australia, vaccination status is recorded at the Commonwealth level as part of the My Health Record. This is managed by the Australian Digital Health Agency. In the context of federation, it is likely that each of the state and territory health departments will also wish to access the vaccination status of individuals. This presentation considers the issues associated with the concept of domestic vaccine passports at the state and federal level. In particular, it examines which organisations would want access to vaccination status and which should receive it consistent with reasonable privacy expectations of individuals. It considers a case study of an employer wishing to minimise its corporate risk by seeking to encourage all of its employees to be vaccinated.
Vaccine Passports and the Ecosystems Perspective
Vaccine passports, intended to verify an individual's immunisation status, are currently being considered in the Australian and the global context with respect to the COVID-19 pandemic. This presentation will highlight the significant considerations relating to the design and implementation of such digital medical certificates, discussing their place within a broader health and societal ecosystem. Perspectives on ethics, access, technical integration, regulation and discrimination will be explored and situated within a socio-technical ecosystems view.
Vaccine Passports and the Growing Digital Divide
Yet another technology being rolled out in the fight against pandemic outbreaks, this time in the form of a digital vaccine passport implemented using simple 2D barcodes known as Quick Response (QR) codes. Already, Israel has rolled out a vaccine passport otherwise known as a "green" pass, and other countries in Europe and the United Kingdom are actively undergoing pilots. But will this stem the transmission of a pandemic now and into the future? What will this mean for countries in Africa, South America and Asia, and those peoples living in the West that fall into under-represented minority categories, especially when we contemplate that one can only have such a green pass if they have access to a vaccine to begin with. Is this mechanism simply favouring the "haves" and promulgating a digital divide even further? How will this affect international flight travel, access into licensed venues and other public points of interest that were once open for all to enjoy, independent of income or status? This brief presentation focuses on the manner in which government mandated technology can act to both discriminate and empower people during changing social-economic circumstances.
Who should attend?
All with an interest in the future of health, personal freedoms and rights, and the use of personal information and data are encouraged to attend.
The AUSCL education series is designed for law, technology and policy makers, academics and students, and members of the public.
About AUSCL
AUSCL, the Australian Society for Computers and Law, is a registered Australian charity established for the purpose of advancing education and promoting advocacy on issues at the intersection of technology, law and society.
Our global network of members include IT, Legal and Policy professionals, academics, students and leaders of civil society. We are passionate about multi-disciplinary approaches to solving some of the most pressing challenges ushered in by technology and digitization.
Join our mailing list today by subscribing: https://ausclsubscribe.eventbrite.com.au
Organiser of Checking in - COVID Passports & your data
Inspire. Connect. Reimagine
The Australian Society for Computers and Law (AUSCL) is one of Australia's leading interdisciplinary think-tanks on issues arising at the intersection of technology, law and society. It is a registered Australian non-profit charity with a charter to advance education and advocacy. Our mission is to: Inspire new thinking and informed discourse, Connect professionals across disciplines and together Reimagine the future.