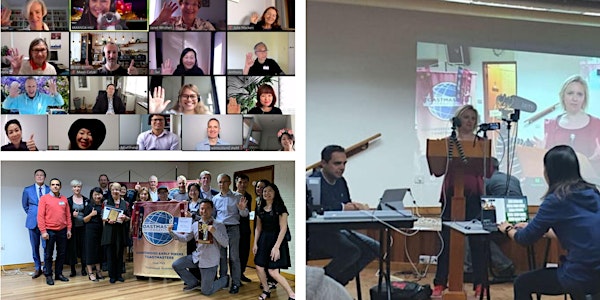 Chatswood Early Risers Toastmasters Weekly Meeting (Face to Face)
Location
Dougherty Community Centre
7 Victor Street
Chatswood, NSW 2067
Australia
Chatswood Early Risers Toastmasters meet EVERY TUESDAY morning 7.15am
About this event
Welcome to our Evenbrite page!
We are excited to announce that we are now meeting face to face at the Dougherty Community Centre.
Address: 7 Victor St, Chatswood NSW 2067
Meeting Room Name: The Meeting Room (At the back of the Centre)
DURING THE MEETING
We love to welcome and get to know our visitors. We request that visitors keep camera on when joining the meeting.
Visitors can contact info@earlyriser.org.au or visit link below OR contact info@earlyrisers.org.au for more details (if required): https://www.earlyrisers.org.au/wpsite/contact-us/
MEETING COSTS
Free for visitors in the initial first 2 meetings.
To become a member, costs are as follows:
* New Member Joining Fee = A$30 (Once Off Fee)
* Half Yearly Membership Subscription Fee = $66 (amount varies depending on which month you join) - Refer to our fees schedule on website for details
* Meeting room hire free for face to face meeting when restrictions are eased = $4 each meeting
Note that you will enjoy benefits of able to complete the Toastmasters Pathway Education Program once you become a member. Visitors will participate in Table Topics to have a taste of impromptu speaking.
WHAT WE DO
At Toastmasters Chatswood Early Risers, we understand people's time is valuable, so our meetings are short, focused and entertaining. Visitors welcome. After the meeting we have a virtual coffee online for the interim.
70 minute high quality meeting. Starts 7.15 a.m. promptly and Ends 8.25 a.m. allowing people to get off to work
Meetings are every week. No confusion!
Great Diversity of people, students, professionals and retired people from all around the world make this a great melting pot
Meetings include 3 speakers, 3 evaluators, Table Topics and much more
Debate training and practice
Interesting and entertaining speeches
All visitors are made very welcome and can either watch or participate on their first visit
Award winning Club & established 30 years
Refer video link below for our friendly faces at Chatswood Early Risers. This is a video made to wish everyone a happy toastmasters new year on 1 July 2021.
https://youtu.be/1K4VCcxJibA
OTHER LINKS:
Members enjoy the club - https://youtu.be/Cv3yBVMCAxM
Our Wowfactor - https://youtu.be/_9qN0ja_uPA
Our website - http://earlyrisers.org.au/
Our Facebook - https://www.facebook.com/ChatswoodEarlyRisers/
Visit Chatswood Early Risers Toastmasters!