Sales Have Ended
Ticket sales have ended
Thank you for registering. Please contact John Smyth on 0406 747 123 or johnsmyth@parousiamedia.com if you have any questions.
Sales Have Ended
Ticket sales have ended
Thank you for registering. Please contact John Smyth on 0406 747 123 or johnsmyth@parousiamedia.com if you have any questions.
Description
CHALLENGES AND STRATEGIES FOR RELIGIOUS EDUCATION TEACHERS IN CATHOLIC SCHOOLS
Get to the heart of what Religious Education is about...
Teaching Religious Education (RE) in Catholic schools can be challenging but also immensely rewarding when done well. Dr Edward Sri and Dr Andrew Mullins will show you how to make teaching RE more meaningful, enjoyable and inspiring for you and your students from Prep to 12.
DATE: Tuesday 12th September
TIME: 9am-3.15pm
VENUE: Catholic Leadership Centre, 576 Victoria Pde, East Melbourne
COST: $220 (Lunch is included)
Approved for Accreditation to Teach in a Catholic School (C) - 4.5 hours
PRESENTERS
Dr. Sri is a theologian, author and well-known speaker. Each year he speaks to clergy, parish leaders, teachers and laity from around the world. He has written several best-selling books, including A Biblical Walk through the Mass, Walking with Mary and his newest release, Who Am I to Judge? Responding to Relativism with Logic and Love. Dr. Sri is also the host of the acclaimed film series Symbolon and the presenter of several faith formation film series, including A Biblical Walk through the Mass. He serves as a professor of theology and Vice-President of Mission and Outreach at the Augustine Institute in Denver, Colorado. He holds a doctorate from the Pontifical University of St. Thomas Aquinas in Rome.
Dr. Mullins is the past Headmaster of Redfield and Wollemi Colleges in Sydney and is the author of Parenting for Character and editor of the parenting website raisedtolove.com. He is now on the Board of Harkaway Hills College and teaches character and virtue at the John Paul II Institute and at the Australian Defence Force Academy in Canberra. His doctorate examined the neural bases of character.
SESSIONS
SESSION 1 (DR. MULLINS) - Key Challenges and Strategies for RE Teachers in Catholic Schools
Teaching Religious Education (RE) is a central part of the mission of the Catholic school. In his millennial message to Australian Catholic school students St John Paul wrote, "Catholic schools…are above all to be schools of holiness.They exist primarily to give saints to the world." This is our goal, but there are many challenges. In this segment we look at practical strategies to engage students and approaches that can effectively cater for a mixture of Catholic and non-Catholic students who may or may not even be active in regular practice.
SESSION 2 (DR. MULLINS) - Character Development: A Foundation for Religious Education
Developing basic human virtues is a prerequisite for success in life and religious education. Dr Mullins explains how to inspire students to understand the value of virtue and to strive for it in their own lives, and how this can be integrated in the RE curriculum.
SESSION 3 (DR. MULLINS) - Inspiring a Culture of Idealism and Service
At the heart of teaching the Catholic faith is imparting a desire to serve others. How can we inspire ideals of service and a heart for social justice in students? Dr Mullins will explore proven strategies to foster generosity and solidarity, and counter the self-indulgence and narcissism we frequently find in popular culture.
SESSION 4 (DR. SRI) - Vibrant Faith in a Secular Age: Today's Challenges for Teachers and Leaders
This presentation engages the challenges students constantly face from the secular culture.
Why do I need a Church? Can't I be spiritual on my own?
Isn't one religion just as good as another?

Shouldn't we just be tolerant and get along with everyone?
This engaging and thought-provoking talk shows how we cannot simply teach the truth, we must give students the tools to thrive in a relativistic world.
SESSION 5 (DR. SRI) - Men, Women and the Mystery of Love
The modern world offers a picture of love and marriage that has caused much confusion and heartache. The Church reminds us of what true love is and offers a vision of relationships between men and women that is life-transforming. Dr Sri shows how to teach about relationships, sexuality and marriage in a way that will inspire and appeal to students.
SESSION 6 (DR. SRI) - Who Am I To Judge? Talking About Morality in a Relativistic World
Ever heard someone say, "Morality is just personal opinion", "What's true for you isn't necessarily true for me", "Don't impose your morality on me!"? How do we talk about morality in a culture that no longer believes in moral truth? How do we discuss moral issues without being "judgmental" and "intolerant." With humor and personal examples, Edward Sri gives practical strategies for teaching about moral issues in a compelling and compassionate way. Appealing to both the head and the heart, he explains how to form students in a Catholic moral worldview. Learn how Catholic morality is all about love, how making a judgment is not judging a person's soul and how in the words of Pope Francis, "relativism wounds people" and is "the spiritual poverty of our times."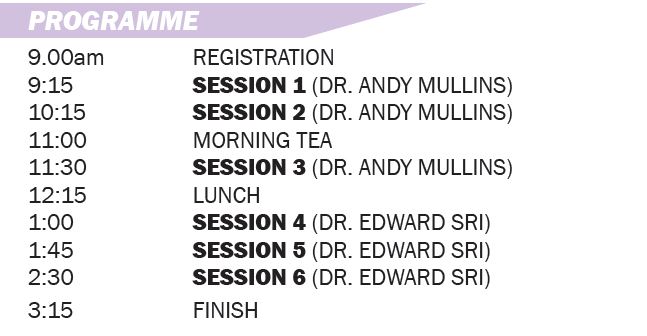 Brought to you by: