About this Event
𝐖𝐎𝐑𝐋𝐃 𝐒𝐔𝐈𝐂𝐈𝐃𝐄 𝐏𝐑𝐄𝐕𝐄𝐍𝐓𝐈𝐎𝐍 𝐃𝐀𝐘 𝟐𝟎𝟐𝟎
With approximately 700 Queenslanders taking their lives each year, suicide is a major issue for our society and the leading cause of death among people 15 – 44 years old in Australia. At this moment in time we need to be very aware of the individual's response to the stresses we are facing.
Join Care for Life Suicide Prevention Network on the 8th of September and contribute to World Suicided Prevention Day by helping us to spread awareness.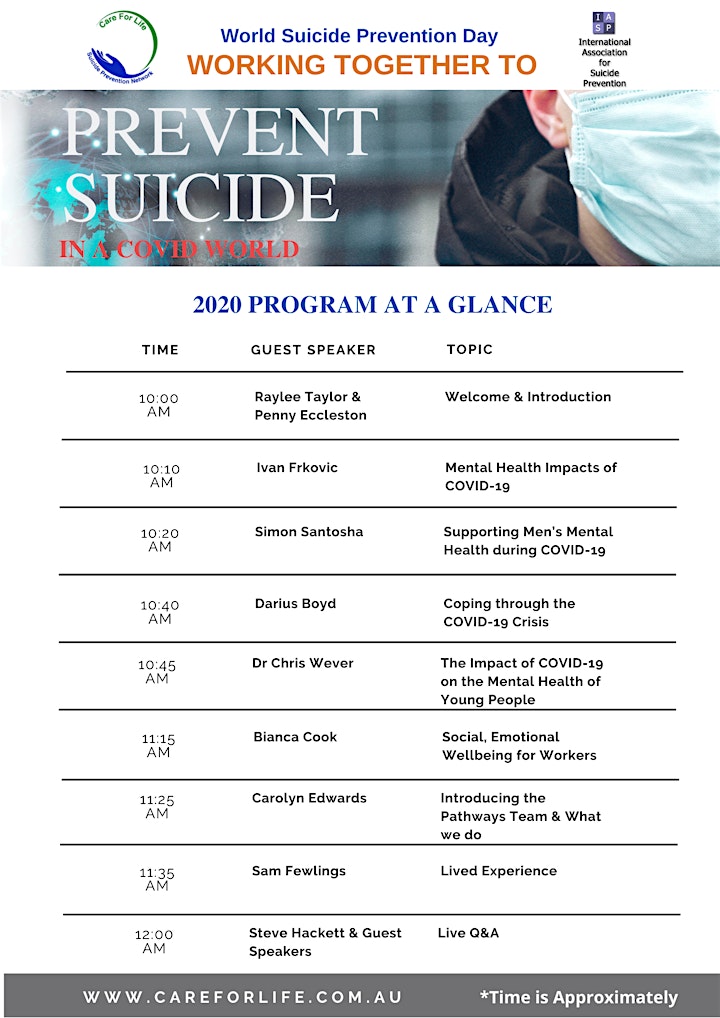 Presentations by guest speakers and a live Q&A session. Stay tuned for future updates, visit www.careforlife.com.au
"It's crazy to think how many people it does affect," Darius told Mamamia. "It's why it's so important to talk. Everyone goes through tough times, but it's how you bounce back - and who you surround yourself with."
Darius Boyd
𝐂𝐀𝐑𝐄 𝐅𝐎𝐑 𝐋𝐈𝐅𝐄 𝐀𝐍𝐃 𝐘𝐎𝐔 ...
"𝐖𝐎𝐑𝐊𝐈𝐍𝐆 𝐓𝐎𝐆𝐄𝐓𝐇𝐄𝐑 𝐓𝐎 𝐏𝐑𝐄𝐕𝐄𝐍𝐓 𝐒𝐔𝐈𝐂𝐈𝐃𝐄 𝐈𝐍 𝐀 𝐂𝐎𝐕𝐈𝐃 𝐖𝐎𝐑𝐋𝐃"