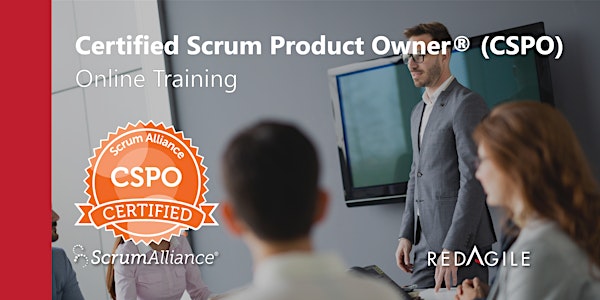 CERTIFIED SCRUM PRODUCT OWNER®(CSPO)®|28-29 MAY Australian Course Online
LIVE ONLINE Scrum Certification Course. Become a Scrum Product Owner ™(CSPO)™ 2 interactive days of training in RedAgile's Virtual Class.
About this event
Take the LIVE ONLINE Course & become a Certified Scrum Product Owner® (CSPO)®
Led by our expert trainer Stu Mitchell (CST™) , this LIVE ONLINE CSPO Scrum certification training course delivers the interaction and quality of learning that is the hallmark of RedAgile's in-person classroom experience. This fully engaging and effective training in the virtual space is accessible from the convenience of your desktop or laptop.
This CSPO Training is LIVE and it is fast paced. It will challenge, stimulate and excite learners with two full days of interaction encompassing break out groups, teamwork, quizzes, creative tasks, and collaboration to complete a multi layered simulation exercise. This is a challenging and empowering training experience.
We have worked hard to make sure this LIVE ONLINE CSPO certification course is a great experience for learners. In these challenging times, the Scrum Alliance has acted decisively to enable online Certified Scrum Training. This option is available for a limited time but crucially it allows people to improve their skills significantly ahead of the eventual lifting of restrictions on work, travel and face to face collaboration.
This LIVE training is streamed over 2 days and to participate trainees will simply require a PC / Laptop with audio, video and microphone functionality in combination with a secure internet connection.
We are also timing our courses so they are accessible for all Australians, starting at 8.30am in Perth, 10.00am in Adelaide, and 10.30am on the East Coast.

Scrum Product Owner (CSPO) Certification Course - LIVE ONLINE
This LIVE ONLINE 2-day course offers a fantastic opportunity to learn and gain certification from anywhere. This CSPO course is a deep dive into the role based on the internationally recognised Scrum Guide and the learning objectives of the Scrum Alliance. For those currently in a Product Owner role, for Scrum Masters, Stakeholders and Development Team members this is a valuable chance to up your skill set.
Utilising Training From The Back Of The Room techniques, attendees will work both as members of the full class and also as part of small teams within virtual breakout rooms, and enjoy continuous live collaboration through a range of training, facilitation and revision exercises.
This course is designed to be highly practical in its focus and format. It offers a unique opportunity to gain knowledge and experience at an accelerated rate. By exploring real world case studies and applied real world solutions, the trainee gains insight that otherwise take years to achieve.
This course brings a clear focus through an approach using the point of view of a Product Owner to understand all aspects of Scrum. Techniques are described to improve communication skills, particularly with non-Scrum Team stakeholders, and methods are explored to build deeper understanding and empathy. Based on what is learned on this course you will return full of confidence to the challenge of working in Scrum.
This training covers the tips, tricks and traps picked up by our experienced trainer. Through this class your professional and personal development ambitions can be fulfilled.
Core to this learning is an absolutely solid grounding in the application of Scrum as a Product Owner based on the trainer's own experience. We are 100% confident that you will return to work with all the practical skills needed to match your new qualification as a Certified Product Owner.
On successfully completing the full two days of LIVE ONLINE training, each attendee will graduate as a Certified Scrum Product Owner (CSPO). There is currently no test or exam at the end of the course.
That means you will leave the training in possession of the Certified Scrum Product Owner certificate.
You will then hold an invaluable and recognised qualification in Scrum that will boost your professional standing and prospects.
The Trainer
Learning with Stuart Mitchell, a Certified Scrum Trainer (CST), guarantees that you will be gaining all of the key knowledge and skills used and now shared by one of the very best Agile practitioners. That's the most effective way to make sure projects are implemented effectively and it maximises your impact at work.
Plus, this CSPO course also benefits from being supported by an additional highly experience trainer, so there is double the opportunity for information flow for everyone.
Stu is a highly accomplished Scrum practitioner who has worked with some of the biggest organisations in the world. He has been a Project Manager and has particular empathy for those making the transition to a new role in Agile and Scrum due to his deep and personal understanding of the challenges of adapting to the Scrum Framework.
He is an award winning Agile project manager, a Certified Training Coach and a Certified Agile Leader. Stories and examples of good and bad practice from Stuart's personal experiences from the front lines of work are core to his teaching. He has been providing a range of training for over 10 years.
Who Should Attend?
This qualification is equally valuable for those currently working as Product Owners, ScrumMasters, product managers, business analysts, line managers, requirements engineers, UX designers, and project managers.
Whatever your current position, you will have come to an understanding that an Agile working environment brings huge benefits in terms of quality, productivity and time to market. This course is the next step, as it establishes a solid foundation in knowing what best practice looks like which leads to highly successful outcomes for any Agile project or initiative.
With a CSPO certificate earned through this Scrum Alliance endorsed training, you will hold an established qualification that will boost your professional standing and prospects. It's equally excellent for those working in non-software Scrum and Agile roles and for managers and executives who interact with Scrum teams and who want to learn the language and to understand the framework.
Attendees should have a basic knowledge of Scrum.
Sign Up For Our Interactive Certified Scrum Product Owner Training Now.
The Course Takeaways
A full copy of The Scrum Guide
A full set of course slides
The comprehensive course workbook and notes
Complimentary Membership of the Scrum Alliance
Also included with this training: -
The benefit of an Australian based trainer who understands the local business environment.
2 days of high quality LIVE ONLINE instruction from a Scrum Alliance Certified Scrum Trainer, an expert in Scrum and Agile practice
The support of a second trainer throughout the course to maximise the learning outcomes.
A guarantee of a limit on numbers as we believe large classes are an obstacle to learning.
Support beyond the course from RedAgile Training.
What our LIVE ONLINE course graduates are saying.
Jansen L. "The trainer is very knowledgeable and resourceful and demonstrated the ability to keep the class interested"
Derrick N. "Lots of useful tips"
Ervinna T. "It is comprehensive yet not overwhelming, good pace too"
Debendra S. "The training includes valuable examples and case studies, the whole team is wonderful"
Taking this course with a Certified Scrum Trainer means you will be acknowledged and recognised by the Scrum Alliance as a Certified Scrum Product Owner after completing the 2 days of training. Attendance and engagement over both days is a requirement
Scrum Alliance SEUs: –
Attending the course earns you PDUs toward the Project Management Institute's PMI-ACP (Agile Certified Practitioner) designation and Scrum Educational Units (SEUs) eligible for the Certified Scrum Professional (CSP) of the Scrum Alliance.
The Cost
Book a place for a fee of $1200 inc GST
The 100 US dollar cost of full membership of the Scrum Alliance is included in the course fee.
The Agenda
Scrum and Product Management
The Fundamentals of Scrum and Agile
Scrum and Product Discovery
Scrum and the Product Life Cycle
The Role Of The Product Owner
The Product Owner's responsibility and authority in collaboration within the Scrum Team
How the Product Owner can make a positive impact in the various Scrum Events
Shared and realistic Sprint Goals
The impact of different organisational structures on the Product Owner role
Skills required by a Product Owner to maximise positive project outcomes
The Product Backlog
The definition of VALUE
Effective ordering of the Product Backlog
The different means by which Product Backlog Items (PBI's) are created
Refinement of PBI's into optimally sized pieces of work
Choosing the right prioritisation techniques - getting high-priority items ready
Differentiating between Outcome and Output to maximise VALUE
Product Owner : Purpose And Strategy
Effectively sharing project strategic goals and delivery plans
Aligning with the wider organisation for the benefit of the project
Creating a prioritised product roadmap
Working With And Understanding Customers And Users
Understanding the different needs of users, stakeholders and customers
Prioritisation based on specific user/customer types
Building direct connections with customers and user
Testing Product Assumptions
Inspection and Adaption in the Sprint Review
Understanding of the difference between Assumption and Hypothesis
The Product Owners responsibilities in discovery and validation work minimise risk
Refund Policy
We offer a full refund prior to the 48 hours before the course start date and after that time we offer 10% of the fee or offer a transfer of registration to an alternative class.
If you can no longer attend but wish to transfer your place on the course to another person we are very happy to arrange that at no additional cost.
Disclaimer: RedAgile reserves the right to change venue or cancel any course for reasons including, but not limited to, trainer illness or bad weather. In the event of cancellation, we will offer a transfer to a different course or a full refund.