Taught by a former Product Owner. Glowing participant reviews of this virtual online experience using the best tools available.
About this event
Led by a former Product Owner
Rowan Bunning has played the role of Product Owner whilst Product Manager in a tech. start-up beginning in 2004. As a Scrum Master he has coached executive-level business owners to be highly effective Product Owners. These experiences enable him to speak from first-hand experience and illustrate through story telling what is possible when a Product Owner is fully empowered and skilled.
Having led almost 400 Scrum certification courses since 2008, Rowan is one of the most experienced Scrum Trainers in the region.
Rowan has worked in pure-play product development without projects – an environment in which Agile and Product Ownership are particular effective. His training examines how top tech. companies do product innovation. If you work in a corporate project environment, many of the same techniques can be applied and can be game-changing.
Real world stories and hard-won advice from Rowan's hands-on Product Owner experience make this training compelling. Small group exercises through the course using a broad selection of the most powerful tools for Product Owners make it highly practical with numerous tools and reference material to immediately apply in your work.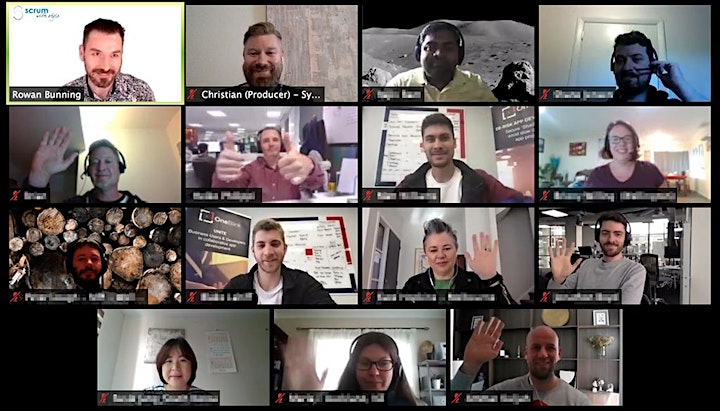 Live Virtual Training
There's no need to worry about missing out compared with in-person training. This course is not a series of pre-recorded videos that you passively watch. This CSPO is a live interactive virtual experience with the trainer coming to you live from Sydney, Australia. It covers all the same learning objectives as our in-person CSPOs - just using a different interaction medium. As a bonus, you will come away with a lot of practical techniques for remote working!
You can expect a highly interactive virtual learning experience with continuous live video amongst all participants. The course is designed to exploit the potential of state-of-the-art online collaboration tools as well as leveraging research-based adult eLearning approaches to maximise learner interaction and retention. All this from the comfort of your own home / office / home office!
This course is scheduled in 4 hour sessions across 4 business days. The session timings in Australian Eastern Standard Time (AEST) are as follows:
Session 1: Monday 25th July 830am - 1230pm (AEST)
Session 2: Tuesday 26th July 830am - 1230pm (AEST)
Session 3: Thursday 28th July 830am - 1230pm (AEST)
Session 4: Friday 29th July 830am - 1230pm (AEST)
The session timings in New Zealand Standard Time (NZST) are as follows:
Session 1: Monday 25th July 1030am - 230pm (NZST)
Session 2: Tuesday 26th July 1030am - 230pm (NZST)
Session 3: Thursday 28th July 1030am - 230pm (NZST)
Session 4: Friday 29th July 1030am - 230pm (NZST)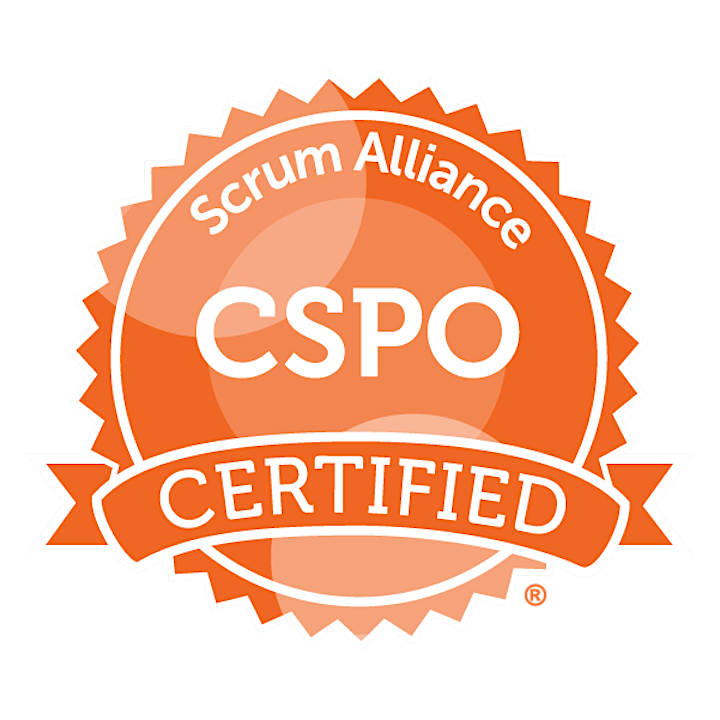 How to earn Certification
This Certified Scrum Product Owner training course is all-inclusive of a globally recognised certification with the Scrum Alliance for participants who fulfil the participation requirements defined by Scrum Alliance and are validated by the trainer as having met the learning objectives during the course. Whilst some prior coursework including reading and video material is required, there is no post-course exam.
This course qualifies Project Management Professionals (PMPs) for 14 PDUs as approved by the Project Management Institute (PMI).
Addressing the big Product Owner challenges to boost your career
The Product Owners that we work with are encountering many challenges that limit their effectiveness. These include poor understanding of the role, lack of empowerment, lack of product management techniques for working with product vision and strategy as well as too much time consumed by ineffective stakeholder meetings and detailed story clarification. All this whilst trying to make difficult Product steering decisions in an environment of uncertainty!
Scrum WithStyle's Certified Scrum Product Owner® (CSPO®) course addresses all of the above challenges head-on and from personal experience. We debunk Product Owner role myths, explore practical ways to increase empowerment, apply multiple techniques for working at the strategic and vision levels as well as ways to make user, customer and other stakeholder interactions more productive whilst delegating much of the heavy lifting on detail appropriately.
Product Owners and the professionals that coach, support and manage them will leave this course with deep insights, many practical tools and a spark of inspiration toward taking their career from requirement specifier to product leader and entrepreneur.
Session Themes
Just as themes on a Product Backlog tie together items in a meaningful way, themes tie together our course content as follows.
Scrum for Product Owners: sharpen your understanding of Scrum – especially the principles, events and artefacts of most importance to a Product Owner.
The Product Owner Role: clarify the full breadth and depth of the Product Owner role well beyond The Scrum Guide before discovering a customer and creating a shared Product Vision.
Product Strategy: do business impact mapping, hypothesis testing, segmentation and Agile roadmapping to shift the paradigm to outcomes and impacts over outputs.
Prioritisation: practice telling user stories, framing meaningful Sprint Goals, ordering using multiple value dimensions, fore-casting and making trade-off decisions.
Inclusions
16 contact hours of training - with an Agile practitioner with over 19 years of experience and Certified Scrum Trainer since 2008.
CSPO Certification - for participants who meet the criteria with the Scrum Alliance.
2 yrs active accreditation - with option to renew through Scrum Alliance.
All course material - PDF export of the entire Miro workspace including all course material and output from group exercises.
Personal Workbook - containing your notes.
Product Owner Responsibilities List – a compilation from authoritative sources that goes well beyond that found in The Scrum Guide.
Example Checklist for Product Owners - unique to Scrum WithStyle used to self-assess your current fulfillment of the Product Owner role.
Impact Mapping facilitation guide – full of tips for facilitating these game-changing workshops with stakeholders.
Product Backlog ROI prioritisation template - a sophisticated Product Backlog with a generic prioritisation formula allowing you to prioritise by relative ROI across multiple dimensions of value.
Story Splitting resources – multiple resources including over 30 ways to split Product Backlog Items.
Ongoing Support – ask questions any time ongoing in the Scrum WithStyle Alumni workspace on Slack.
Pricing
Scrum WithStyle is proud to offer the following great deals:
$1,500 regular price inc. GST
$250 off early bird special for bookings made more than 2 weeks prior to the course,
$250 off regular price when a group of 3 or more participants from the same organisation are booked together, and
For a group of 6 or more participants, please contact us for a further discount.
The following shows the total price inc. GST for each situation.
Regular ticket $1,500
Early bird $1,250
Group of 3+ from same org. $1,250
Group of 6+ from same org. Contact us
Payment options
Credit card - Mastercard, Visa, Amex
Electronic Funds Transfer (EFT) - choose "Pay by Invoice" as Payment Method. For New Zealand residents paying by EFT, please contact our partner Equinox IT to receive an invoice and transfer details.
Terms & Conditions
If cancelled or postponed by Scrum WithStyle, you are eligible for a full refund.
Cancel more than 2 weeks prior for a full refund.
Cancel between 2 working days and 2 weeks prior for a 50% refund.
You may substitute another participant in your place more than 2 working days prior to course commencement.
In extenuating circumstances you may request a transfer to a future course at Scrum WithStyle's discretion.
No refunds after transferring to a future course.
Upon selecting an EFT payment method, payment must be received within 7 days of booking or the booking may be cancelled.
Scrum WithStyle reserves the right to exchange the trainer with another suitably qualified trainer if necessary.
If you are resident in New Zealand, you agree that our NZ partner Equinox IT may contact you regarding future training offers.
Further Information
If you have any questions, please see the Scrum WithStyle website including our Frequently Asked Questions, call us on 1300 1 SCRUM ( 1300 172 786 ) or Send us a message online.