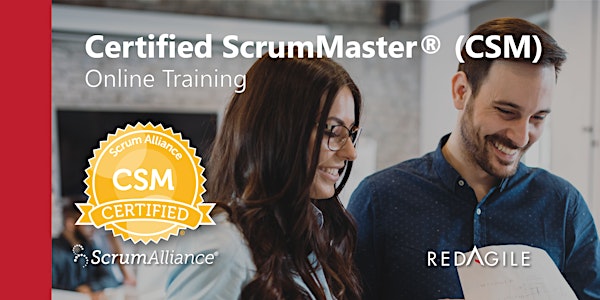 CERTIFIED SCRUM MASTER® (CSM® ) | 04-05 JUNE | Australian Course Online
Become a Scrum Alliance Certified Scrum Master (CSM) over 2 great days of interactive, team based training in RedAgile's Virtual Class.
About this event
Live Online Certified ScrumMaster (CSM) Training®
Your Australian Based Trainer is an Agile Veteran and Certified Scrum Trainer.
Jansen L. "The trainer is very knowledgeable and resourceful and demonstrated the ability to keep the class interested"
Derrick N. "Lots of useful tips"
Ervinna T. "It is comprehensive yet not overwhelming, good pace too"
Debendra S. "The training includes valuable examples and case studies, the whole team is wonderful"hole team is wonderful"
At RedAgile we are incredibly proud of our online courses and in how we have created an experience comparable to our classroom-based training. RedAgile Virtual Training remains interactive, collaborative, challenging and, most importantly, it is still fun. We have a 99% PASS rate for the CSM exam.
How Have We Made It So Good?
• The best interactive training tools.
• Great video, audio and visual facilitation equipment.
• A training studio with multiple screens for maximum interactivity.
What To Expect From RedAgile Live Online Training.
• Our training is delivered LIVE via video link from here in Sydney, Australia
• Our online courses are delivered by one of the world's most highly experienced trainers Stu Mitchell. Stu has 20 years of Agile and Scrum teaching experience and knows your pain.
• We give you great facilitation techniques to take away.
• Backup. You'll have 2 trainers in the studio, both enabling student collaboration which is core to our online training.
• A full electronic copy of our Slides, The Scrum Guide and the posters we create during the course. We also support you with advice on your workstation and your environment to help you learn while minimising risks.
• We maximise learning by taking regular breaks to maintain your focus, drive and enthusiasm.
WILL YOUR CLASS HAVE A FACILITATOR?
Yes! You will have an additional facilitator helping the trainer throughout. Their role is to help you get in and out of break rooms, distribute the correct links to workspaces, and navigate any technical difficulties. That way, your trainer is free to keep the class flowing and you will always have someone to help you if problems crop up.
What You Will Need
A PC / Laptop with audio, video and microphone functionality, and to get the very best out of the course you should have a fast, stable, secure internet connection.
We are also timing our courses so they are accessible for all Australians, starting at 8.30am in Perth, 10.00am in Adelaide, and 10.30am on the East Coast.

Your Trainer is a CST & Certified Agile Leader
RedAgile's team are Australian based Certified Scrum Trainers who have worked in Project Management for decades.
Highly experienced as a hands on Scrum Master, a Product Owner and an Agile Coach, your trainer will share his own experience. These stories and examples of good and bad practice are based on personal experiences from the front lines of work and are core to RedAgile's teaching style.
The Scrum Alliance is collecting feedback from our online trainees – here's what RedAgile Online Alumni are saying.
"had no idea online courses to be so interactive"
"I received more than just a certificate, I received a Scrum Toolkit'
'loved the WOW moments Stu, keep it up, I'll be back for the CSPO"
The Value Of What You Will Learn
The Certified Scrum Master course is for EVERYONE. It is equally valuable for beginners, those working in non-software Scrum and Agile roles and for managers / executives who interact with Scrum teams and who want to learn the language and the framework. On returning to work you will have the confidence and capacity to:
• Deliver a Scrum project successfully
• Participate effectively as a Scrum Team Member
• Be a servant leader and Scrum Master for your team
• Have impact as a facilitator for more productive meetings
• Help your organisation adapt to Scrum and Agile
• Explain Agile and Scrum to key stakeholders
Who Benefits From The Certified Scrum Master Course?
• Anyone who wants to be successful using Scrum
• Anyone involved in a Scrum Project utilising the full range of Scrum roles
• Those newly setting out on their Agile journey
• Those who are already using Agile or Scrum but want to consolidate their knowledge or address questions arising from real world experience.
The Course Takeaways Include
• A full copy of The Scrum Guide
• A full set of all core course slides
• Copies of the posters and images created through the training
• Links to key resources & e-books to help you in the future
• Complimentary 2yr membership of the Scrum Alliance
Included In The Course Fee
• Two days of insights from an Australian based Scrum Alliance Certified Scrum Trainer
• The support of a second trainer throughout, to maximise the learning outcomes and to support the virtual process so you are always in contact
• A guaranteed limit on the number of attendees
• All exam fees
• PMI PMPs -14 Category B PDUs.
Sign Up For Our Interactive Certified Scrum Master Training Now.
Taking this course with a Certified Scrum Trainer means you will be acknowledged and recognised by the Scrum Alliance as a Certified Scrum Master after completing the 2 days of training and passing the exam.
Attending the course earns you PDUs toward the Project Management Institute's PMI-ACP (Agile Certified Practitioner) designation and Scrum Educational Units (SEUs) eligible for the Certified Scrum Professional (CSP) of the Scrum Alliance.
The Cost
Book a place for a fee of $1200 inc gst
The full US dollar cost of full membership of the Scrum Alliance and the CSM EXAM FEE is included in the cost of training
What Will You Learn?
This course combines the theory and practice required to make sure you pass the CSM exam and are then able to apply what you've learned to real life scenarios when you're back at work.
If you are worried about not understanding the language, about being overlooked as your organisation pivots towards Scrum, or about simply being left behind, the contents of this course will put your mind at ease.
If you are starting out in a working environment in which Scrum and Agile are simply expected to be part of your toolbox, this course will set you on the right path from the outset.
If you are experienced in Scrum and are looking to gain your certification as a CSM before moving on to Advanced levels of qualification, this course makes sure you will be building on the best possible foundations.
The Curriculum Of The Certified Scrum Master Training Course
Understanding Agile
• Lean and Agile Principals
• The Scrum Framework
• The Theory of Empirical Processes
Scrum Roles
• The Scrum Master Overview
• The Product Owner
• Cross Functional And Self Organised Teams, and, Creating Effective Teams
Product Backlog Fundamentals
• Product Vision
• Creating a Product Backlog
• Product Backlog Management
• Definition of Ready and Done(DoD)
• Estimating
Sprint Planning
• Prioritisation and the Sprint Goal, and, Sprint Planning
• Managing the Sprint Backlog
• Sprint Execution
• Sprint Retrospective
• Sprint Review
The Sprint
• Potentially Shippable Product
• Technical Debt
• Abnormal Termination
• Progress Tracking
Scrum Events
• The Daily Scrum
• Sprint Review
• Sprint Retrospective
Service to The Organisation
• The SM as Agile Facilitator
• The SM as Agile Coach
• Value of Engineering Practices
Hands-On Scenario Simulation of the experience of working in a Scrum Team
Refund Policy
We offer a full refund prior to the 48 hours before the course start date and after that time we offer 10% of the fee or offer a transfer of registration to an alternative class.
If you can no longer attend but wish to transfer your place on the course to another person we are very happy to arrange that at no additional cost.
Disclaimer: RedAgile reserves the right to change venue or cancel any course for reasons including, but not limited to, trainer illness or bad weather. In the event of cancellation, we will offer a transfer to a different course or a full refund.