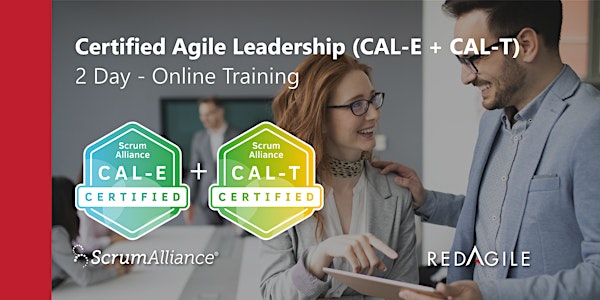 CERTIFIED AGILE LEADERSHIP (CAL E+T) 15-16 FEB Australian Course Online
Champion Agile in your Organisation with this 2 day Certified Agile Leadership Course by RedAgile, Australia's ONLY qualified CAL trainers.
About this event
In this 2-day combined course of CAL-Essentials and CAL-Teams, you will learn to build the strongest possible leadership foundation in Agile, cultivate a safe-to-fail mindset and to be confident in guiding any organisation toward sustainable Agility. This course is a combination of two distinct certifications and over the 2 training days we help you to gain a full understanding of Agile leadership theory and practice, learning alongside like-minded leaders.
In contrast to many courses offering guidance in Agile ways of working for leadership, RedAgile's CAL qualified trainers have a proven track record in work-based situations and it is integral to our CAL courses that our trainers share with you their many years of real-world experience together with their success in coaching Agile teams and supporting Agile transformations.
This RedAgile Certified Agile Leadership (CAL) training is an immersive experience, designed by the Scrum Alliance to benefit leaders in business and to significantly enhance overall Team Agility.
Our Certified Agile Leadership (CAL) courses aim to bring positive change to your organisation by helping you embrace the Agile leadership model that best fits your own management style. Learn to lead Agile teams by confidently practicing Agile principles and by leveraging Agility to drive sustainable improvements in any business.
Day 1
Scrum Alliance Ceritified Agile Leadership Essentials® (CAL-E® )
The goal of this course is to bring awareness and understanding of the foundations of agile leadership. Exploring the way agile leaders think, focus, and behave allows the participants to learn and apply the course objective, to gain the knowledge, tools and confidence to lead in today's Agility focussed workplaces.
Participants in CAL-Essentials should expect that each learning objectives outlined below will be covered in depth over the course of the program.
Organisations today are striving to stay on top of rapidly changing business needs and are coming to understand that the need to respond and adapt quickly is becoming increasingly important. Business leaders are now required to shift the way they think and to re-evaluate the role of a leader, their relationship with employees, and the culture of their organisation. Effective Agile leaders are urgently needed to help organisations thrive in a volatile, uncertain, complex, and ambiguous (VUCA) world.
Day 2
Scrum Alliance Certified Agile Leadership Teams® (CAL-T® )
Agile teams require an alternative to the traditional leadership approaches of the past in order to navigate this volatile, uncertain, complex, and ambiguous world. This course teaches you how to create a safe-to-fail environment and foster a culture of transparency, inspection, and adaptation to allow for experimentation and continuous learning within your teams. The goal of this course is to create awareness about the changing dynamics in today's world of work and equip leaders with the practices they need to lead their teams with agility.
This course will help participants understand how an individual's personal experience, worldview and personal biases affects their influence on their teams, both positively and negatively.

What is the structure of the course and modules?
This course is a 2 day course combining the CAL-E and CAL-T modules run on consecutive days. We are aware as leaders this is a big time investment so we work hard to deliver a high tempo, value filled learning environment.
- 2 Day course ( Day 1 - CAL-E , Day 2 - CAL-T )
- Live Online Delivery - highly interactive
- Regular breaks, high tempo delivery
Who is the course designed for?
CAL participants vary by professional background and work experience. The common thread is their desire to enhance their workplaces with agile practices. This program is for anyone leading or participating in an agile transformation.
- Organizational Decision Makers
- Agile Team Leaders and Practitioners
- Executives
What do I need to take part in the course?
The course has no official pre-requisites, but is heavily focused on leading teams and organisations where real world experience is beneficial for context and understanding of topics.
- Have understanding of basic agile concepts
- Be a leader of a team or organisation
- Be responsible for organisational change / improvement
How do I complete the accreditation?
There is no exam with the CAL courses as this training is about strengthening the depth of your agile knowledge and providing you a toolkit to deal with a changing world. To receive the accreditation you must:
- Complete the 2 days of training in full
- Demonstrate understanding of topics during training
- Following course, accept Scrum Alliance licence agreement