Sales Have Ended
Registrations are closed
Please visit www.thealternativeboard.com.au to see dates for upcoming events.
Sales Have Ended
Registrations are closed
Please visit www.thealternativeboard.com.au to see dates for upcoming events.
Description
Are you a CEO / Business Owner? Would you like to have your own panel of trusted advisors, helping you solve challenges and develop opportunities? This event will give you a sneak peek into a Peer Advisory Board in action.
The Alternative Board's (TAB) Business Owner Advisory Board Meetings put the power of collective wisdom, accountability, drive, creativity, and clarity of advice in your hands to align your business vision with your personal vision. TAB provides the resources senior leaders need to overcome major business challenges such as:
Achieving improved business results

Developing and implementing succession plans

Scaling your business

Solving Family Business Challenges

Improving the performance of your team

Enhancing your cash-flow

Enriching your Marketing spend

Recruiting the right-fit for your business

Achieving an improved work-life balance


What will I learn?
An Advisory Board is a proven concept bringing together non-competing business owners in small groups to solve real business issues. You'll learn practical, tried and tested solutions from other medium-large sized business owners, spurring you into new ways of doing business and giving you the power to expand your thinking with out of the box perspectives.
If you are looking to improve your organisation's performance, achieve a better work-life balance and accept you don't have all the answers, why not find out what TAB could do for you?
Who should attend?
Medium - large sized business owners who would like support of a forward thinking group of business owners in identifying oppotunity, taking action and making smarter decisions for their business.
Hosted by Mary Stevenson
Mary Stevenson - The Alternative Board Brisbane Townsville Region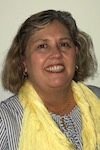 Mary is an experienced Senior Executive, Director, Board Member and business owner. She has an extensive background in coaching business owners and managers as welll as managing teams, across a wide variety of industry sectors. These include mining and mining support services, manufacturing, engineering, environmental, construction, local government, health, retail, professional services, hospitality, tourism, vocational education and training as well as various trade-based businesses.
As a business owner, Mary is aware of the range of challenges and obstacles business owners face. Mary is an enthusiastic coach, who enjoys a challenge and derives satisfaction working with her clients to identify and achieve their potential. She also has a strong interest in neuroscience and leadership and continues to develop skills in this area to support her clients and their teams.