Central Coast Summer Flutation 2015

Wednesday, 21 January 2015 at 9:30 am

-

Thursday, 22 January 2015 at 4:00 pm (AEDT)
Event Details
FLUTATION 2016 ANNOUNCED - CLICK HERE FOR INFORMATION
EVENT NOW SOLD OUT!
MISSED OUT?  PLEASE CLICK HERE  TO SEND US YOUR EMAIL ADDRESS AND WE WILL SEND YOU DETAILS OF CENTRAL COAST SUMMER FLUTATION 2016 NICE AND EARLY SO YOU DON'T MISS OUT NEXT YEAR!
The perfect school holiday activity for flute players of all ages and abilities!  Run by some of the Central Coast and NSW's leading flute teachers, this 2 day event aims to bring together flute players of all ages and standards on the NSW Central Coast to play as ensembles, work on technique, make new friends and explore new music together!
Morning and afternoon tea provided | Sample bags for all participants |
Free Concert for family and friends followed by afternoon tea at end of event |  
Trade display on day 2 before final concert and during afternoon tea  |  
early drop-off both days & late pickup on day 1 available to assist working parents
(we'd love you to come to the concert on day 2 if possible)
LUCKY DOOR PRIZE!  
(one lucky participant will win their choice of a genuine crystal flute OR a Fluterscooter flute bag courtesy of Flute Tutor Australia) 
 -------------------------------------------------------------------------------------
Day 1  (21 January 2015)
9:30       Arrivals / Registration
10:00     Warm ups – everyone
10:30     Ensemble Rehearsals
11:30     Morning tea
11:45     Ensemble Rehearsals
12:45     lunch
1:30       Ensemble rehearsals
2:45       afternoon tea
3:00       Sound Exploration Workshop 1
Day 2  (22 January 2015)
9:30       
Arrivals / Registration
9:45       Warm ups - everyone
10:00     Sound Exploration Workshop 2
11:00     
Morning Tea
11:15     Ensemble Rehearsals
1:15      lunch
2:00     
Ensemble rehearsals
3:15      Break
3:30      Concert
4:00      FINISH
 -------------------------------------------------------------------------------------
General Information
Registration:
Please note that any participants under the age of 16 will need to be signed in and out of the event on each day by their parent or guardian.

Students will NOT be released to unknown persons

Parents will be required to complete a registration form with important information including names of those allowed to collect students each day.
Your Flute (and Alto flute or Piccolo if you own one)

Music Stand

Bottle of water

Lunch

 
Provided: 
Fruit break (morning)

Biscuits (afternoon)

Water available to refill bottles

Music

Expert Tuition

FREE flute showbag for all participants
-------------------------------------------------------------------------------------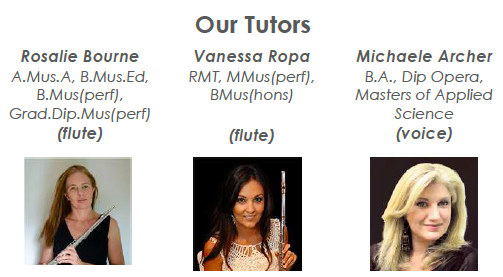 Christine Draeger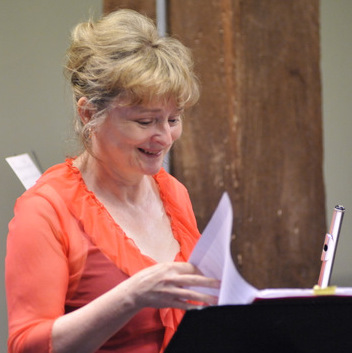 About our Tutors:
Christine Draeger
Christine Draeger studied at the Tasmanian Conservatorium and with Zdenek Bruderhans at Adelaide University, graduating in 1979 with a Bachelor of Music (Honors).
 She was a member of the Sydney Symphony Orchestra 1981-86 and has worked with the Adelaide Symphony Orchestra, the Australian Opera and Ballet Orchestra and the Tasmanian Symphony Orchestra. She has also appeared as guest artist with many chamber ensembles including Synergy, the Song Company and Perehelion.
 From 1982-2007 Christine was a member of Australia's leading contemporary music ensemble Sonic Art Ensemble (formerly The Seymour Group). She has recorded three CDs of Australian flute music, Streeton's noon (1999), Eat Chocolate and Cry (2009) and  Spirit of the Plains (2013).
In 1992 she founded Tucana Flute Quartet, which has performed at flute conventions in Chicago, Brisbane, Melbourne and Sydney as well as recording for ABC Radio and 2MBS FM.
Christine is a represented composer at the Australian Music Centre. She has written works for solo flute, flute and piano, flute quartet and theatre pieces. She has also written a flute tutor Practical Studies for the Advanced Flautist with Rosamund Plummer.
Rosalie Bourne – A.Mus.A, B.Mus.Ed, B.Mus(perf), Grad.Dip.Mus(perf)
Rosalie completed both her undergraduate and post graduate studies at the Sydney Conservatorium of Music and has studied with Suzie Miller, Michael Scott, James Kortum and Janet Webb, as well as participating in masterclasses with flautists including Susan Milan and Jane Rutter.
An active and committed member of the Australian Flute Community, Rosalie is the Founder & Principal of Flute Tutor Australia, a leading web resource enabling sharing of flute information and event dates across Australia and a member of the committee of the NSW Flute Society.
Rosalie was responsible for developing the flute technique karate system (available free on www.musictechniqueninja.com) which has gained global recognition. She was also recently featured in the Dutch Flute Society magazine, 'Fluit'.
Rosalie currently teaches flute at Central Coast Conservatorium, from her private studio in Point Clare and at a number of private Sydney Schools. Rosalie also holds the position of Head of Program Woodwind/Brass at the Central Coast Conservatorium of Music.
Vanessa Ropa – RMT, MMus(perf), BMus(hons)
Vanessa Ropa studied at the Sydney Conservatorium where she completed a Bachelor of Music (first class honours) in 2007 and a Masters of Music (Performance) in 2009 and most recently, a Master of Music Therapy at The University of Melbourne (2013).
Vanessa has toured extensively overseas as Principal Flautist and Principal Piccolo with numerous orchestras performing in China, Germany, the Czech Republic, Italy and The Netherlands, as well as nationally with chamber ensembles and the Sydney Symphony Orchestra.
Vanessa has taught for over thirteen years in schools, at State Music Camps and within the Department of Education and Training (DET) Arts Unit.
Vanessa's music therapy experience in Australia includes working with children in palliative care and respite, children and adolescents with autism and patients with dementia in a residential aged care facility. In 2013, Vanessa spent one month in India working for the Brett Lee MEWSIC Foundation setting up a music therapy program to help support children with cancer and their families.
Vanessa teaches flute at the Central Coast Conservatorium, from her private studio in Terrigal and at a number of Sydney Schools. Vanessa also directs the Central Coast Conservatorium of Music Flute Ensembles.
Michaele Archer – B.A.(Syd Uni), Dip Opera (Sydney Con of Music), Masters of Applied Science (Sydney Uni)
A graduate with distinction from the Sydney Conservatorium of Music Opera school, Michaele has been a regular concert and festival performer throughout Australia. Highlights have included recitals with classical guitarist Slava Gregoryan; principal role of 'Queen of Light' in The Gravel Pit Opera; Songs of the Sea a new work created for her by Australian/New York composer Padma Newsome.
Michaele has a Masters in Applied Science, researching breathing techniques for opera singers from the University of Sydney and a B.A. in Performances Studies, languages and literature. Michaele performed with Opera Australia in Turandot, Otello, and Werther. Other roles include Emmie in Albert Herring (Opera Australia), Mrs Peachum in The Beggars Opera, Nedda in Pagliacci and Tosca. Awards include the vocal winner of the Sydney Symphony Orchestra Performers Award and the Young Opera Award.
Michaele regularly appears as a soloist with the Central Coast Symphony Orchestra and Philharmonia. She has performed as the soprano soloist for Camina Burana, Mendelssohn Symphony No.2, The Armed Man by Karl Jenkins and as part the Pearl Beach Music Festival with Apsara. Michaele has frequently performed as the soprano soloist for the Opera in the Arboretum and as guest artist for the Special Olympics.

Michaele studies in New York with world renowned voice teacher, David Jones who works with singers at the Metropolitan Opera. Michaele has been mentored by Reginald Byers and David Jones in the teaching of Old World Principles from the original Italian Masters including Garcia and Lamperti. These principles are the foundation of vocal technique and can be applied to all styles of vocal production from Opera to Contemporary.
Please note that all tutors and staff present have current working with children checks and we are happy to provide this information to anyone on request.
  -------------------------------------------------------------------------------------
Questions?
Feel free to contact us via email on flutation@flutetutor.com.au at any time for further information regarding this event.
When & Where

Glenvale School
Manns Road
Narara, NSW 2250
Australia

Wednesday, 21 January 2015 at 9:30 am

-

Thursday, 22 January 2015 at 4:00 pm (AEDT)
Add to my calendar
Central Coast Summer Flutation 2015