Junior Science Academy Central Coast Marine Discovery Centre Program April 2021
About this Event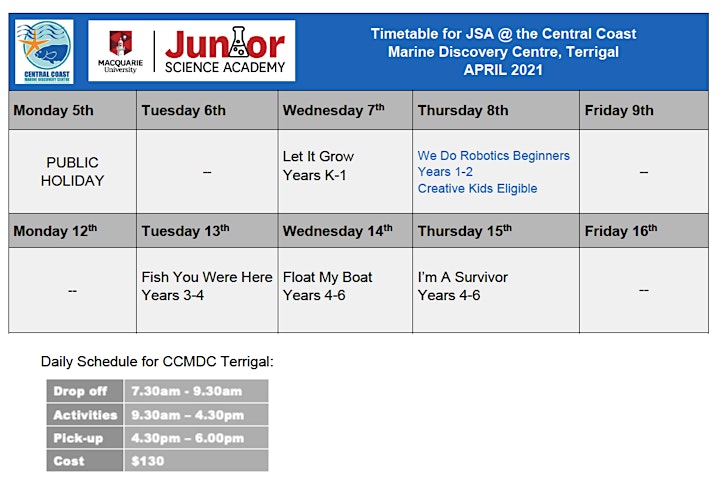 Junior Science Academy is coming to the Central Coast for the first time this Easter break!
7th April - 15th April 2021
Please click the tickets button to see available classes and purchase your tickets. For more information on class descriptions please visit our website. View the Central Coast timetable above or our website.
Visit the wesbite for more information on:
Timetable and Class Descriptions (specific for CCMDC Terrigal)
Daily Schedule (note that the Central Coast Schedule has extended sign in and out periods to support commuting families)
Location and parking information
What to bring
Creative Kids Vouchers information
Creative Kids Vouchers:
Eligible classes will be indicated on the timetable, class description and in the ticket description. If you planning to redeem a Creative Kids voucher on an eligible class, please book and pay in full and then send an email to juniorscience@mq.edu.au with your voucher details and a refund will be processed when the voucher redemption is successful - please see our Creative Kids Information Tab on the website for more information.
Booking for the appropriate age:
When booking courses for your child, please book based on your child's current year at school. Classes are designed to target specific age ranges and following these recommendations is the best way to support your child's enjoyment. If you would like to book outside the age range, please discuss with the JSA Team first.
Refund and Cancellation Policies:
PLEASE NOTE our updated Cancellation Policies. For Covid-19 related cancellations, a COVID Safe Refund Policy is in effect, where applicable. For all other cancelations please see our Regular Refund Policy.
Covid Safe Refund Policy:
To support COVID Safe practices, full refunds will be provided for cancellations required due to COVID related illness or concerns up until 7.00am on the day of the booked class. Written notice of cancellation must be provided by email to juniorscience@mq.edu.au  by 7am on the day of the class. Where medical certificates or COVID test results are shared, full refunds are available. Where this is not possible, Gift Certificates will be issued.
Any cancellations after 7am on the day of the class are not eligible for a refund.
 Cancellations for non-COVID related reasons will revert to the Regular Refund Policy.
Regular Refund Policy:  This policy applies when the COVID Safe Refund Policy is not applicable.
50% refund of ticket prices is payable for cancellation by the Parent/Guardian if more than 24 hours notice (ie before 9:30am the working day prior) is provided. Alternatively, and subject to availability, the student may transfer to a different class during the same holiday period.
For more information on our COVID Safe Processes and Procedures, please visit our website.
Any questions...? Contact our Coordinators Tuesday - Thursday on 9850 1118 or juniorscience@mq.edu.au