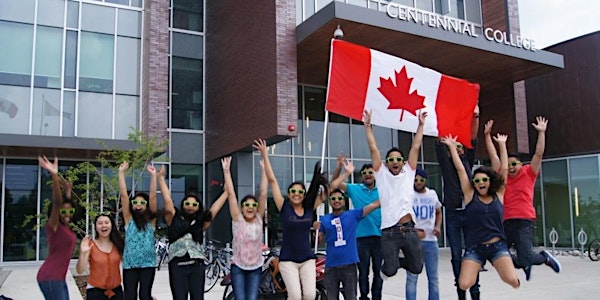 Centennial College, Presentation and Consultation to Study in Canada
Description
Centennial College, Canada: Presentation and Consultation
Ayo datang ke acara Gratis Presentation & Consultation dengan Centennial College, Canada
Studi dan kesempatan bekerja part-time selama kuliah, tinggal dan bekerja full time di Canada setelah selesai kuliah.
Cost: Gratis (Free of Charge)
Sabtu, 26 Agustus 2017
Jam 14.00 - 17.00
Di kantor IDP Education, Jl Sulanjana No 3 Dago Bandung
Online registration; click Register di website ini
Dapatkan 25% discount untuk kelas persiapan IELTS test apabila anda mendaftar untuk kuliah di Centennial College, Canada di acara ini.
Hubungi kami apabila anda mempunyai pertanyaan:
IDP Education, Jl Sulanjana No 3 Dago Bandung
Phone: 0224206431, 0224261054
Email: maria.ursula@idp.com
WhatsApp: +6285722799558
Sampai bertemu di acara ini
Best wishes,
IDP Education - Bandung
Organizer of Centennial College, Presentation and Consultation to Study in Canada
IDP Education is a world leader in international student placement services. With a network of over 100 international student placement centres, we have a global presence in more than 32 countries. 
Student placement
IDP Education Limited is an ASX listed company that is 50% owned by 38 Australian universities. For more than 45 years, we have played a major role in international education. We have placed more than 400,000 students into quality institutions in Australia, the United Kingdom, the United States of America, Canada and New Zealand. 
IELTS
We are a proud co-owner of 
IELTS (International English Language Testing System)
. IELTS is jointly owned by British Council, IDP: IELTS Australia and Cambridge English Language Assessment. Since its launch in 1989, IELTS has become the world's most popular high-stakes English language proficiency test. 
Over 9,000 organisations worldwide accept IELTS as evidence of English language proficiency. Last year, more than 2.5 million tests were taken globally. IDP Education offers the IELTS test in more than 400 test locations in 50 countries.
English language teaching
IDP Education has been involved in 
English language teaching
 since 1988 and runs English language schools in Thailand, Vietnam and Cambodia.