Artist, Susan Bradshaw, helps you achieve exciting results in Celtic Calligraphy. Term 1: Tuesday 9 Feb to 16 Mar 2021, for adults.
About this Event
Description
Calligraphy – aka Insular half-uncials
The half uncial has proven to be the most influential of Roman scripts. This beautiful hand was perfected by the "insular' scribes of the 6th to 9th century in Britain and Ireland and still has a place in the modern world of calligraphy today. It is a formal and rounded style of writing that many will recognise from Celtic scripts and Irish verse.
If you have admired the beautiful and fascinating Celtic writing and art forms, then this six week class will help you to achieve your dream of creating a beautifully embellished piece. Modern Celtic decoration using knots and dots will add the final touch to your creativity.
During the course we will look at historic works in this hand such as the book of Kells, a foundational text with extravagant decoration and supreme illuminations. Its crisp letterforms which are both graceful and flamboyant are astounding.
This workshop is a six week course, running every Tuesday Evening from 6:00pm to 8:30pm. The dates are as follows:
09/02/21: 6.00pm – 8.30pm
16/02/21: 6.00pm – 8.30pm
23/02/21: 6.00pm – 8.30pm
02/03/21: 6.00pm – 8.30pm
09/03/21: 6.00pm – 8.30pm
16/03/21: 6.00pm – 8.30pm
Don't want to pay online? Give us a call on 07 4632 2727.
Materials are not included in this class, to view the materials list please click here.
*** Murray's Art and Framing has a full selection of art supplies, if you need them for your materials list ***
Murray's Art and Framing and Myart Studio comply with the Government contact tracing requirements. For more information go to:
https://www.covid19.qld.gov.au/updates/important-changes-to-record-keeping-for-contact-tracing
Participants will be required to sign in.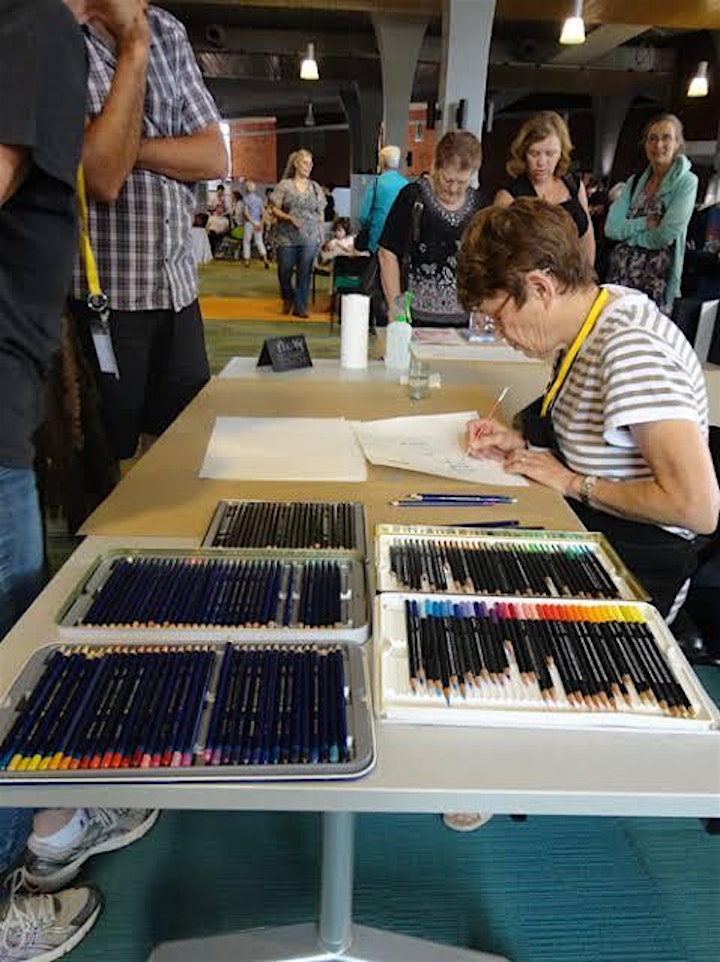 About the Tutor: Susan Bradshaw
As a calligrapher, it is the words of Socrates, Virgil, Dante, Tennyson, Oscar Wilde, Helen Keller and Mother Teresa that give me the inspiration to write on vellum, paper or canvas and therefore create in writing an art form that reflects their special meaning. You wouldn't write a love poem in Gothic – flowing copperplate or italic expresses love.
When Gutenberg invented the printing press in the 15th century, calligraphers were no longer required to write bibles and books of Psalms. However they then turned their skills to teach the people 'how to write'. An Englishman, Edward Johnston, rediscovered the 'broad pen' and other calligraphic techniques lost during the centuries of disuse and it is for that reason he is known as the father of modern calligraphy.
My interest in calligraphy, "The Art of Beautiful Writing" began at high school when I was studying art as one of my subjects.
Many years elapsed before my interest was rekindled by attending classes at the Toowoomba College of TAFE with tutor Genevieve Cooke. Further studies with outstanding tutors Olive Bull, Gemma Black and Lexie Arlington at McGregor Summer School and a 12 months correspondence course with international tutor Thomas Ingmire (USA) plus annual visits to Summer School in Winter in Melbourne have given me the skills and enthusiasm for this art form that has a history dating back more than 2000 years.
In the early 1990's I was asked to teach calligraphy for TAFE's Adult Education program until it ceased in 2002. My teaching career continued in Brisbane and classes for the Buderim calligraphers. It has been a pleasure to be part of Murray's Art & Framing Art Workshop Program since 2015.
MyArt Studio Workshop booking and cancellation policy
The 16 Duggan Street entrance to the classroom will be opened 15 minutes prior to commencement of the class. Students are responsible for their own artists materials unless otherwise stated. A materials list is available for each class and will be emailed to you once your booking is confirmed. Materials lists are also available on our website.Tea and coffee will be provided, and students have access to the kitchenette and toilet facilities. No parking facilities provided. Street parking is time limited and shopping centre parking is at your own expense. Classes with outdoor activities are attended at your own risk.
Fees
Please book into a workshop at least one month prior to its commencement if possible. This will secure your spot in the class and allow us to confirm tutor bookings. If there are insufficient number workshops may be cancelled.
Cancellation of enrolment by you
If you choose to withdraw from a course or workshop up to one month before its commencement, you will be charged a $25 administration fee. The remainder (minus Eventbrite fees) will be refunded. If you choose to withdraw from a course or workshop within 1 month of its commencement, you will be charged a $25 administration fee and the remainder (minus Eventbrite fees) will only be refunded if the position can be filled.
Missed Classes
Once a workshop has commenced there are no refunds. MyArt Studio cannot accept responsibility for changes to students' personal circumstances that prevent attendance. Classes missed are the student's responsibility and are non-refundable. Students are not entitled to a discount or 'make-up' class if they miss a class for any course they are enrolled in.
Cancellations of workshops by us
In the event of a class being cancelled due to insufficient enrollments, a full refund will be given.