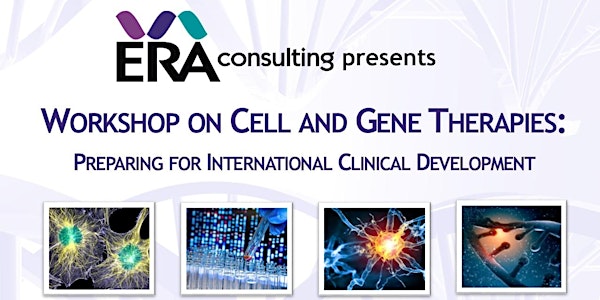 Cell and Gene Therapies: Preparing for International Clinical Development
Location
The Kinghorn Cancer Centre
Level 11, 370 Victoria Street
Darlinghurst, NSW 2010
Australia
Refund policy
Refunds up to 7 days before event
Description
Workshop Description:
This workshop will focus on how cell and gene therapies (advanced therapy medicinal products, "ATMPs") should be prepared for clinical development to meet the requirements of regulatory authorities, particularly in the EU and US. We will provide attendees with a regulatory scientific approach for successful translation of ATMPs into the clinic. The content will include an overview of the applicable regulatory pathways and essential elements to address prior to application to perform clinical trials. This will include practical advice on "do's and don'ts" for product design and manufacturing platform selection. Attention to these factors is important in order to optimise product safety, avoid regulatory difficulties, and facilitate and expedite further development towards market authorisation. Some mistakes made at the beginning may be very costly to correct later in development, hence appropriate planning to avoid associated obstacles is critical for the credibility of programs with potential investors.
Please note, some food and beverages will be offered during the event and Certificates of Attendance will also be prepared upon request.
Topics:
Factors in the design of cell and gene therapies that impact acceptability to regulatory authorities in the EU, US and Australia

Considerations in selection of the manufacturing platform

Essential product testing before entry into clinical trials

Pre-clinical studies that are relevant to the safety of cell and gene therapies

The value of regulatory strategies in the early development of cell and gene therapies
Speakers

:
Dr Tim Farries, Director of Regulatory Affairs – Cell and Gene Therapy, ERA Consulting (UK)

Dr Dianne Jackson-Matthews, Chief Scientific Officer, ERA Consulting Group
Biographies
:
Dr Tim Farries, Ph.D.
Director of Regulatory Affairs – Cell and Gene Therapy, ERA Consulting (UK)
Tim Farries is an expert in the development of Advanced Therapy Medicinal Products (ATMPs) with over 16 years' commercial experience spanning employment in biotech and big pharma companies. Since 2013, Tim has been ERA's "Director of Regulatory Affairs – Gene and Cell Therapies" in ERA's London office where he is responsible for managing a team of consultants focussed on CMC regulatory and development matters for complex biological therapeutics. This team supports a wide range of products throughout the regulatory process, and notably was pivotal for the first marketing authorisation ever achieved in the EU for a product containing stem cells. Tim was previously responsible for managing regulatory, development and manufacturing aspects of the gene therapy development programme of Ark Therapeutics Ltd., including liaising with EMA, FDA and other national regulatory authorities, and compiling CMC, non-clinical and environmental risk assessment documentation for marketing authorisation applications. He has also held roles in the management of advanced biotechnology programmes at Gendaq Limited (acquired by Sangamo Biosciences) and Novartis Pharma, and holds a Ph.D. from Cambridge University.
Dr Dianne Jackson-Matthews, BSc, PhD, RAC
Chief Scientific Officer, ERA Consulting Group/Director of Regulatory Affairs (Australia)
Dianne has over 25 years of experience in pharmaceutical product development, spanning the areas of drugs, biotech/biologics/biosimilars and cell/gene therapies in the US, Europe and Australia. She has experience in development of regulatory and technical strategies, conducts regulatory agency interactions worldwide, prepares regulatory documentation and submissions, and performs regulatory and technical due diligence assessments supporting funding and licensing opportunities for the investment community and the industry. Prior to joining ERA in 2001 as the Director of the Washington DC office, Dianne was the Director of Regulatory Affairs at a biotech company in New Jersey, where she gained extensive experience with biotechnology products over a 12 year period, covering GMP production, GLP and bioanalytical testing, and regulatory submissions and approvals. She also has 6 years' experience with in vitro diagnostic device development in the US. Dianne has held an Adjunct Associate Professor position at the University of Queensland, Australia, since 2010.
Who should attend?
Industry professionals

Biotech entrepreneurs

Clinicians

R&D scientists


Doctoral students and Post-doctoral scientists
(a generous 50% discount is offered to all students for our Sydney Workshop)


Contact Details:
Phone: +61 7 3331 3900
Email: christina.henderson@eraconsulting.com