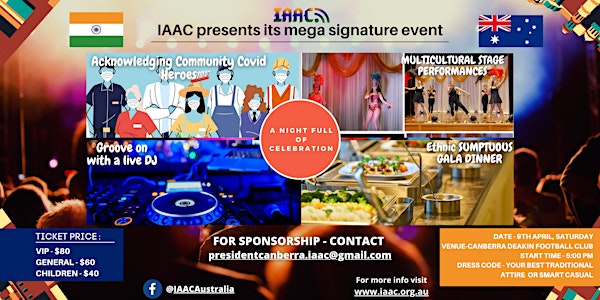 Celebration of Cultural Diversity through multicultural performances
Location
Canberra Deakin Football Club
3 Grose Street
Deakin, ACT 2600
Australia
Refund policy
Refunds up to 30 days before event
Celebration of Cultural Diversity through multicultural performances
About this event
Canberra Get Ready, IAAC presents its mega Signature event
Celebration of Cultural Diversity through multicultural performances
Highlights of the evening
Celebrations in honor of IAAC's 50th anniversary and cultural diversity on 9th April 2022.
Acknowledge Canberra Community Covid Heroes
Heart throbbing multicultural performance to promote and celebrate Canberra's Multicultural Diversity
Sumptuous buffet dinner and Live DJ to finish the gala evening
Immerse yourself in the best after a quite restraining Canberra lockdown and reunite again
Venue: Canberra Deakin Football Club,
Address: 3 Grose Street, Deakin ACT 2600
Date: 9th April, Saturday
Time: 5 pm meet & greet and show starts 6 pm
Be COVIDSafe
To ensure your visit is COVIDSafe and complies with ACT Covid Safe Regulations we require:
All adult visitors (18 years and above) must be fully vaccinated and can provide a digital paper copy of their vaccination certificate.
All visitors check-in using the Check-In CBR app (available at covid19.act.gov.au/stay-safe-and-healthy/check-in-cbr-app).
Sanitizer stations are available onsite.
Please cancel your booking if you are showing symptoms of COVID-19 or have traveled to any COVID-19 hotspots in the past 14 days. Visit covid19.act.gov.au for more information.