Event Information
Refund Policy
Contact the organiser to request a refund.
Eventbrite's fee is nonrefundable.
An online solstice ceremony. The Solstice energy symbolically represents enlightenment, awakening and triumph of lightness over darkness.
About this Event
People have long gathered to celebrate and honour the Sun through special rituals and ceremony during the time of the solstice and equinox which mark not only the movement of the Sun, but the inherent cycles within our own spiritual and physical lives as well.
Join Embody Nadora on the 21st December as we come together in ceremony to initiate the allowing of higher energy, warmth and light into our lives.
Celebrate Your Light
Tune into your Souls brilliance
Receive profound source light downloads
Embody Your Soul Light and Divine Truth
Unlock from past trauma, fear and conditioning
Embody Your Truth as a Divine being in the Physical
Elevate your frequency
Change your point of attraction
Attune to inner peace, clarity and calm
Release what's no longer serving you
Cleanse and reharmonise your body with pure white light
Prepare your body, mind and heart for the light activations coming in 2021
Powerfully realign with the highest love, peace, radiant joy and well-being possibly available to you right now.
It is time to celebrate forward movement – to advance wilfully, further into light and to remember and honour the intrinsic spark of life within yourself.
Passionately…
Purposefully…
Powerfully…
This is a Divinely guided opportunity to take a quantum leap in expanding your consciousness, healing every level of your being and rising up in vibration to claim the highest possible timelines on both an individual and collective level.
This ceremonial ritual is to remind you of just how connected you are with all of life.
Includes;
- Pre-ceremony video & meditation to help you connect into your intention and allies leading into our online ceremony.
– An introductory eBook and ceremony preparation full of ideas and items you may choose to include.
- A self-guided online AND downloadable workbook for you to lay down the foundation of what we will work with on the during the online ceremony.
- And then join us LIVE on the 21st December.
If you are feeling ready to transition into something new, to embrace the possibilities and potential of your inner light, inner voice, and inner joy if you are excited by the beauty and wonder of living a life with passion and purpose, chances are that you are ready to initiate the call and awaken to the full power of your Soul.
Give yourself this time… this beautiful gift… reconnect, honour and Celebrate Your Light.
$22AU
This is an online Zoom event - you will receive the links to our meditation, eBook, workbook and Zoom information once tickets have been purchased via our website.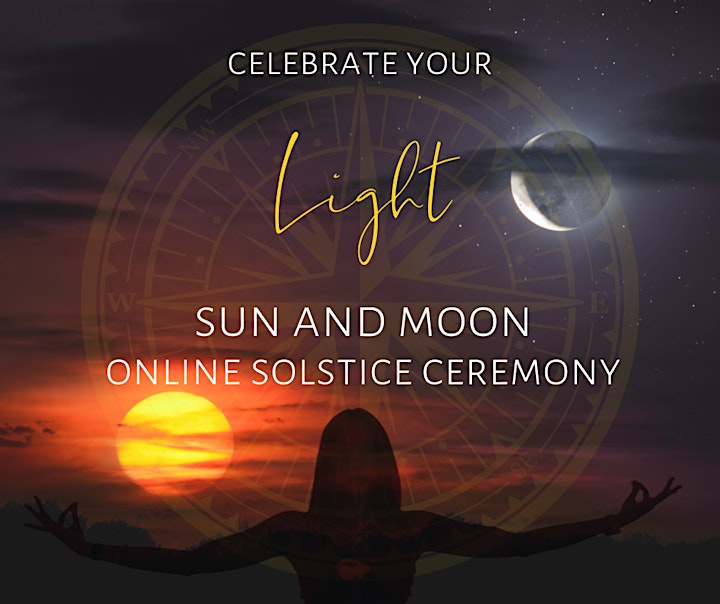 Date and Time
Location
Refund Policy
Contact the organiser to request a refund.
Eventbrite's fee is nonrefundable.