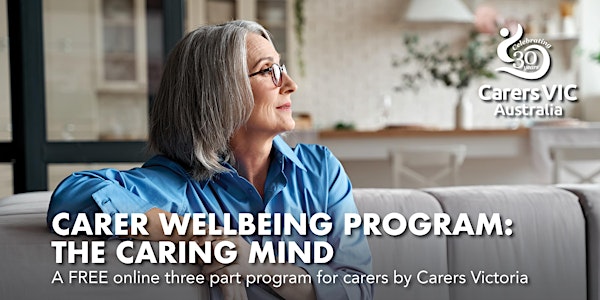 Carers Victoria Carer Wellbeing Three Part Program: The Caring Mind #8859
A FREE online three part program for carers by Carers Victoria
About this event
Carer Wellbeing Program: The Caring Mind Online Workshop
'What we focus on is what becomes powerful'.
This three-week series considers the connection between our minds and experiences as carers.
The series offers an opportunity for carers to focus on how the mind influences wellbeing. Over the three weeks, we will explore and practice techniques around self-care, managing future-worry and mindfulness.
Who should attend
This series is strictly for carers only and is not open to support workers and other paid staff.
When
Online workshop one-hour duration
Session 1 - Caring for yourself
Wednesday 6 July 1.00pm - 2.00pm
Why self-care is important
What stops us caring for ourselves?
Making a self-care commitment
Session 2 - Managing future worry
Wednesday 13 July 1.00pm - 2.00pm
Understanding the worry cycle
Strategies for managing future worry
Session 3 - Becoming mindful
Wednesday 20 July 1.00pm - 2.00pm
Understanding mindfulness and meditation
Mindfulness as a tool for carers