Career Seminar - Code|Test| People Skills for Unemployed 18-22 Years Old
About this Event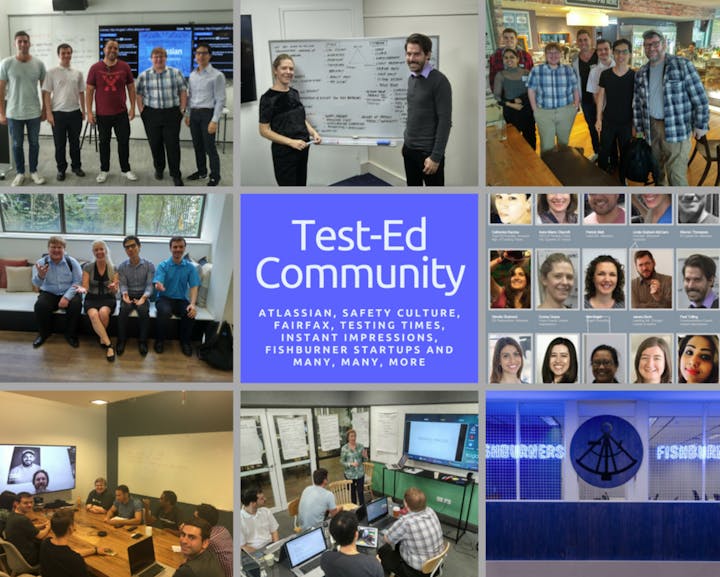 Test-Ed is a community of IT professionals that puts unemployed, 18-22-year-old unemployed, marginalised youth into their first jobs of $55,000 to $ 63,000 base. They are technical jobs in software development teams, in the past these have been companies such as Fairfax Media, Channel Nine, Tyro, Suncorp, Adshel, Qantas and others. We take 4 months rather than 3-4 years for our trainees to achieve that goal. Our trainees have won roles and internal placements in companies competing against University Masters of IT Engineering and Bachelors of IT Engineering. University graduates take on average 4.7 years to get job placement after a degree, this seminar is for disadvantaged people looking at alternative pathways to technical careers.
This seminar is about how we achieve high tech careers for marginalised youth in 89% less time than universities, through work integrated learning with industry professionals.
WHO SHOULD ATTEND
Unemployed 18-22 year-old people with an interest in exploring IT.
Young people who learn better hands-on in real world environments
Young people who have a passion for the IT space, but aren't sure what that is about
Young people who are hungry for a job and a career that's a match for their interest.
KEY BENEFITS TO ATTEND IT CAREER SEMINAR
Learn the different types of roles in IT
Learn what type of roles in IT is the better fit for your interests
Learn why employers are looking outside of degrees to get skilled employees.
Learn what learning via real world experience in startups looks like.
Learn the key skills that all employers look for regardless of career
Explore whether this type of program is a fit for you.
SEMINAR PREREQUISITES & EQUIPMENT
Nothing but an open mind and questions if you have any.
FREQUENTLY ASKED QUESTIONS
Why did we organize this seminar? This seminar is organized so that the attendees can get clear guidance and direction to understand what their options are. We would like the people to reach to their full potential and through this seminar, attendees can learn a lot about the software development career, and job market and it also helps them come up to the speed and raise awareness of the requirements that need to be fulfilled to start or boost their IT career.
Is this really Free and Why? Yes, absolutely. This is a 2 hrs long seminar where we will share a massive value to the attendee's knowledge and understanding the job market and career as much as possible. After attending the seminar, those 18-22 unemployed young people can consider whether this program is suitable for them and put their names down for consideration.
What is the minimum age someone can attend this seminar?
We recommend the youngest age to be 13 years old.
Do I have to bring my printed ticket to the event?You can bring your printed ticket or install the Eventbrite app on your smartphone. We love paperless!
When should I arrive? We recommend you arrive at least 15 mins before the event starts so the registration process can be done smoothly. If you arrive more than 15 minutes after the start you will probably miss our introduction and our explanation of how our events run, so please try to be prompt.
What are my transport/parking options getting to the event? Wynyard is readily accessible by public transport. We are next to Wynyard train station. There is no parking onsite at Wynyard. The closest car parks can be found here: https://www.wilsonparking.com.au/find-a-park
I have a burning question about the event, who do I contact? Contact us on 0437 900 054, Monday to Friday from 9am to 5pm. Or email to ckarena@test-ed.com.au
PS: The availability of seminars appointments is on a first come first serve basis. If confirmed, you will be sent an email for the confirmation for your seat. If we couldn't accommodate you in this seminar, you may have to wait for next seminar and you will be invited via email or phone call as a priority.