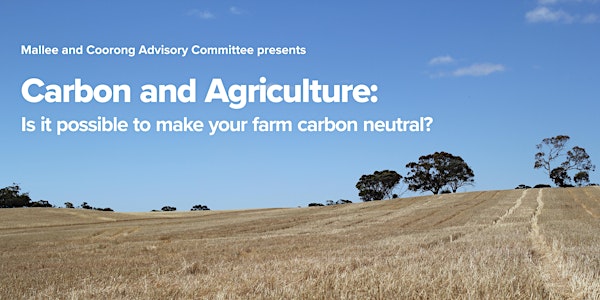 Carbon and Agriculture: Is it possible to make your farm carbon neutral?
Location
Bowhill Sports Centre
88 Webber Road
Bowhill, SA 5238
Australia
How can carbon farming be applied to systems in the Mallee and Coorong regions, and what are the implications? Join us to find out.
About this event
In 2019, Australian farms emitted around 76 million tonnes of carbon dioxide-equivalent emissions. As the effects of climate change become evident and the reality of border taxes become more likely, the pressure is on to manage carbon at a farm level.
Join us for a half day forum to find out what carbon neutrality in agriculture looks like and how to apply it to local farming systems. Hear about the opportunities and limitations of carbon farming from expert speakers with topics including sequestration, practice change and regenerative agriculture.
Speakers and presentations include:
What does the future look like with carbon farming and what science can be applied to farming? - Dr Mark Farrell, CSIRO
Carbon in your farming business - Amanda Schapel - PIRSA
How to accumulate carbon in your soils - Amanda Schapel, PIRSA
What is regenerative agriculture? Eliza Rieger, Murraylands and Riverland Landscape Board
Microbial management and regenerative agriculture - Dr Gupta Vadakattu, CSIRO
Preventing pests and prickles in your patch - Scott Hutchens, Murraylands and Riverland Landscape Board
Priority weeds in the Mallee - Hannah Spronk, Murraylands and Riverland Landscape Board
The event will include two opportunities for Q&As with the speakers. A light lunch and afternoon tea will be provided.