Location
South Perth Boat Ramp
LOT 818
Mill Point Rd
South Perth, WA 4178
Australia
Refund policy
Refunds up to 7 days before event
Join landscape and nature photographer Nathan Dobbie for 3hrs of photography capturing Perth's most iconic views by the Swan River.
About this event
Join landscape and nature photographer Nathan Dobbie (Nature By Nathan) for 3 hours of photography capturing some of Perth's most iconic views by the Swan River. The workshop location boasts great photographic opportunities and a variety of different images can be captured in this relatively small area.
To start off we'll be photographing the city skyline and Old Swan Brewery by the river foreshore as it is basked in late afternoon light. After the sun goes down the skyline comes to life in vibrant colours, providing further opportunities to capture a variety of great photographs as the city lights reflect across the water.
In this small group outing you'll experience a range of different natural lighting situations and gain an insight into how to use ambient light to your advantage as a photographer.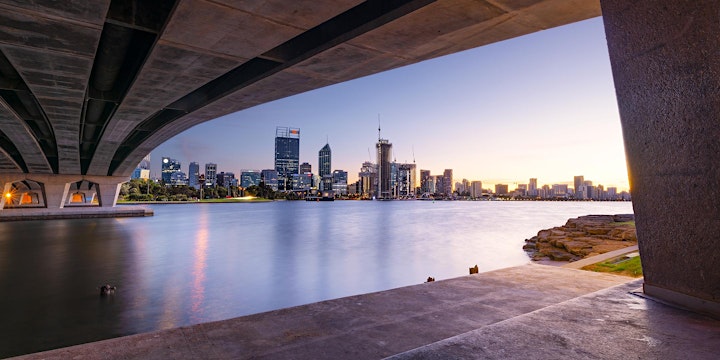 Topics covered / What you will learn:
- Understanding Shutter speed, aperture and ISO
- Balance settings for the ideal exposure in Manual Mode
- How to read and understand a Histogram
- Composition techniques. How focal length will affect your composition choices
- Shoot planning and working with natural light effectively
- Techniques to ensure you nail camera focus every time
- White balance and how different colour temperatures will affect your shot
- Shooting with intent to post-process images
What to bring:
● A digital SLR camera or mirrorless
● Fully charged camera Battery
● Your camera instruction manual
● Memory cards
● Lenses
● Any lens filters you may have (not essential)
● Tripod
● Water, hat, snacks
Course inclusions:
● 3 hours of tuition and guidance by professional landscape photographer Nathan Dobbie (Nature By Nathan)
Course timings:3.30 – 4.00: Introduction and lecture
4.00 – 5.00: Tour of the location and individual set-up guidance
5:00 – 6:00: 1 hour Sunset shoot
6:00 – 6:30 : Night light reflections under Narrows Bridge
6:30: Wrap up
Nikon Australia strives to host inclusive, accessible events that enable all individuals to engage fully. To request an accommodation or for any inquiries about accessibility, please contact school@mynikonlife.com.au.