About this Event
Capoeira is a Brazilian art form that integrates elements of martial arts, acrobatics, dance, music and culture. It is a great physical, mental & social activity for developing youth and encourages them to explore the joys of being active, and, interactive.
In our School Holiday Workshops, kids will be guaranteed to burn their energy, experience freedom of movement while having heaps of fun, which is what kids expect during their school holiday.
Children will explore Capoeira through a variety of fun and engaging activities including moving, kicking, dodging, acrobatics, singing and playing the musical instruments of Capoeira.
"The constant giggles and enjoyment, not to mention a great work out, and learning about Brazilian music and culture is what Noah loves about Capoeira. " Mum of Noah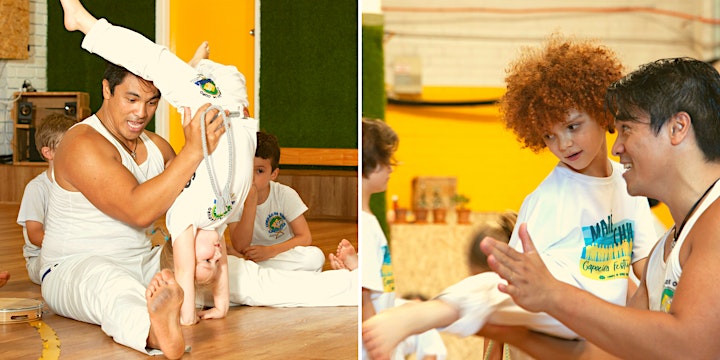 The workshops will run during the two week school holiday period on the following dates:
Little kids aged 3 to 6 years old:
Mondays, 06/07 & 13/07 at 4 pm
Wednesdays, 08/07 & 15/07 at 4 pm
Kids aged 7 to 12 years old
Mondays, 06/07 & 13/07 at 5 pm
Wednesdays, 08/07 & 15/07 at 5 pm
Register your children TODAY! Spaces are limited!
Capoeira CDO Perth offers the best Capoeira classes in Perth. Check out our REVIEWS ON GOOGLE!
For more information about us and our classes, head to our website or contact us:
www.capoeiracdoperth.com.au
info@capoeiracdoperth.com.au
08 6558 1866.